'Naivety' helped Leclerc beat Vettel in first year at Ferrari, says Webber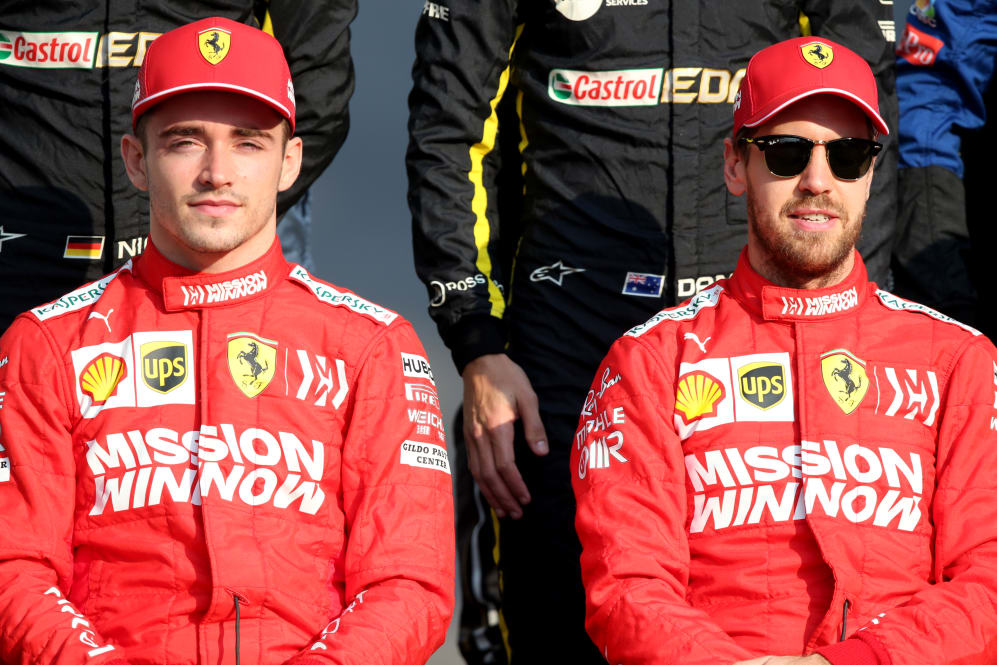 Sebastian Vettel began the 2019 season as Ferrari's No 1 driver, with new boy Charles Leclerc playing the support role. But the young Monegasque was so quick the balance soon tilted in Leclerc's favour, and he finished the year ahead of Vettel in the championship with two wins to the German's one.
Clearly Leclerc has extremely good pace, but ex-F1 driver Mark Webber – who partnered Vettel at Red Bull for five years – reckons there was another factor at play that allowed him to come in to the team and get the measure of the four time world champion so quickly.
READ MORE: Why Austria and Hungary are the perfect tracks to show where the top teams stand in 2020
He told the latest F1 Nation podcast: "Seb under that [Ferrari] regime… they did what they could, but I think he's literally just run out of puff there. Obviously, Charles comes in, clearly massively quick, full of energy, appetite, naivety – naivety's a great thing. You just come in and just go for it, because you don't know anything else, whereas Sebastian's been toiling, getting things going."
Leclerc is absolutely world class, great for Formula 1, good looking rooster…
READ MORE: 5 reasons to be excited about the new Leclerc-Sainz partnership at Ferrari
Leclerc joined Ferrari as Kimi Raikkonen's replacement in 2019 and outscored Vettel at the first time of asking, with Italian and Belgian Grand Prix wins under his belt. But the naivety of youth isn't the only thing going in Leclerc's favour, added Webber.
"I mean, Leclerc is absolutely world class, great for Formula 1, good looking rooster, languages – [he's] brilliant with that. He's great for the camera. He's brilliant," he said.
Despite Leclerc's speed, Webber still thinks Vettel will be missed by Ferrari when he leaves in 2021, with Carlos Sainz coming in to take his place, resulting in what will be Ferrari's youngest line-up in at least five decades.
"Yes, he's had some challenging times at Ferrari, no question about it, but I still think they will miss him [Vettel] – short term they'll miss someone of his experience and vision," he said.
READ MORE: 'I'm not surprised Vettel is leaving Ferrari' says Scuderia race winner Massa
And as for Vettel himself? "I think he'll have a year off," Webber said. "I hope for all of us he can rejuvenate himself and get back into the spirit of wanting to be competing at the front again in Formula 1.
"I think he can reinvent himself, but he's got to have the atmosphere. I think he really, really, really misses the English way about going racing [as he had at Red Bull]. I think he really enjoyed that."
Listen to Webber on the latest F1 Nation podcast in the player above, or on Apple Podcasts, Spotify, or your favourite podcast app.