Feature
NEED TO KNOW: The most important facts, stats and trivia ahead of the 2023 Saudi Arabian Grand Prix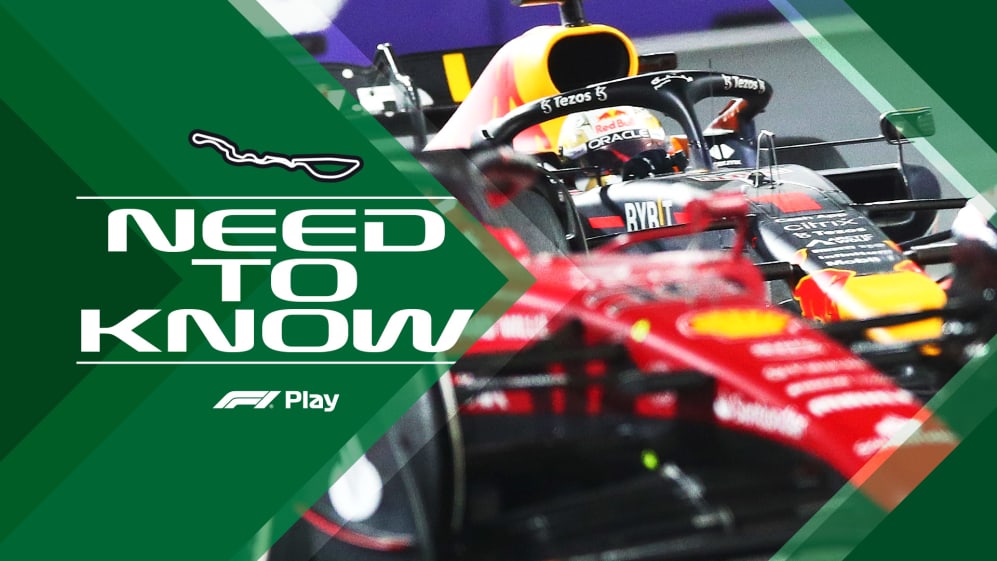 Ahead of each and every Grand Prix on the 2023 calendar, Need To Know brings you everything you… need to know. Next up after the season opener in Bahrain is a visit to Saudi Arabia and we're here to guide you through it: from key driving challenges to strategy insight and the form guide to trivia. Plus, you can see how fans have voted using our F1 Play predictor game.
After a well-earned weekend off, the F1 paddock regroups at the Jeddah Corniche Circuit for what promises to be another action-packed event; the first day of practice will take place on March 17, followed by qualifying day on March 18 and, ultimately, the Grand Prix itself on March 19.
IT'S RACE WEEK: 5 storylines we're excited about ahead of the 2023 Saudi Arabian Grand Prix
Vital statistics
First Grand Prix – 2021

Track Length – 6.174km

Lap record – 1m 30.734s, Lewis Hamilton, Mercedes, 2021

Most pole positions – Lewis Hamilton and Sergio Perez (1)

Most wins – Lewis Hamilton and Max Verstappen (1)

Trivia – Jeddah has more corners than any other circuit on the F1 calendar (27)

Pole run to Turn 1 braking point – 168 metres

Overtakes completed in 2022 – 58

Safety Car probability – 100%

Virtual Safety Car probability – 100%

Pit stop time loss – 19.86 seconds (including 2.5s stationary)
FAN VIEW: If there is just a little doubt about single-lap speed, there is none at all about who tops the podium on Sunday afternoon. Max Verstappen is polling at around 90% on F1 Play as we head into the weekend, with his nearest challengers – Charles Leclerc and Sergio Perez – both hovering at around 5% each.
The driver's verdict
Jolyon Palmer, former Renault F1 driver: This is one of the longer laps, and there are a lot of corners on paper, but a lot of them are high-speed kinks.
The corner that looks the most challenging here, I think, is probably Turn 10 – we've seen some drama where Mick Schumacher crashed in qualifying last year – because you're coming through at the end of a really fast sequence, through the end of the first sector, and carrying a lot of speed.
F1 INBOX: Your questions on Alonso, Leclerc and Aston Martin answered after the Bahrain Grand Prix
It's hard to see in and out of corners because it's a fast street circuit, and the kerbs are quite raised as well, so if you go a little bit wide you can break traction, lose the car and, as we saw, the walls are very close.
It's particularly punishing. I think the end of the first sector is the bit that's the most heart-in-mouth at Jeddah.
Also, Turn 22, you're arcing through the right-hander and picking a line through the left – it's very fast. A small misstep can have quite punishing consequences.
Verstappen made a mistake at the final corner in 2021 but, actually, the final corner is one of the more routine ones. And since Max made a mistake, the eyeline into it has changed as well – although a lot of the entries have been changed to improve visibility into corners this year.
READ MORE: Why Vasseur is 'completely convinced' that Ferrari's car concept can compete with Red Bull
For overtaking, there's no problem with three DRS zones. The final corner, or duking it out into Turn 1, are drivers' best bets. Drivers will also have to keep an eye out for slower cars throughout the weekend as it's easy to trip up on traffic.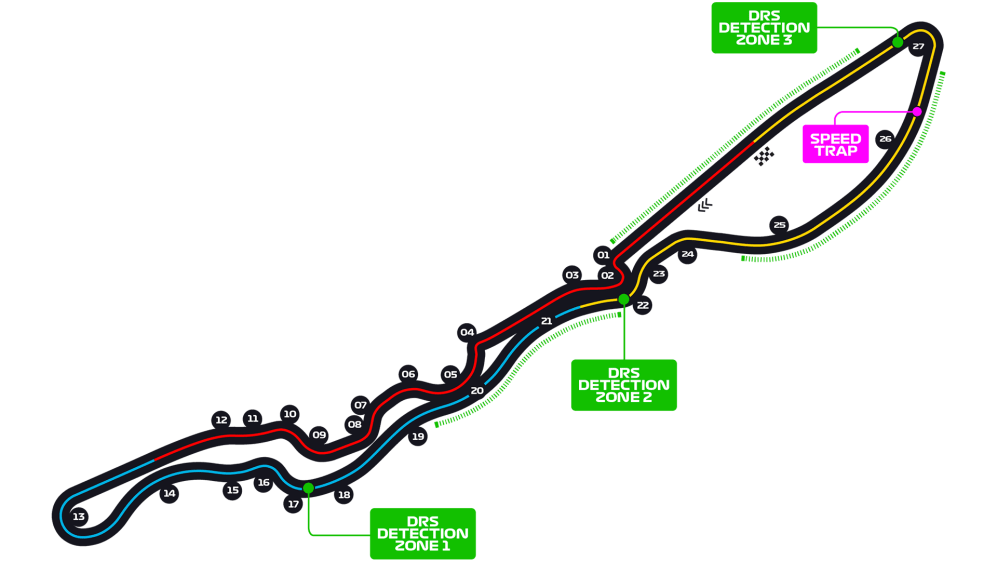 Saudi Arabian GP pole-sitters
2022 – Sergio Perez (Red Bull)
2021 – Lewis Hamilton (Mercedes)
Saudi Arabian GP winners
2022 – Max Verstappen (Red Bull)
2021 – Lewis Hamilton (Mercedes)
FAN VIEW: Verstappen was utterly dominant in race trim in Bahrain, but F1 Play gamers don't believe it is a foregone conclusion he'll be fastest over a single lap in Jeddah. He has more than 40% of the early votes, but there is support too for Perez, Leclerc, George Russell and Fernando Alonso.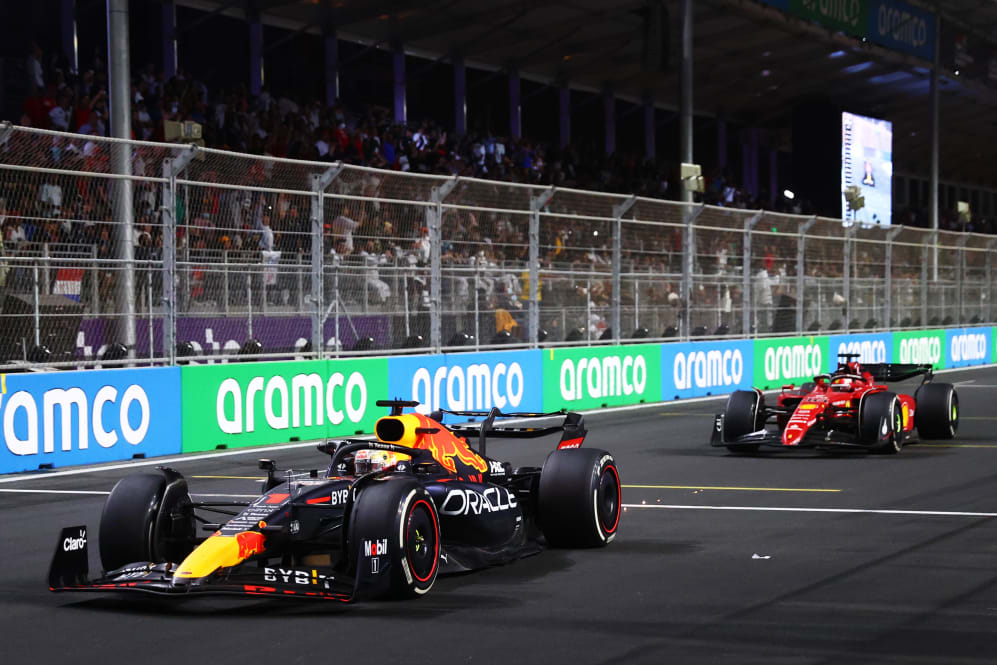 Strategy and set-up keys
Bernie Collins, former Aston Martin F1 strategist: In Saudi Arabia, there's high expectation that – due to the nature of the circuit and close barriers – the Safety Car will appear. You're not necessarily planning your strategy totally around that, but you'll be trying to take those opportunities and get the reduced pit loss – i.e. not stopping just before the Safety Car comes out.
You'll be trying to extend your stints much more, although it's a very difficult game then, because you don't want someone to undercut you – as in stop a lap before you do – but equally you don't want to miss that Safety Car opportunity.
READ MORE: 'He's got to be on his A-game' – Horner urges Perez to keep pushing to match 'highest benchmark' Verstappen
As a result, your strategy becomes this sort of cat-and-mouse between 'should I stop now and try to undercut the person ahead of me?' or the flipside, 'is there a risk that the Safety Car is going to come soon and I can capitalise?' It's that sort of debate.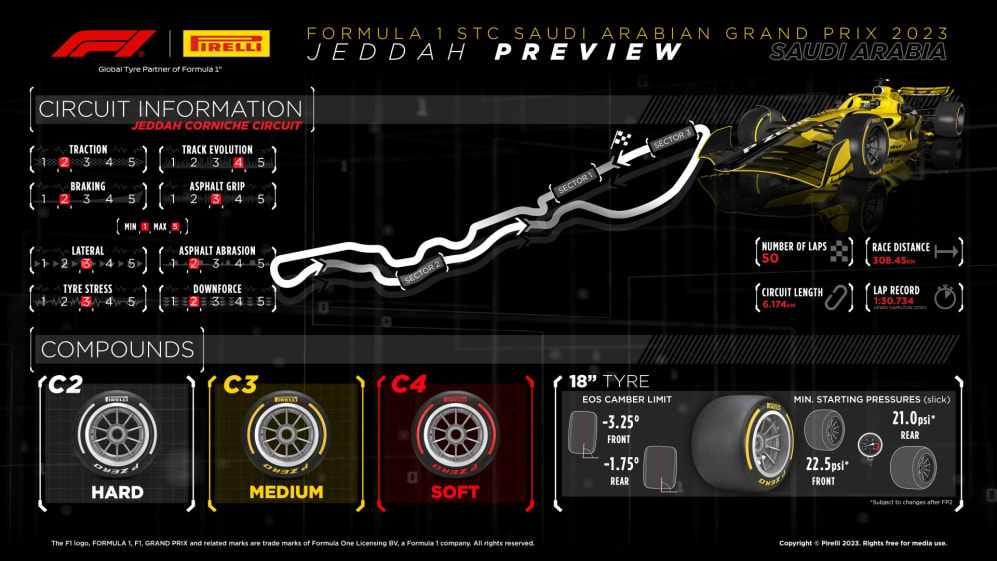 Leading on from this, pit stops here tend to come in Safety Car situations, so you'll end up with a very busy pit lane where every tenth of a second counts. Whereas in Bahrain the results tend to come down more to race pace at the end, the action in Jeddah can easily be settled by a poor stop because it's difficult to overtake – so it's all about track position.
Another thing you tend to see in Jeddah is much more laps from drivers in qualifying. Because of the difficulty of the track, the walls and the proximity, it's much harder to get your theoretical best lap time together.
READ MORE: 'We've got a lot of work to do' – Mercedes promise 'visible changes' to W14 after challenging season opener
It will also be more difficult for the rookies. Although Bahrain is hard on drivers in a physical sense because of the temperatures, Saudi Arabia is much more intense because so many corners are involved.
FAN VIEW: These are testing times at Mercedes, with seven-time champion Lewis Hamilton and team mate George Russell now very much the outsiders to even make the podium in Saudi Arabia. The usual suspects from Ferrari and Red Bull dominate the polling on F1 Play, along with the resurgent Fernando Alonso for Aston Martin.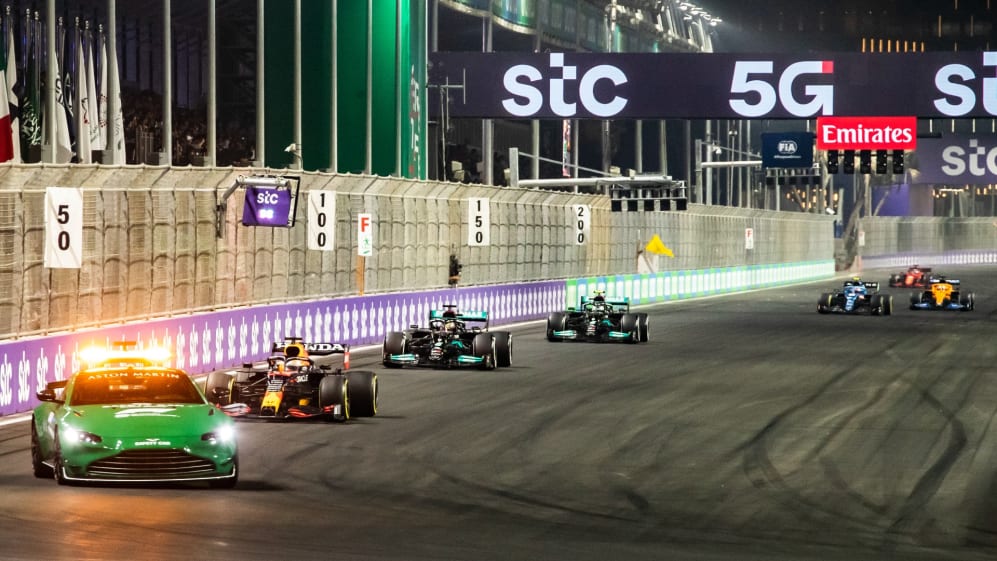 Current form
Red Bull enjoyed a dream start to the 2023 season with a confident front row lock-out and one-two finish at the Bahrain International Circuit, banishing the memories of their painful double retirement one year earlier.
But another team made the headlines in the desert as Aston Martin surged forward with their overhauled AMR23 package – Alonso qualifying fifth and then following the Red Bulls home after fighting his way past Hamilton's Mercedes and Carlos Sainz's Ferrari.
TREMAYNE: Aston Martin and Alonso's emergence is something we should all cheer
However, it is risky – some would say foolish – to make predictions for the campaign ahead based on just one track, and there are plenty of differences between the first two venues on the calendar that could shake up the order of the top four teams and beyond.
While the emphasis in Bahrain was on traction and tyre management, Jeddah poses an entirely different challenge as the fastest street circuit in the world, where the key to success is finding an effective aerodynamic compromise – while staying alert and keeping it out of the barriers.
FAN VIEW: As per F1 Play voting, Lance Stroll (Aston Martin) is confidently expected to score points again in Saudi after his excellent P6 in Bahrain, while Pierre Gasly (Alpine) is also well supported after his rise from P20 on the grid to P9. Valtteri Bottas (Alfa Romeo), Alex Albon (Williams) and Zhou Guanyu (Alfa Romeo) are others who gamers clearly like.
Iconic moment
F1's first visit to the Jeddah Corniche Circuit in 2021 came during the closing stages of a fierce championship fight between Verstappen and Hamilton, who again found themselves dicing for victory after several run-ins earlier in the season.
Having at one point run off the track to defend his race lead, Verstappen was told to back down and concede the position to Hamilton, only for the Mercedes to run into the back of the Red Bull when the Dutchman slowed – adding yet another layer to an already hugely dramatic title battle.
F1 NATION: Are we set for a fierce fight for Saudi Arabian GP victory on the world's quickest street circuit?
Hamilton brushed off some front wing damage, gathered himself and went on the attack once more to take the victory away from Verstappen, who was hit with a 10-second penalty after the race for the incident.
Watch the drama as it unfolded in the video below.