Feature
NEED TO KNOW: The most important facts, stats and trivia ahead of the 2023 Singapore Grand Prix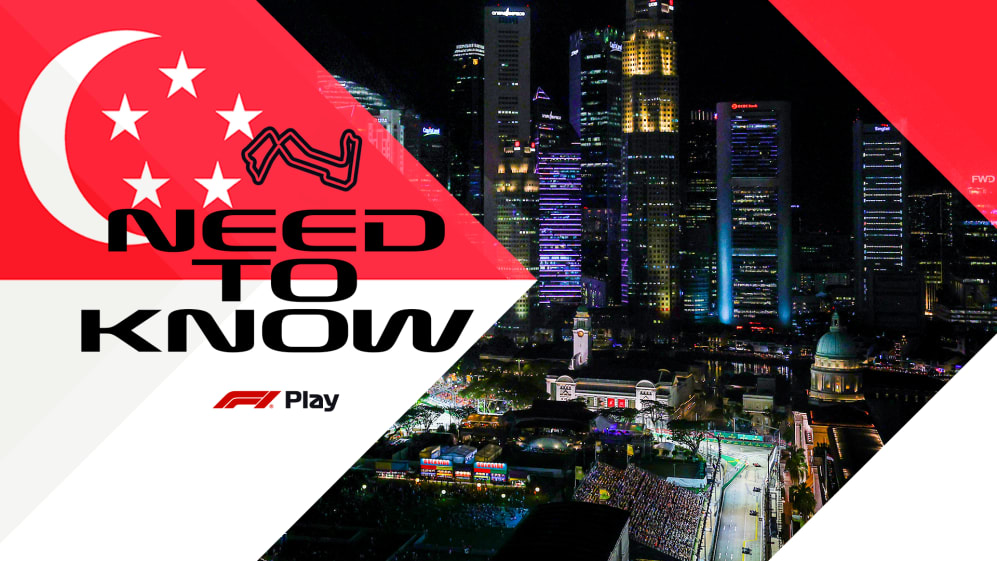 Formula 1 leaves Europe behind and embarks on a final sequence of flyaway races to see out the 2023 season, starting with the Singapore Grand Prix this weekend. Ahead of the event, Need to Know is your all-in-one guide with stats, trivia, insight and much more. You can also see how fans have voted using our F1 Play predictor game.
The first two practice sessions at the Marina Bay Street Circuit will take place on Friday, September 15, followed by final practice and qualifying on Saturday, September 16 and the Grand Prix itself on Sunday, September 17.
IT'S RACE WEEK: 5 storylines we're excited about ahead of the 2023 Singapore Grand Prix
Vital statistics
First Grand Prix – 2008
Track Length – 4.940km
Lap record – N/A (due to 2023 layout changes)
Most pole positions – Sebastian Vettel and Lewis Hamilton (4)
Most wins – Sebastian Vettel (5)
Trivia – Due to the physical demands of the climate and circuit, drivers can lose as much as 3kg in body weight over the course of a race in Singapore
Pole run to Turn 1 braking point – 178 metres
Overtakes completed in 2022 – 71
Safety Car probability – 100%*
Virtual Safety Car probability – 33%*
Pit stop time loss – 29.83 seconds
*From the last six races in Singapore
FAN VIEW: Max Verstappen is polling at just under 90% of F1 Play votes to claim a maiden victory at the Marina Bay Street Circuit on Sunday. Ferrari's Monza pole-sitter Carlos Sainz is next in the voting, followed by last year's Singapore winner Sergio Perez.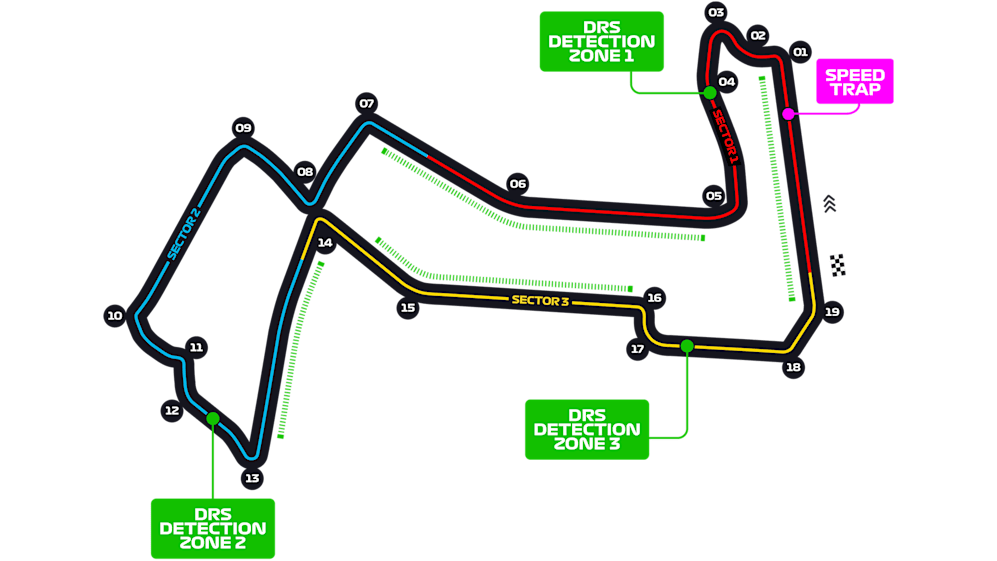 The driver's verdict
Jolyon Palmer, former Renault F1 driver: Marina Bay is a long, complex circuit, and draining as well – a little bit like Monaco – with plenty of bumps. It's all about the low-speed and having decent turn-in without losing the rear or suffering snaps of oversteer.
There are still 19 corners after the removal of the Turns 16-19 section, which has become a long straight, and towards the end of the lap you're starting to worry about your rear tyres overheating, particularly if you've not been kind to them earlier on.
POINTS PERMUTATIONS: Where and when Verstappen can become the 2023 F1 world champion
Braking is particularly tricky at Turn 7, where it's easy to run wide. The newer Singapore Sling through Turns 10 and 11 is also one of those ones that can lure you into going too deep, often catching drivers out.
Coming over the bridge, where you brake to the right and then turn to the left, induces lock-ups, while a lot of traction events mean you're spiking rear tyre temperatures – and there's an emphasis on rear grip here.
A huge amount of concentration is required for this circuit and Grand Prix. You can lose a few kilos of liquid during the race, so hydration is the order of the day. Monaco might be the only venue with a slower average speed, but Singapore can be an absolute slog.
Last five Singapore GP pole-sitters
2022 – Charles Leclerc (Ferrari)
2019 – Charles Leclerc (Ferrari)
2018 – Lewis Hamilton (Mercedes)
2017 – Sebastian Vettel (Ferrari)
2016 – Nico Rosberg (Mercedes)
THIS WEEK IN F1: 10 quiz questions on all the F1 news ahead of the Singapore Grand Prix
Last five Singapore GP winners
2022 – Sergio Perez (Red Bull)
2019 – Sebastian Vettel (Ferrari)
2018 – Lewis Hamilton (Mercedes)
2017 – Lewis Hamilton (Mercedes)
2016 – Nico Rosberg (Mercedes)
FAN VIEW: F1 Play gamers believe Verstappen will at least have a little competition to be the fastest man over a single lap on Saturday. He has around 75% of votes, but street star team mate Perez leads the rivals, with pools of support for several drivers on the grid.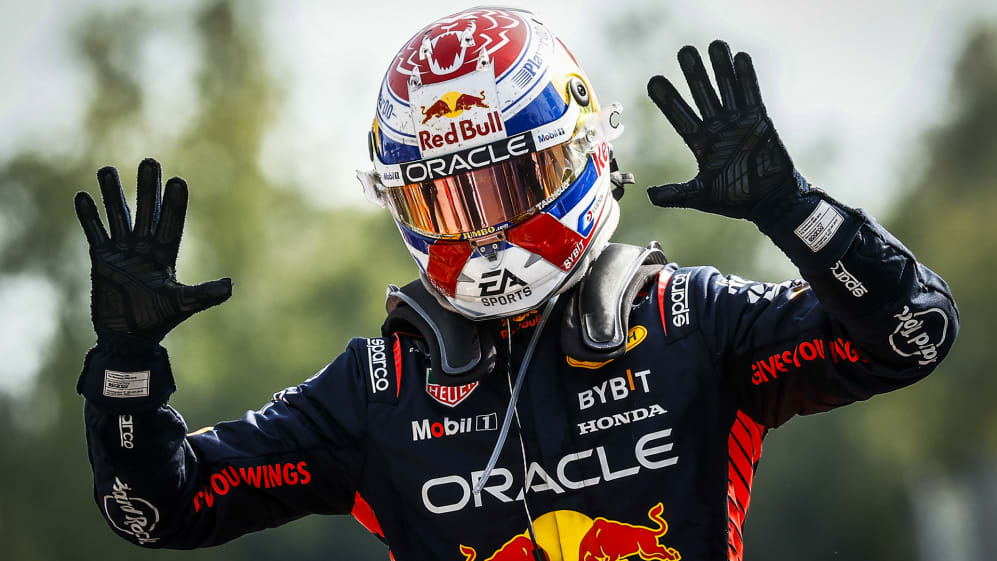 Strategy and set-up keys
Bernie Collins, former Aston Martin F1 strategist: Singapore is F1's original night race and brings a whole host of challenges, from the intense heat and humidity to the demanding wall-lined layout, meaning drivers and teams are kept on their toes throughout the weekend.
While the visit to Marina Bay marks the start of the final flyaway sequence and trips to several continents, the night-time schedule means the paddock work to European hours and rest during the day, with the goal on Friday and Saturday to get back to hotels before sunrise – making it easier to fall asleep.
GREATEST HITS: From perfect pole laps to charging comebacks – Perez's best moments in F1 ahead of his 250th Grand Prix
Given this schedule, there is a large drop in track temperature between the first and third practice sessions (held in the afternoon) and second practice, qualifying and the race (held at night), while drivers also have to balance set-up changes, dash and shift LED brightness and helmet visor tints.
Meanwhile, teams will move out of the relatively spacious motorhomes they have worked in over the middle part of the season and back into temporary buildings and offices, which are often less comfortable and require an adjustment.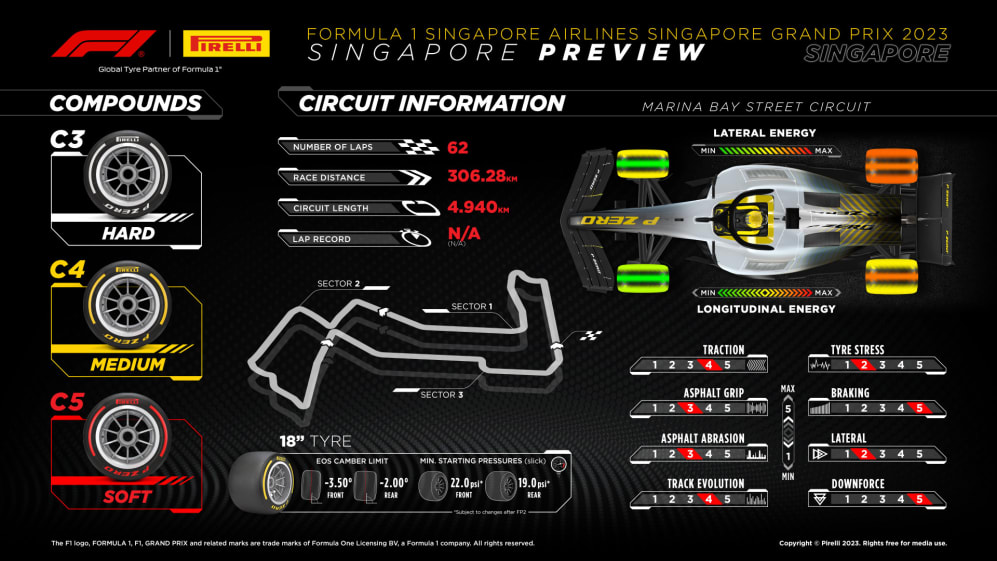 For 2023, redevelopment works in the vicinity of the track mean the added intrigue of the previous Turns 16-19 section becoming one long straight, reducing the total number of corners from 23 to 19 and increasing the number of laps by one to 62.
Many of the sessions feature yellow and red flags due to the nature of the circuit, adding to the importance of getting 'banker' laps in early during qualifying, while on race day the high risk of Virtual Safety Cars and Safety Cars often leads to teams trying to extend tyre stints in the hope of making a pit stop under caution.
F1 NATION: Spectacular Singapore awaits as Verstappen's rivals try to halt his unbroken run
After the Alternative Tyre Allocation trial at the Italian Grand Prix last time out, the standard format will be in play in Singapore. As has been the case for all the other street circuits this year, Pirelli will bring their softest compounds: the C3 as the white-marked hard, the C4 as the yellow-marked medium and the C5 as the red-marked soft.
Other factors for consideration are the longest pit lane loss of the year at almost 30 seconds, due to the 60 km/h speed limit in a narrow pit lane; tram lines that used to cause interference with some car sensors, requiring a check during Friday practice; and tricky traffic management due to poor GPS coverage and blind corners.
FAN VIEW: While the Red Bulls of Verstappen and Perez are strongly supported via F1 Play to occupy the first two spots on the podium, there is strong competition behind them. Ferrari are back with Charles Leclerc also well fancied, alongside McLaren's Lando Norris and seven-time world champion Lewis Hamilton.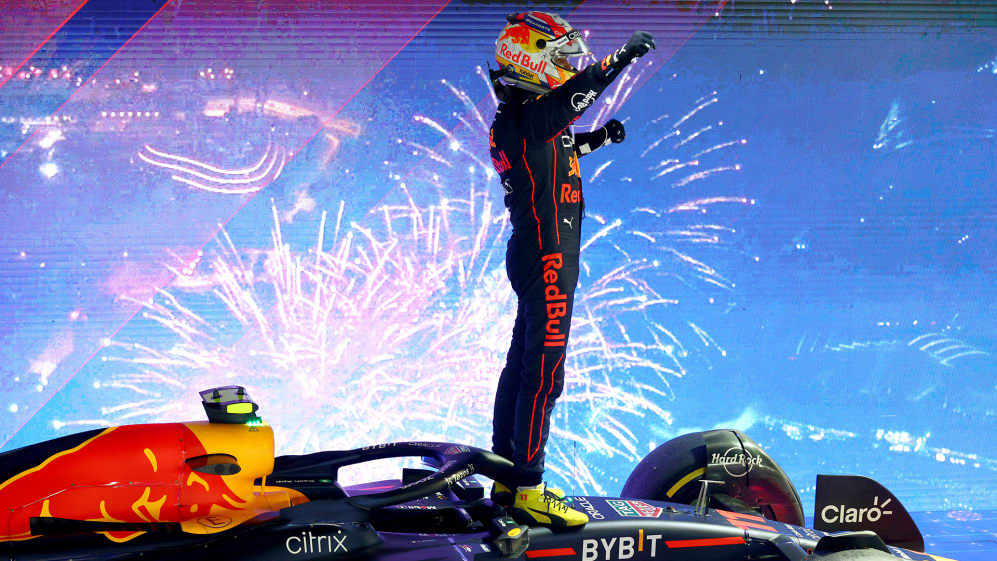 Current form
It's more of the same in this section as Max Verstappen and Red Bull continue to push the envelope not only for the current season but also in terms of the F1 history books, with records falling again last time out at Monza.
Remarkably, Verstappen has now won the last 10 races in a row, moving clear of Sebastian Vettel's previous all-time benchmark, while Red Bull have maintained their 100% status with 14 wins from 14 so far this season.
READ MORE: Wolff says Mercedes 'need a step like McLaren and Aston Martin' to battle with Red Bull
However, in Verstappen's words, Singapore is likely to be "the most challenging weekend out of the upcoming races" given that "the stakes are heightened on a street circuit and the field is usually very close, not to mention the heat and humidity".
Indeed, as already touched on, Verstappen has never won around the streets of Marina Bay, with the likes of Mercedes and Aston Martin hoping that the remaining high-downforce tracks will provide chances to put some more pressure on the reigning world champions.
Charles Leclerc has also proven to be somewhat of a Singapore specialist in recent times, scoring the last two pole positions at the track for Ferrari, while the rejuvenated McLaren can take confidence from their podium-scoring performances in Britain and Hungary – which placed a similar emphasis on aero efficiency – a few races ago.
Rival teams aside, Verstappen could face more of an internal threat across the weekend. His team mate, Sergio Perez, has consistently performed well at street tracks throughout his career and won last year's race in the city-state from the front row of the grid.
FAN VIEW: Aston Martin's Fernando Alonso is not competing for podiums as he was early in the season, but he's confidently expected by F1 Play gamers to be in the points on Sunday. McLaren's Oscar Piastri is also expected to go very well again, along with AlphaTauri's Yuki Tsunoda and Alfa Romeo's Valtteri Bottas.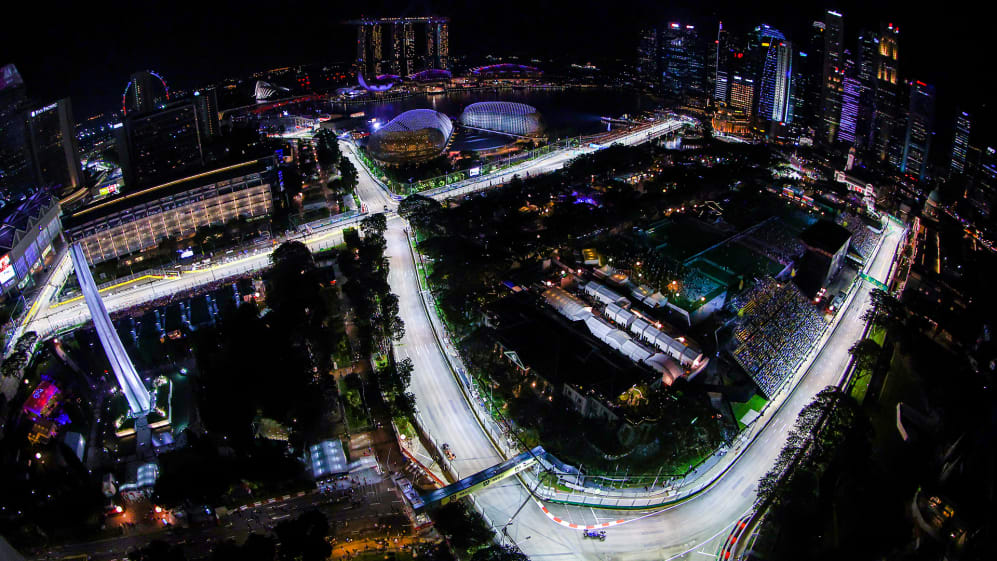 Iconic moment
Having arrived on the F1 calendar 15 years ago, there are plenty of moments to pick out from Singapore's time in the sport, but for this edition we've chosen Lewis Hamilton's mesmerising pole position lap during the 2018 event.
Regarded as one of the finest pole efforts in F1 history, Hamilton lit up the Marina Bay track with three purple sector times across his opening timed lap, initially putting him more than half a second clear of the field.
READ MORE: McLaren reveal 'Stealth Mode' car livery for Singapore and Japan races
He did not need an improvement on his second run and ultimately finished three-tenths clear of Max Verstappen's Red Bull, while then Mercedes team mate Valtteri Bottas was a whopping seven-tenths adrift.
Relive Hamilton's spectacular effort in the video player below.