Feature
NEED TO KNOW: The most important facts, stats and trivia ahead of the 2023 Bahrain Grand Prix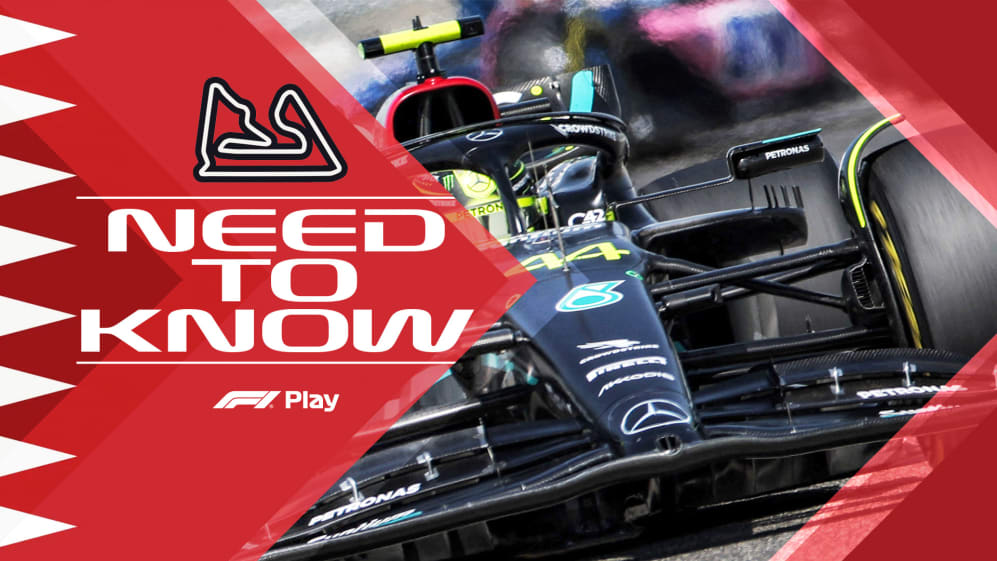 Need To Know brings you everything you… need to know, ahead of every Grand Prix and Sprint of the season. Bahrain kicks off the 2023 campaign, and we've got the lowdown on everything: Strategy insight, key driving challenges, form guide and trivia. Plus, you can see how fans have voted using our F1 Play predictor game.
Bahrain International Circuit hosted three days of pre-season testing, and one week later it's time for the first Grand Prix of the season on March 5, with Free Practice 1 and 2 on March 3, and Free Practice 3 and qualifying on March 4.
READ MORE: How to stream the 2023 Bahrain Grand Prix on F1 TV Pro
Vital statistics
First Grand Prix – 2004

Track Length – 5.412km

Lap record – 1m 31.447s, Pedro de la Rosa, McLaren MP4-20, 2005

Most pole positions – Lewis Hamilton and Sebastian Vettel (3)

Most wins – Lewis Hamilton (5)

Trivia – Turn 1, 'Michael Schumacher', is the only corner on the circuit with a name

Pole run to Turn 1 braking point – 353 metres

Overtakes completed in 2022 – 131

Safety Car probability – 63%

Virtual Safety Car probability – 38%

Pit stop time loss – 22.56 seconds (including 2.5s stationary)
FAN VIEW: Verstappen had early-season reliability issues in 2022, but F1 Play gamers expect no repeat in Bahrain on Sunday. The Dutchman is polling almost 80% of votes to stand on the top step of the podium, while Leclerc accounts for just over 10%.
DESTINATION GUIDE: What F1 fans can eat, see and do when they visit the Bahrain Grand Prix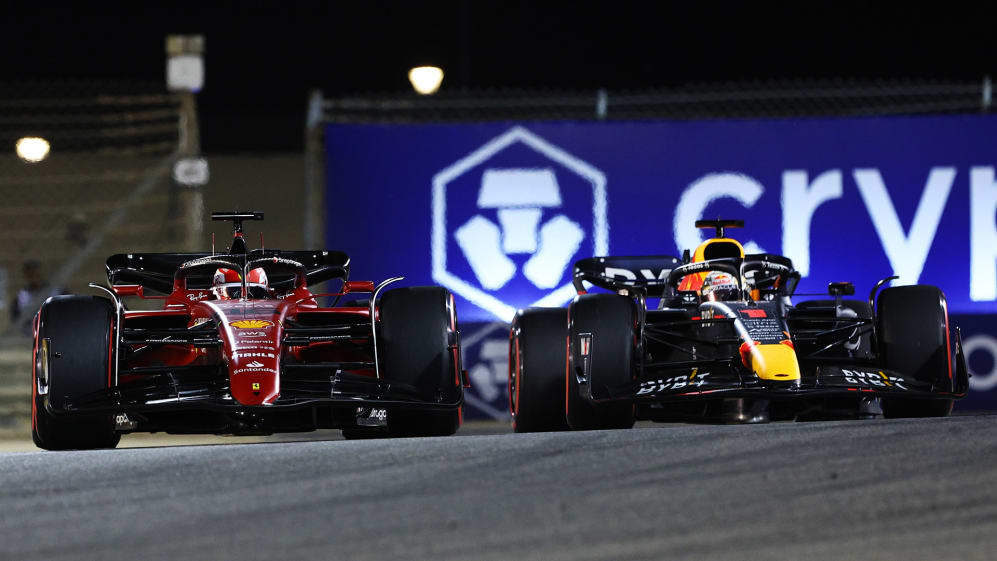 The driver's verdict
Jolyon Palmer, former Renault F1 driver: The most challenging part is probably braking into Turn 10 because you're approaching it with a fair amount of speed from the Turn 8 hairpin and through the Turn 9 kink, and you unload the front-left tyre as you're turning left. It's easy to lock up, we've seen that so many times.
Turn 11 is crucial because it's fast, it can be quite wind-affected there as well, the gust can pick up, and you're going through a long radius, so getting the balance right I think is particularly tricky. If you're pushing with understeer you can't get on the throttle; if you're fighting oversteer, it's difficult because you're attacking with a lot of speed and then you're overheating the rear tyres through the high speed afterwards as well.
Overtaking opportunities are clear in Bahrain: into Turn 1 and Turn 4, where the two DRS zones end.
The other challenge here is the transition from day to night. The track comes alive at night, the car works so much better – and one qualifying lap under the lights feels amazing.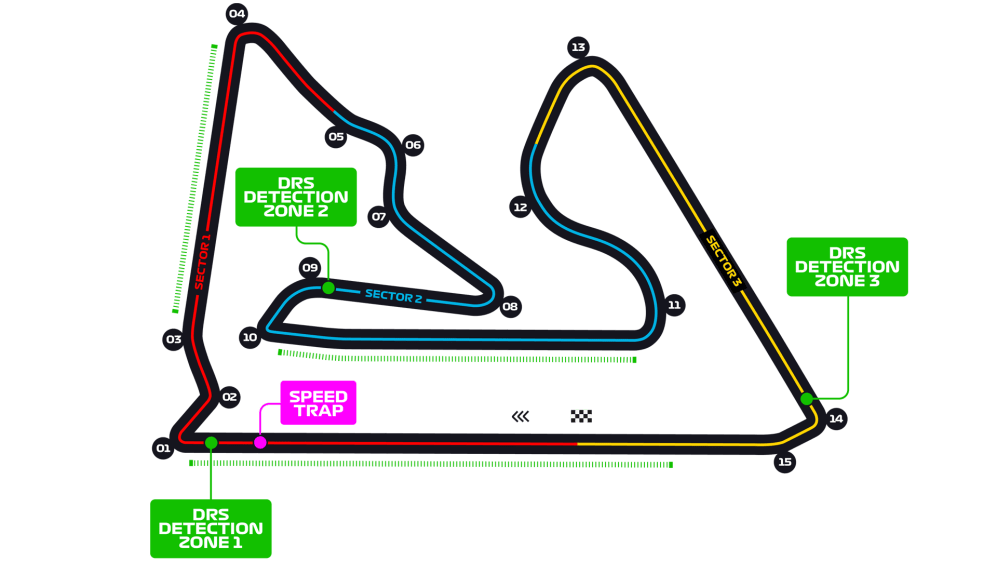 Last 5 Bahrain GP pole-sitters
2022 – Charles Leclerc (Ferrari)
2021 – Max Verstappen (Red Bull)
2020 – Lewis Hamilton (Mercedes)
2019 – Charles Leclerc (Ferrari)
2018 – Sebastian Vettel (Ferrari)
Last 5 Bahrain GP winners
2022 – Charles Leclerc (Ferrari)
2021 – Lewis Hamilton (Mercedes)
2020 – Lewis Hamilton (Mercedes)
2019 – Lewis Hamilton (Mercedes)
2018 – Sebastian Vettel (Ferrari)
FAN VIEW: The signs from Red Bull in testing recently were that the RB19 might be even better than their dominant 2022 car. No surprise then that now two-time world champ Max Verstappen has more than 50% of votes on F1 Play, well clear of Charles Leclerc (16%). There is a little support for Lewis Hamilton too.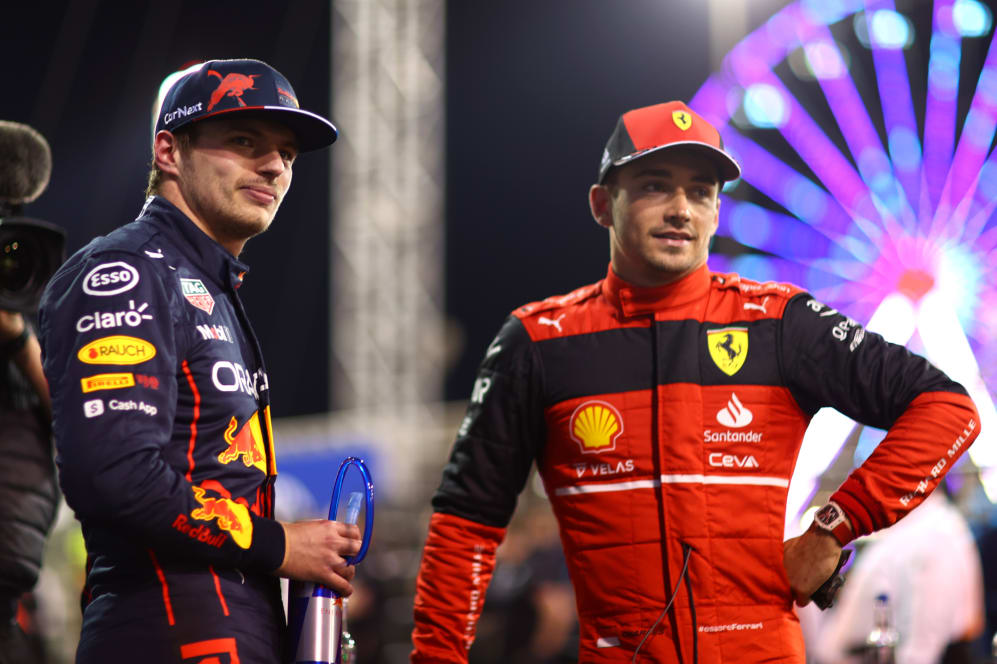 Strategy and set-up keys
Bernie Collins, former Aston Martin F1 strategist: Bahrain combines very hot conditions with a very rough track surface. That means high tyre degradation and is why hard compounds are supplied by Pirelli – the C1, C2 and C3 being selected for 2023. Despite some tyre tweaks over the winter, including a new compound, we should still see multiple-stop races.
The other big effect with tyres around the Sakhir venue is that the morning and afternoon sessions often lead to very different situations in terms of management. Your hotter sessions – the midday FP1 and FP3 – are going to need slower cool-down laps and slower out-laps compared to the twilight FP2 and qualifying. The new drivers won't be used to the difference.
BEYOND THE GRID: Charles Leclerc on driving Schumacher's Ferrari, his title hopes, and how he switches off from F1
On push laps, drivers can often find themselves having a really good Sector 1, because they push really hard to begin with, but it then leads to a really bad Sector 3, so they need to try to balance the lap based on the tyres, and not immediately take everything out of them.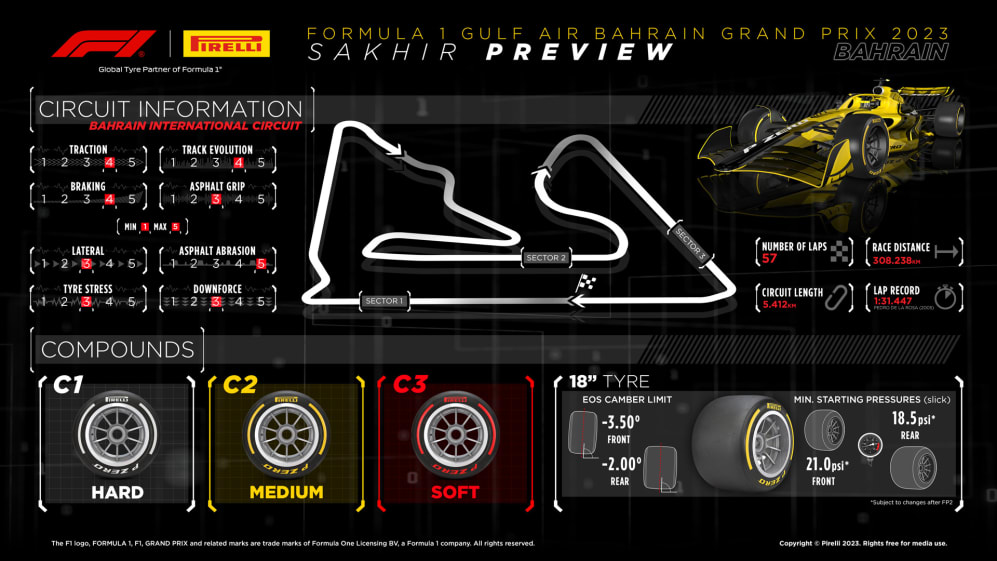 Another factor in Bahrain is that there is often a change of wind through the day. We saw that happen at the pre-season test, with headwinds turning into tailwinds. Turn 12 is a good example of where drivers can get caught out; it's uphill and then, as they come around it, there'll be a gust of wind and the car becomes a handful.
There are other little things, such as different steering wheel dash settings or different brightness for the gear shift lights, and drivers will sometimes have a day time and a night time visor. Also, lots of drivers have moved teams; given the order of the pit garages and pit boxes, there's always a risk that they stop where they shouldn't…
FAN VIEW: The great news going into 2023 is that we have a real possibility there will be four teams going into each race with the firm belief they can get onto the podium. The new kid on the block is Aston Martin, and Fernando Alonso has really good support here after a terrific race run in testing last weekend.
F1 FANTASY: Use our handy tool to pick your team before the new season starts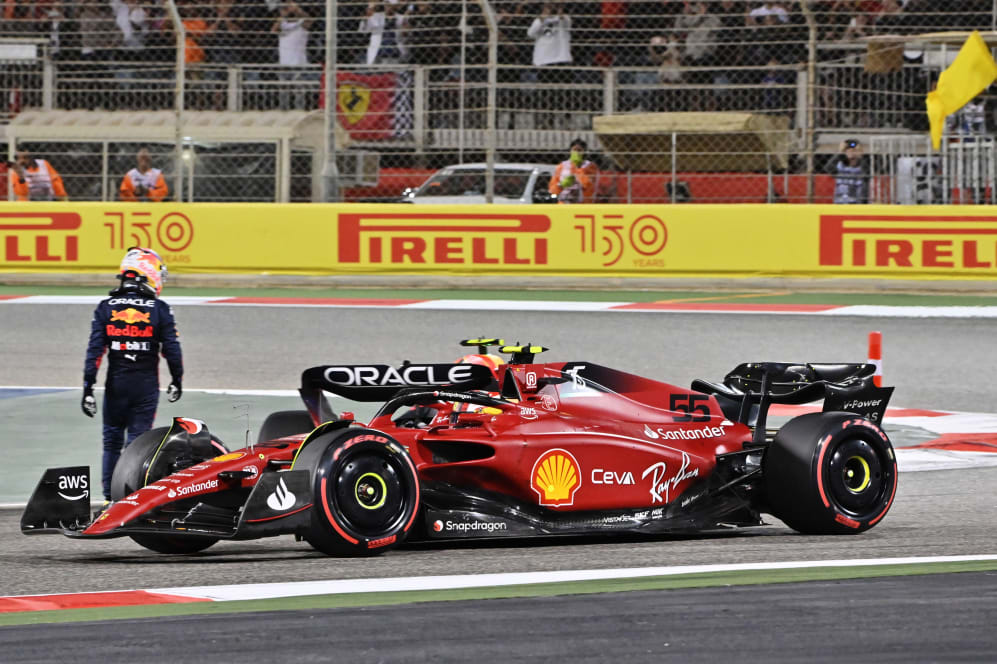 Current form
We've only seen the 10 teams test so far, but after three days of running in Bahrain – the same venue that this Grand Prix is being held – it seems that Red Bull hold the cards. They didn't have any major reliability hitches, Max Verstappen and Sergio Perez seemed confident, and topped the charts on Day 1 and Day 3.
Ferrari were also strong, though, and Team Principal Fred Vasseur said the mood in the team was "perfect". As for Mercedes, the Silver Arrows' boss Toto Wolff said that they are still playing "catch-up" in his race preview.
Aston Martin turned heads during testing and Alpine seemed solid – but predicting how the race will turn out based on what we saw during pre-season running is a dangerous game...
WINNERS AND LOSERS: Who aced pre-season testing and who has work to do ahead of the Bahrain GP?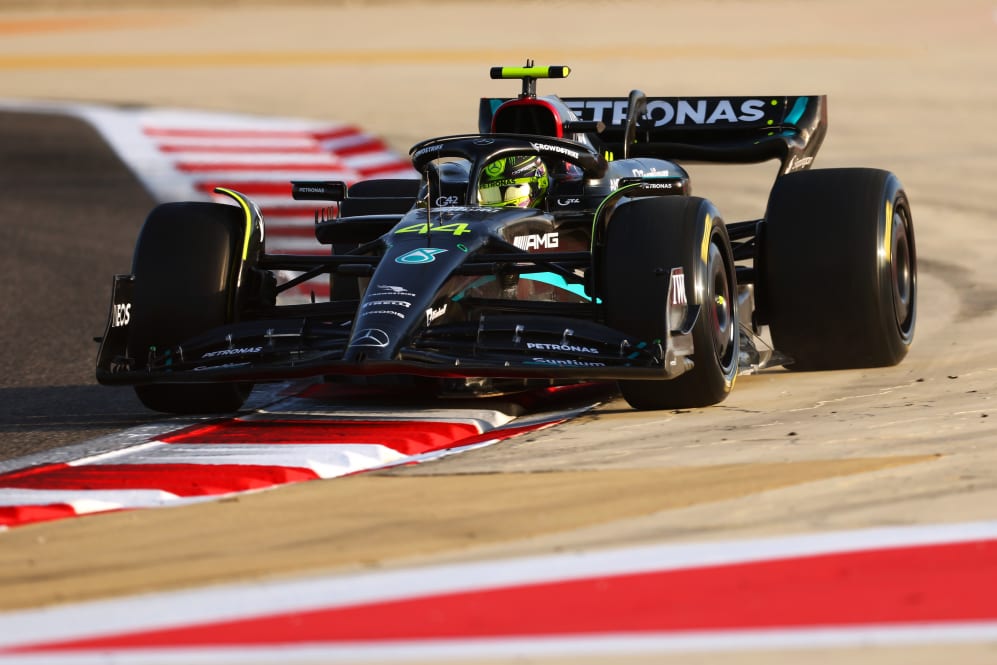 FAN VIEW: Outside of the big four, there is a terrific battle in play for the other points-scoring positions. Lando Norris has good support on F1 Play despite McLaren's testing struggles, while the Alfa Romeo pair of Valtteri Bottas and Zhou Guanyou are also attracting interest. Ditto the Alpine pair of Pierre Gasly and Esteban Ocon.
Iconic moment
The 2014 Bahrain Grand Prix, now known as the 'Duel in the Desert', saw Lewis Hamilton and then-Mercedes team mate Nico Rosberg go wheel-to-wheel in what was the first properly captivating race of the turbo-hybrid era, the new era that saw V6 hybrids replace the V8s.
Formula 1's 900th race was the third round of the 2014 season and the first Bahrain Grand Prix held under the lights.
Watch how it unfolded below.