Norris disappointed to finish in P7 behind Alonso – but praises McLaren's performance at Dutch GP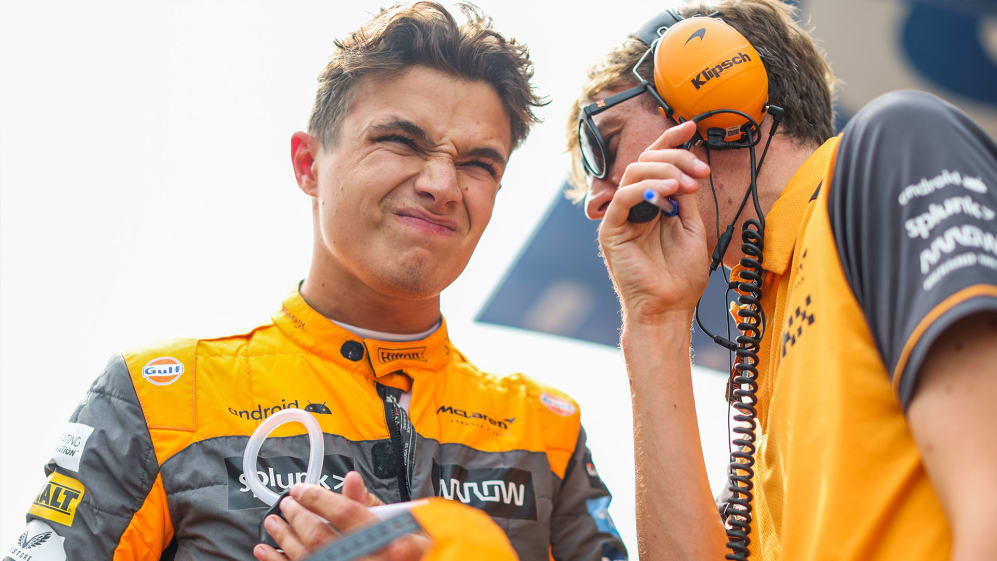 Lando Norris finished seventh at this weekend's Dutch Grand Prix – and while the McLaren driver believed he and his team did all that they could in Sunday's race, he was left lamenting the unfortunate timing of the Safety Cars that allowed rivals Alpine to seize the upper hand.
Norris started the race in seventh on the medium tyre and made a good start, overtaking George Russell, although he was quickly re-passed by the Mercedes driver on Lap 4. The McLaren racer then pitted from P5 on Lap 15 for the hard tyre as he attempted to make the one-stop strategy work.
However, on Lap 48 under the Virtual Safety Car – brought out by Yuki Tsunoda stopping on track – Norris pitted for the soft tyre. He would then pit for the same compound under the Safety Car on Lap 55 – caused by Valtteri Bottas stopping on track – allowing Fernando Alonso to get ahead of him, much to the Briton's annoyance.
READ MORE: 'I was hopeful we were going to get a 1-2' says Hamilton, as he apologises for angry Dutch GP radio outbursts
"I'm very happy with it, as annoying as it is to be behind Fernando," Norris said, when asked about his thoughts on the race. "They played a good game with Fernando and Esteban [Ocon], so Alpine versus me. So, they just had the advantage in the end. I think we did a good job, think we tried to cover it as much as we could. I think we had good pace in the car today.
"If there was no Safety Car, as in VSCs, we would have been ahead and we would have been P7 probably still, because we wouldn't have caught the Ferraris and Red Bulls. They just got a bit lucky, or it just helped them out a lot and gave them the advantage. Not a lot I could have done. I think I did a good job and I think the team did a good job, so just a tough race."
When asked whether McLaren's improved performance was a good sign for the rest of the season, Norris said: "I don't know. I think we expected to be much closer here. We were probably a little bit better here than we were expecting, just because it was our worst track last year. But I think we are going to go to Monza and probably going to struggle a little bit.
EXCLUSIVE: Piastri on joining McLaren, leaving Alpine and making his F1 debut
"It's more in line with Spa, low downforce, high speed corners, slow speed and we are just not good in them. I am not expecting a lot. I guess there are some positives that we are better in high downforce, but I'm still P7... we are miles off still. So, little positives if I want to be happy about it, but we still have some very tough races coming up."
Team mate Daniel Ricciardo blamed a car going off track ahead of him in qualifying for his P17 starting slot. But after finishing the race in the same position, Ricciardo – who hasn't finished higher than P15 for the past three Grands Prix – admitted that he had expected a "tricky" race.
"You know that it's one of those venues when you know that a tough qualifying hurts. It's tough, like… I at least come in pretty pumped up and ready to go but there is also that reality that if it is a kind of 'in order' race, you are not going to carve through seven, eight, nine cars.
"I think the pace at times was a little bit quicker than some around me, but it wasn't every lap like that. I think we could use the tyre a little bit sometimes but then it would fall off a little bit quicker than others. So yeah, always going to be a tricky one, I think."
He continued: "Obviously a difficult… I want to say few races, but globally a difficult season, but there are seven races to go and we won't give up yet. Once Abu Dhabi is done then I will feel however I feel. But there are still a few to go and obviously every weekend is a new one and we will try and make something good happen. Obviously, Monza I will try and get some magic from there."