Norris frustrated not to challenge Red Bull and Mercedes in Styrian GP after starting P3
Starting the Styrian Grand Prix from P3 on the grid, Lando Norris had perhaps dared to dream that he might be able to repeat his Austrian GP podium from 12 months ago. But after finishing a comfortable but distant P5, Norris admitted to mixed feelings at the Red Bull Ring, having ultimately failed to match the pace of Red Bull and Mercedes.
A penalty for Valtteri Bottas had promoted to Norris to third on the grid for the first of two Grands Prix at the Red Bull Ring in consecutive weeks, as he started ahead of Red Bull's Sergio Perez. But despite battling with Perez on Lap 1 before initially holding the Mexican off for P3, Norris was ultimately powerless to prevent the Mexican and Bottas passing him on Laps 10 and 11.
READ MORE: Verstappen eases to Styrian Grand Prix victory over title rival Hamilton
Despite that, Norris at least had the pace in hand to hold off the super-fast Ferraris of Carlos Sainz and Charles Leclerc at the chequered flag, with the result that a philosophical Norris declared himself "happy" on the whole with his race day performance.
"I think it's the best we could achieve today," said Norris. "In some ways it's a positive that we had a lonely, easy race, but I think we still learned some things. The Ferraris were very fast as well and I think next week, they can be much more of a threat if they start with a good position and don't have any incidents.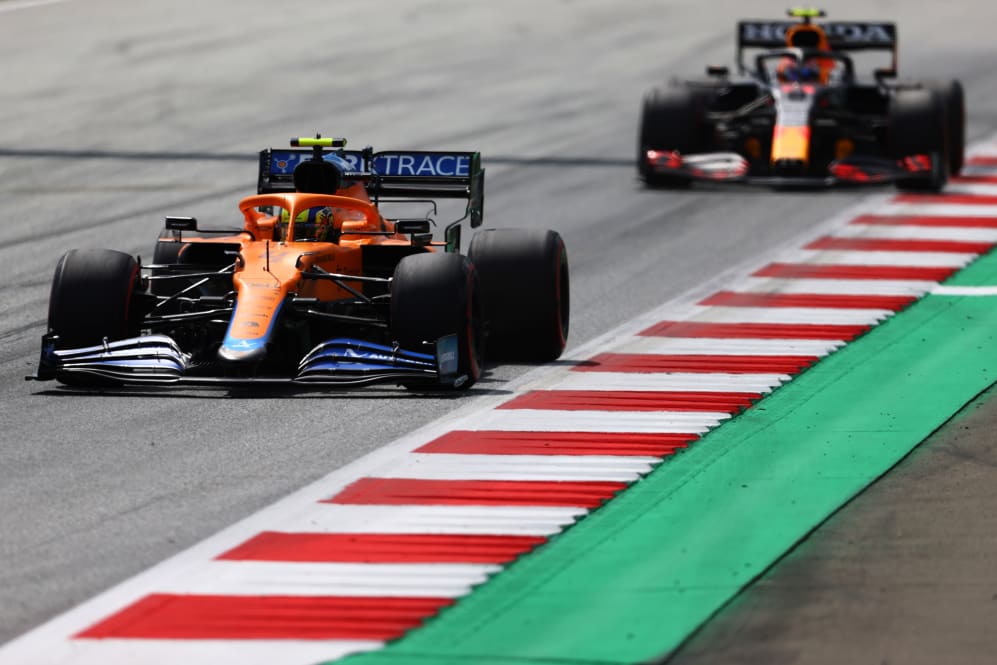 "So apart from that it was a pretty straightforward race on my part. I think we struggled a lot in the beginning but it got better towards the end so just need to figure some things out, try and improve but P5 I'm happy with."
The result was Norris' seventh top-five finish in eight races so far in 2021, as the Briton extended his points streak to 13 Grands Prix. But Norris couldn't help but admit a tinge of regret that his McLaren team had ultimately finished so far behind the front four of Max Verstappen, Lewis Hamilton, Bottas and Perez on race day at the Red Bull Ring.
READ MORE: Hamilton says Mercedes 'have no answers' to Red Bull pace after losing to Verstappen in Styrian GP
"I remember last year if we had a P5 it was like, wow, a win!" joked Norris. "But I guess every time you get to that position and you get comfortable with it, you always want a little bit more and you want to achieve a bit more.
"So it's annoying because [the frontrunners] were so much further ahead today; it wasn't like they were 10 seconds ahead or 15 or five, it was [checks timing screen] 26.7s ahead, so that's a lot of lap time [and] a much better car needed.
"So it's frustrating because we want to improve, but I guess for a while you're not going to see us do a lot better than that on pure performance."
WATCH: Daniel Ricciardo says power loss left us 'in the train and in a mess'
Norris' race was at least better than that of team mate Daniel Ricciardo's, with Ricciardo jumping from P13 to P8 on Lap 1, only for a brief loss of power to drop him back down the order, meaning he came home 13th at the flag.