Norris questions 'stupid' penalty points as Masi rules out mid-season change for system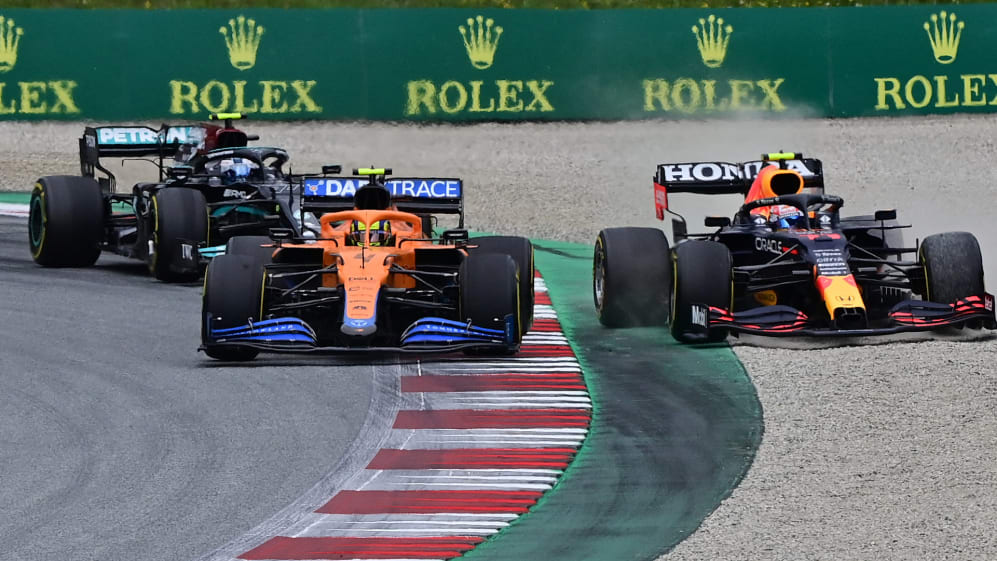 Lando Norris has hit out at F1's penalty points system and insisted they should only be handed out for "dangerous" driving, after he was given two more at the Austrian Grand Prix – putting him just two away from a potential race ban.
Norris received a five-second time penalty early in the Austrian GP when he and Red Bull's Sergio Perez were side-by-side at Turn 4 and Perez ended up in the gravel. The Briton was also handed two penalty points which took him up to ten, just two shy of the 12 that would trigger a race ban, and after taking P3 in the race, maintained that nobody was put in harm's way by his actions.
READ MORE: Race Director Masi explains reasoning behind controversial penalties for Norris and Perez in Austria
"Why should I deserve penalty points today for someone going into the gravel?" he asked. "Yes, nothing I've done is dangerous and… maybe in some cases you deserve an on-track penalty, because you've done something bad in terms of racing and you just made a mistake, but then you have things that people do every now and then which are purely dangerous.
"If you do genuinely overtake [under] a yellow flag and do something else that's clearly a rule that will put people in danger then I understand penalty points for a driver, and if that adds up you get a driver ban or race ban, but for little things like this, it's stupid in my opinion. It's not what Formula 1 should be," he added.
Norris also asked why he received three penalty points at Baku for not entering the pits during a qualifying red flag – an infringement that also saw him slapped with a three-place grid penalty there.
"In my opinion, they should be decisions about when someone's done something dangerous and put someone in harm's way and done something that they shouldn't have done, and then you have racing and when people have to use common sense.
READ MORE: 'It wasn't fair racing' blasts Perez as he says Norris incident rendered his race 'a disaster'
"Like, my approach of the incident in Baku with the red flag and not boxing when I should have done… I didn't put anyone in harm's way, in fact it was the opposite and I did everything safely. Why should I deserve penalty points for that?" he asked.
But FIA Race Director Masi likened the penalty point system to that which affects drivers on the road, saying that he didn't think the system was "harsh" – before ruling out any mid-season changes.
"To be fair it's a penalty point system that exists, it's been there all the way through, no different to those driving on the road in countries that have a maximum number of points they have to abide by and they have to adjust their driving style accordingly. So, no, I don't think they are harsh," said Masi after the race in Austria.
"It was discussed late last year and it's funny because it affects different drivers in different teams in different ways. And the consensus was, at the end of last year involving everyone, the teams, the FIA, everyone, that there shouldn't be a change this year and it's not something we'd ever change mid-year.
READ MORE: Jolyon Palmer – Has Ricciardo's arrival at McLaren spurred Norris on to a new level in 2021?
"The penalty scale is something the teams all agree upon and actually have input on at the start of the year, [and that] is what the stewards use," he concluded.
Two of Norris's penalty points expire before the British GP begins, however, so the McLaren racer – fourth in the championship ahead of his home race – should not find himself in jeopardy.