Norris says suggestion that he waved sarcastically to Ricciardo in Monaco is 'absolute c***'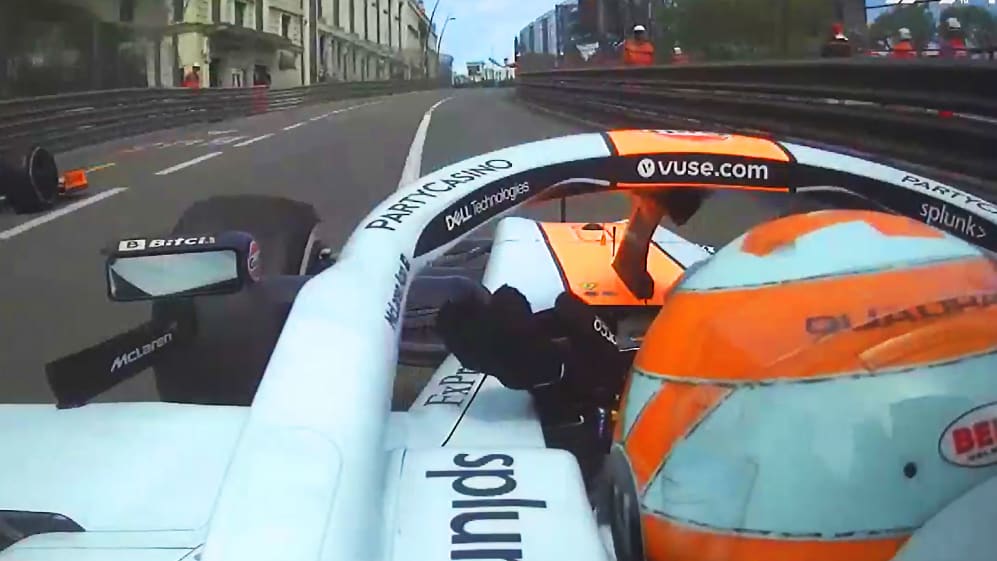 It was tough to watch on Lap 52 of the Monaco Grand Prix as Daniel Ricciardo – winner in the Principality three years previously – was lapped by his McLaren team mate Lando Norris. But Norris has rubbished rumours that a wave he gave to Ricciardo as he passed his team mate had been sarcastic, calling such claims "nonsense".
Norris enjoyed a clear pace advantage over two-time Monaco polesitter Ricciardo across the whole weekend in Monte Carlo, with Norris finishing the race third as Ricciardo could only manage 12th – the pair's pace difference explained by McLaren team boss Andreas Seidl as Ricciardo being forced to use a "not natural" driving style in the MCL35M.
READ MORE: 'You need a special driving style for our car which is not natural for Ricciardo' says McLaren boss Seidl
The upshot was that on Lap 52, Ricciardo was forced to move aside on the run up to Massenet as he was lapped by Norris – en route to his podium finish – with Norris acknowledging the action by waving his hand as he passed the Australian. But Norris issued a stern rebuttal to claims that his gesture to his team mate had been intended as derogatory.
"I see so many of you make up absolute crap and nonsense as usual," said Norris, speaking on his Twitch channel as he reviewed the race. "Any time someone lets me pass for a blue flag, anyone, if they get out of the way properly – and they should – I put my hand up and say thanks, alright? I'm saying thanks.
Norris added that he'd done similar gestures to other drivers that hadn't been spotted by fans, saying: "I [waved] to freaking everyone: Mazepin, Schumacher, Danny. Whoever I passed and they got out the way, I put my hand up and say thanks, right?
"So, don't just notice one when I frigging passed Danny and then think I'm doing something that I'm not, alright? Let me just get that point across because I see a lot of stories that people make up."
READ MORE: Sainz says Norris and McLaren should be excited about Baku prospects with 'rocket' of a car
Norris' third place in Monaco – coupled with a DNF for Mercedes' Valtteri Bottas – moved the McLaren driver back to P3 in the drivers' standings, Norris having now scored 56 points to the 38 he'd managed by the same point last season, and with two podiums already to his name this year.
Ricciardo, meanwhile, sits eighth in the standings with 24 points, four more than he'd scored by race five in 2020, when he was with Renault.