Norris targets qualifying improvement and pinpoints Ferrari's strength as P3 battle hots up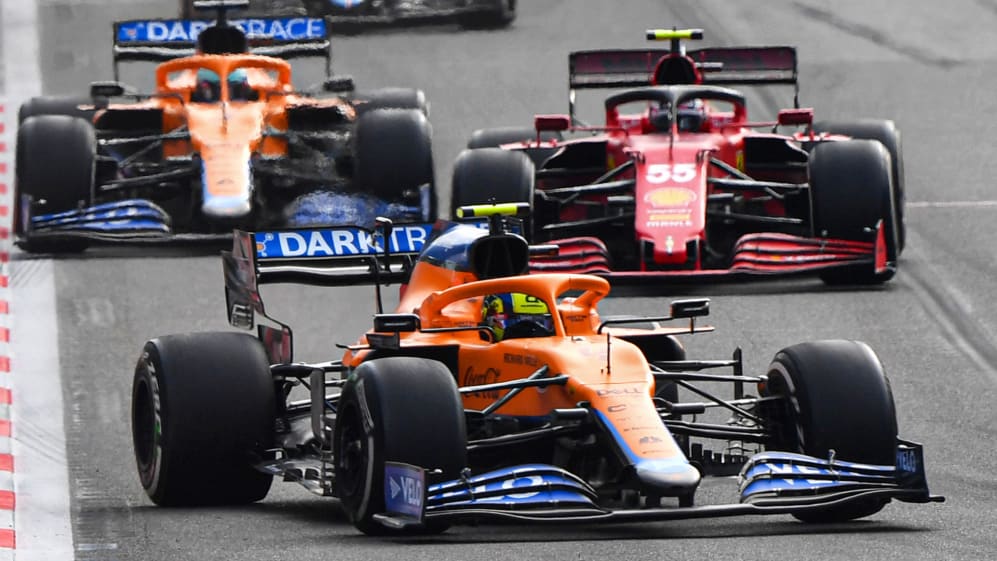 With McLaren just two points behind Ferrari ahead of the French Grand Prix, Lando Norris says that while the Scuderia have the edge in qualifying, McLaren are happy to be performing better on Sundays – when the points are handed out.
McLaren and Ferrari are providing a brilliant midfield battle in 2021 with both squads enjoying a welcome resurgence this season. Norris has landed podiums at Imola, Monaco and Baku, but the Scuderia are just ahead in the standings, and Charles Leclerc has taken pole position at the last two races.
FORM GUIDE: Can Hamilton hit back at Verstappen in the French Grand Prix?
Asked to weigh up the strengths of Ferrari and McLaren, Norris replied: "They've been very quick on Saturdays. Charles [Leclerc] has been on pole twice, but they've always then made more mistakes and struggled more on Sundays, and that's where we have gained some of it back and we've looked a bit stronger.
"We're trying to continue that, with the points being on Sunday and not Saturday. That's good for us and coming in our favour, but as a car they've generally been quicker on Saturdays in qualifying. So yes, we need to try and push more and catch up a bit in qualifying and continue what we're doing on Sundays," he explained.
The Briton also pointed out Ferrari's prowess in slow-speed corners, which helped them achieve pole in both Monaco and Baku, plus a double points haul at the latter circuit.
"[They're] generally better in the corners. Quite simply, slow-speed corners, they're very competitive, they can be often one of the best cars in slow-speed corners – I think a couple of the tracks lately have suited them," he said.
READ MORE: Seidl calls Baku result 'damage limitation' after McLaren concede P3 to Ferrari
"I'm hoping we can be a little bit more competitive this weekend. But they're getting better, they're always making improvements, as are we, and we're trying to improve in every area."
As the only driver to have scored points in every Grand Prix of 2021, Norris is helping McLaren stay in the fight for third in the Constructors' Championship. Approaching the French GP, he's fourth in the Drivers' Championship – 14 points ahead of Ferrari's Charles Leclerc.