FORM GUIDE: Can Hamilton hit back at Verstappen in the French Grand Prix?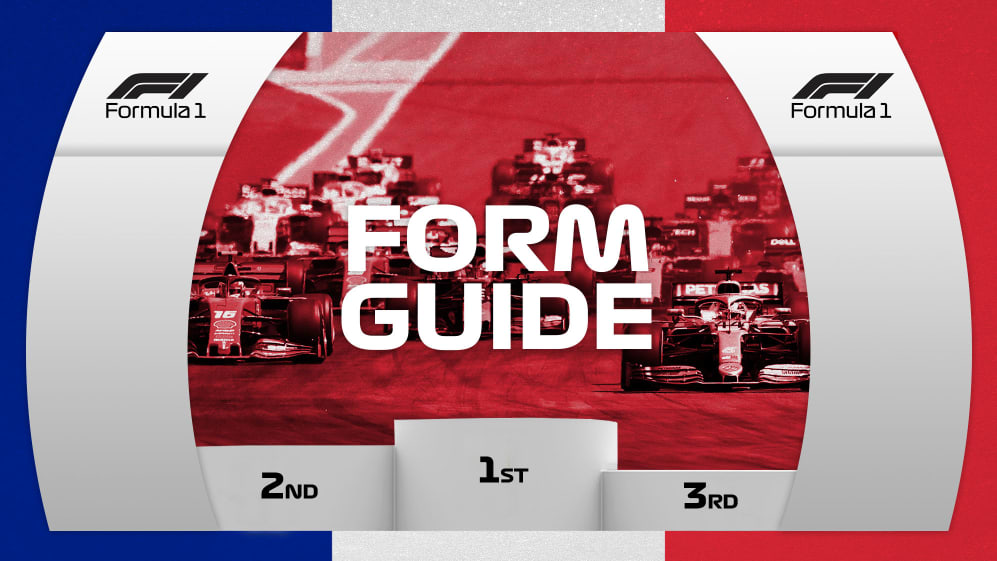 Following two victories on the trot for the charging Red Bulls, F1 now heads to the Circuit Paul Ricard for the 2021 French Grand Prix. Mercedes have had things all their own way at Le Castellet the last two times F1 has raced here – but is that about to change? Let's look at the favourites for pole, podiums, points and victory – and see how you've been voting on F1 Play.
Vying for pole
Ever since F1 returned to Paul Ricard in 2018 after a 28-year hiatus, Mercedes have been utterly dominant at the French venue – to the point where no other team has led any session other than Mercedes here in that time (that's a clean sweep from FP1 to the race in both 2018 and 2019). Mercedes have also taken a pair of front row lock-outs in that time to boot.
READ MORE: Changes at Williams, Mercedes' fightback, and more – 5 fascinating storylines ahead of the French GP
Lewis Hamilton in particular has shown the rest how it's done, with two poles here in two years. But it's important to remember that Paul Ricard is a test circuit par excellence because of its mix of corner types, the circuit having rewarded the best driver in the best car in 2018 and 2019. Is that Hamilton in the Mercedes in 2021? That's not so sure.
While in both 2018 and 2019, Max Verstappen couldn't qualify within six-tenths of Hamilton at Paul Ricard, the same was also true in those years at the similar Circuit de Barcelona-Catalunya – while this year in Spain, the difference between the two was a mere 0.036s. All told then, if it's a fight between Hamilton and Verstappen for pole, we'd expect it to be a close one.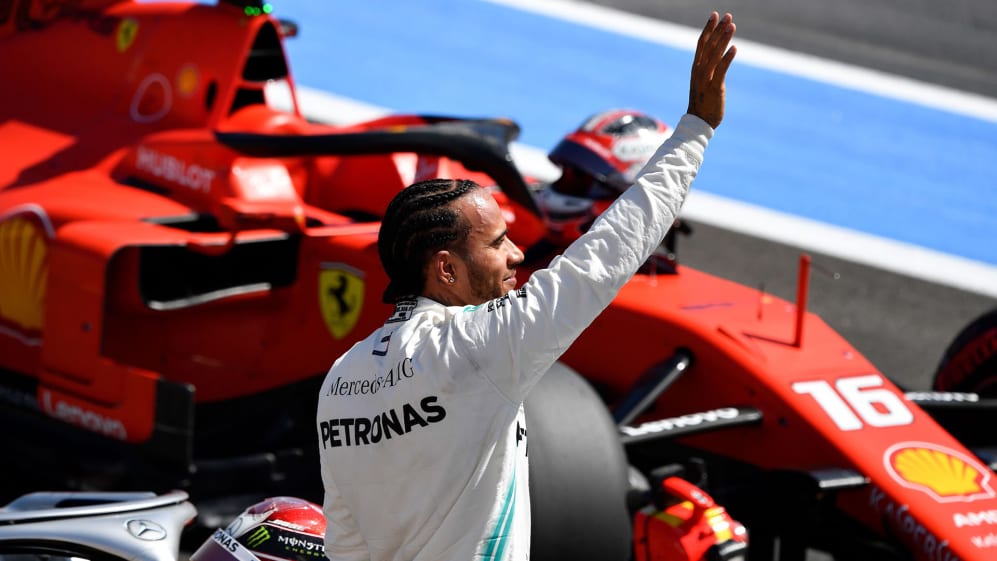 Is anyone else in the mix? Well Ferrari's Charles Leclerc is of course the form driver on Saturdays currently, having taken pole at the last two races. But both of those were probably assisted by Q3 crashes that prevented other drivers completing second runs – while Ferrari might find the going tougher in France (mind you, that's what we said ahead of Baku too…).
READ MORE: Hamilton vs Verstappen – How is the title fight looking going into 2021's first triple header?
Otherwise, look to Hamilton and Verstappen's team mates Valtteri Bottas and Baku winner Sergio Perez – Bottas having taken P2 on the grid in France two years running, although Perez has never started higher than P13 here.
Pole positions 2018-2019:
2019 – Lewis Hamilton (Mercedes)
2018 – Lewis Hamilton (Mercedes)
FAN VIEW: The thrilling Hamilton vs Verstappen title battle promises another great instalment at Paul Ricard, and F1 Play gamers so far favour the Mercedes man in the race for pole. Verstappen is next, with support also for Valtteri Bottas, Sergio Perez and red-hot Ferrari ace Charles Leclerc.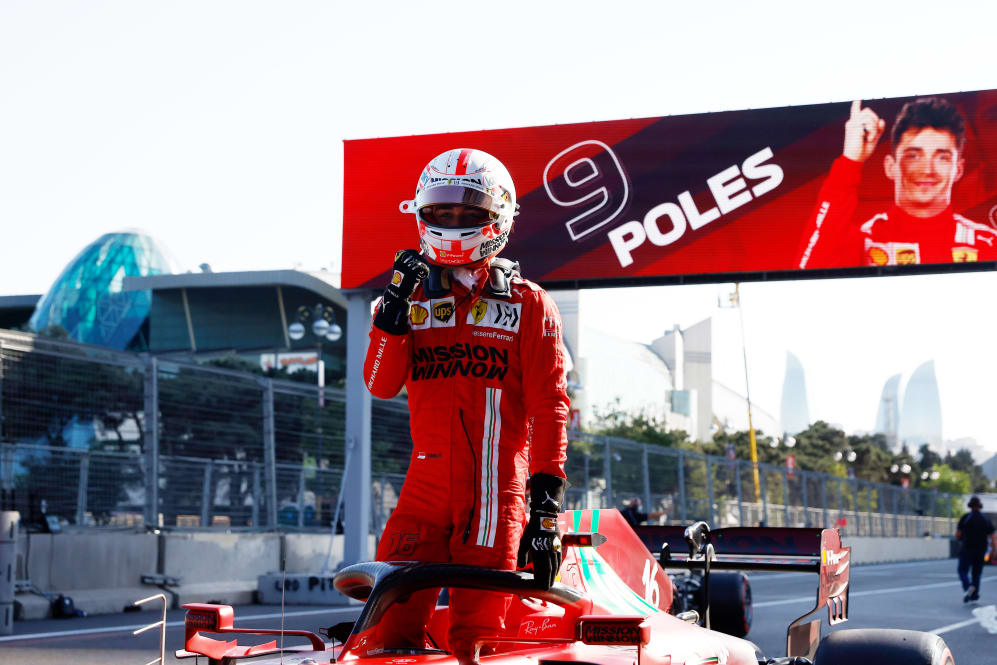 In the mix for victory
Hamilton followed up his two pole positions at Paul Ricard with a pair of French Grand Prix victories, the seven-time champ having led every lap here in 2018 and 2019 bar one. But once again, form from two or three years ago doesn't count for much in a 2021 season where Red Bull have shown themselves to be there or thereabouts with Mercedes.
However, as F1 tech expert Mark Hughes explains here, Mercedes' strong performance at this year's Spanish Grand Prix – where Hamilton's superior speed allowed him to check mate Verstappen and claim victory – could cause Red Bull some worries given the similar nature of the two circuits.
READ MORE: Why Red Bull's Barcelona beating by Mercedes could prove ominous ahead of Paul Ricard
Throw in the introduction of the FIA's more stringent tests on rear wing flexibility this weekend, and a potential crash hotspot at Turn 1, and the result is far from a foregone conclusion – meaning that this looks set to be another fascinating instalment of the Mercedes vs Red Bull saga in 2021, with Verstappen and Hamilton best placed to be the leading lights.
Elsewhere, Sergio Perez enjoyed his best Sunday last time out in Baku, shadowing Verstappen before benefitting from his team mate's retirement to claim his first Red Bull victory – and will be looking to repeat that form this weekend, and even snatch another win if he can.
Over at Mercedes, though, Valtteri Bottas will be aching to take his own first victory of 2021, having been nowhere pace-wise in Azerbaijan, and having now failed to score at all since Spain.
DRIVER MARKET: Bottas expects to discuss Mercedes future 'in next month or so'
Wins 2018-2019:
2019 – Lewis Hamilton (Mercedes)
2018 – Lewis Hamilton (Mercedes)
FAN VIEW: Hamilton just shades the F1 Play voting so far in this category, with Verstappen just a few percentage points behind. Then comes Leclerc, who has dragged every last drop out of his Ferrari to take pole in the last two Grands Prix. The Monegasque though is still a country mile adrift in the voting.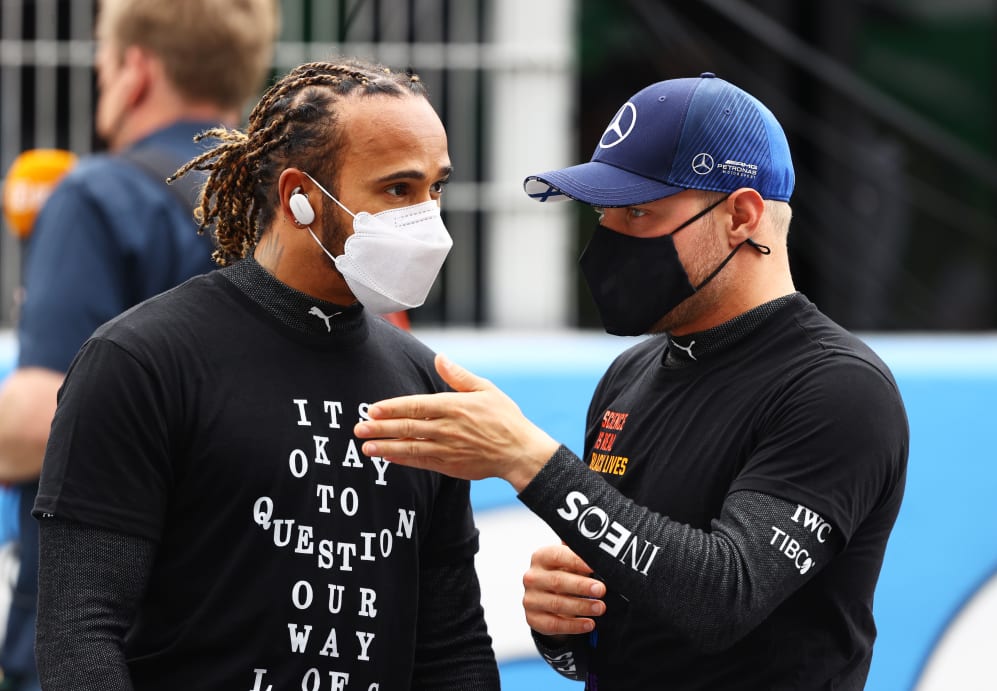 Podium Outsiders
Behind the Mercedes/Red Bull fight, there's a hot battle going on for P3 in the constructors' too, with Ferrari now third after Baku and McLaren fourth. Like the top two teams, Ferrari and McLaren look to be evenly-matched, with just two points separating them in the standings (and McLaren a full 53 points clear of next best team AlphaTauri) – while the momentum has been swinging between the two rivals from weekend to weekend.
If there's an opening, then, you'd expect one of either Daniel Ricciardo, Lando Norris, Carlos Sainz or Charles Leclerc to be the most likely to fill it. Leclerc podiumed here for Ferrari in 2019, while Sainz has scored both times he's raced in France.
Ricciardo, meanwhile, has a best finish of fourth here, while Norris took an incredible P5 on the grid in 2019, already has two rostrums to his name this year, and is on the biggest points streak of any driver currently, with 11 consecutive top 10 finishes stretching back to the 2020 Emilia Romagna Grand Prix.
READ MORE: Seidl calls on McLaren to maintain 'strong momentum operationally' to endure upcoming triple header
Alpine will hope to be in the mix for any podium openings too, in their first race on home soil. The team were quick in Spain, although both Esteban Ocon and Fernando Alonso endured poor races at Paul Ricard in 2018, Ocon retiring on Lap 1 while Alonso finished a disgruntled 16th for McLaren.
Podiums 2018-2019:
Mercedes – 3
Ferrari – 2
Red Bull – 1
FAN VIEW: We can't really describe Leclerc and McLaren young gun Lando Norris as podium outsiders any more, and both have plenty of support for France. There is also a little backing on F1 Play for Sebastian Vettel after his brilliant performances to take fifth in Monaco and second in Azerbaijan. Ditto Pierre Gasly.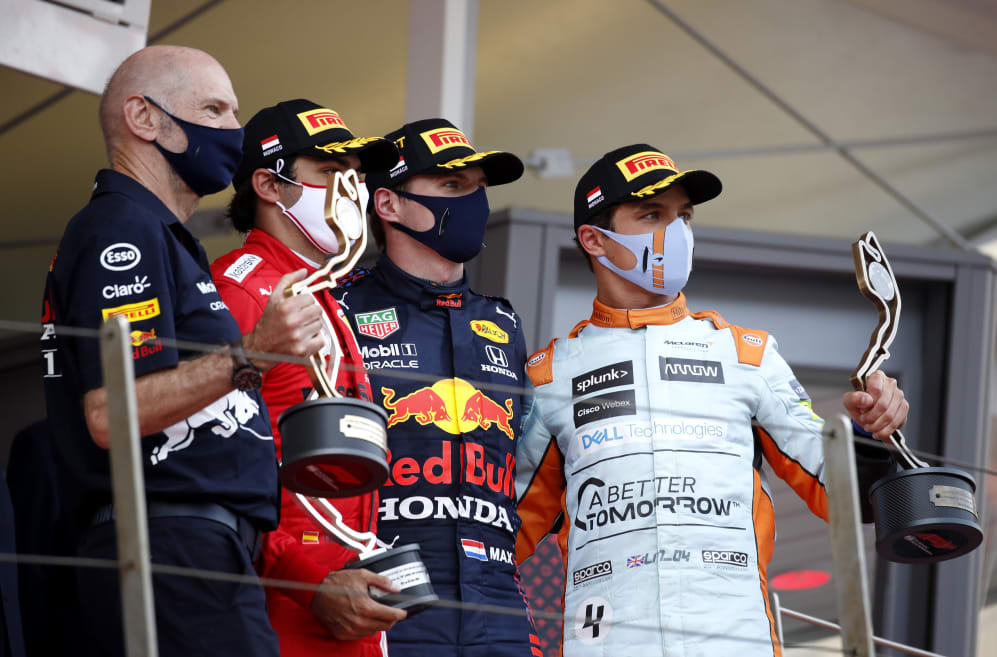 Points potential
Having not scored at all in the first four races (ignoring Kimi Raikkonen's P9 in Imola, subsequently rendered a P13 by a post-race penalty) Alfa Romeo made hay at the pair of street races, scoring twice on the trot to lift them two points clear of the still point-less Haas and Williams squads.
Raikkonen finished in the points here in both 2018 and 2019, too (taking an impressive P7 for Alfa Romeo in 2019, to follow up his P3 for Ferrari the year before) and will be hopeful, along with Antonio Giovinazzi, to add to his tally this weekend – although the going could be harder for Haas and Williams on Paul Ricard's more conventional layout.
READ MORE: Tsunoda says he's 'established a new baseline' after successful Baku mindset change and move to Italy
Meanwhile Aston Martin and AlphaTauri, after their podiums last time out in Baku, would dearly love a repeat result this weekend – but would probably content themselves with decent points finishes.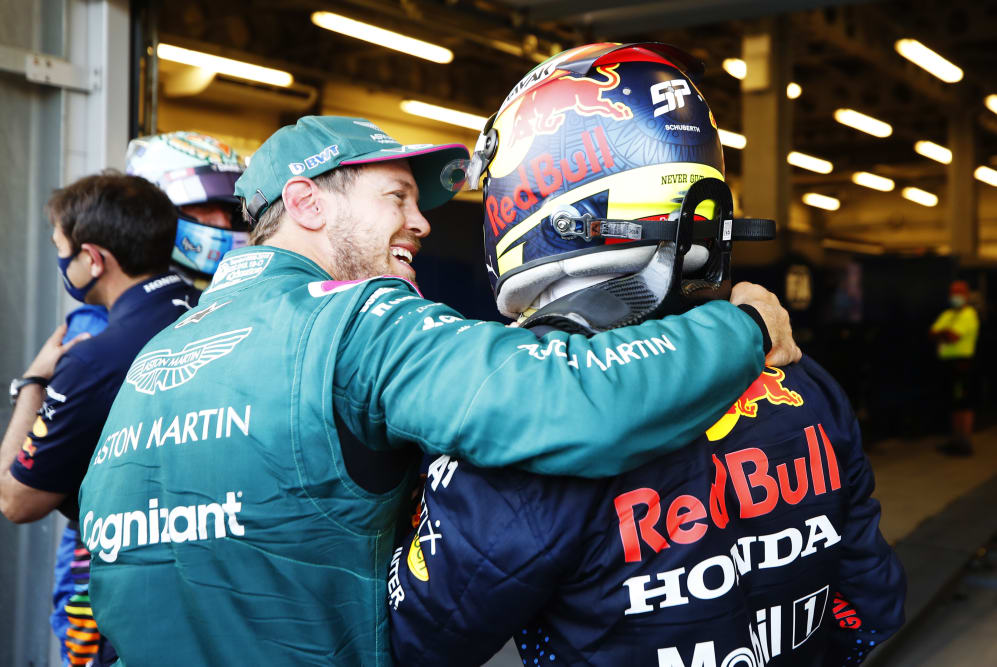 Aston's Sebastian Vettel, after his P2 in Azerbaijan, has now scored the second-most points in the past two races behind Sergio Perez, while Pierre Gasly (P3 in Baku) will be looking to make amends at his home Grand Prix, having crashed with Ocon on the first lap in 2018, before finishing a disappointing P10 for Red Bull in 2019.
LONG READ: Daniel Ricciardo on adapting to McLaren, partnering Norris, and finding perspective in the bad days
Points 2018-2019:
Mercedes – 74
Ferrari – 51
Red Bull – 43
McLaren – 10
Renault – 10
Haas – 8
Alfa Romeo/Sauber – 7
AlphaTauri/Toro Rosso – 0
Racing Point/Force India – 0
Williams – 0
FAN VIEW: F1 Play gamers are pretty confident that Carlos Sainz will join Ferrari team mate Leclerc in the points on Sunday, while Gasly is expected to be in the top 10 once again for AlphaTauri. There is also good backing for McLaren's Daniel Ricciardo, Alpine's Fernando Alonso and Aston Martin's Lance Stroll.