Seidl calls Baku result 'damage limitation' after McLaren concede P3 to Ferrari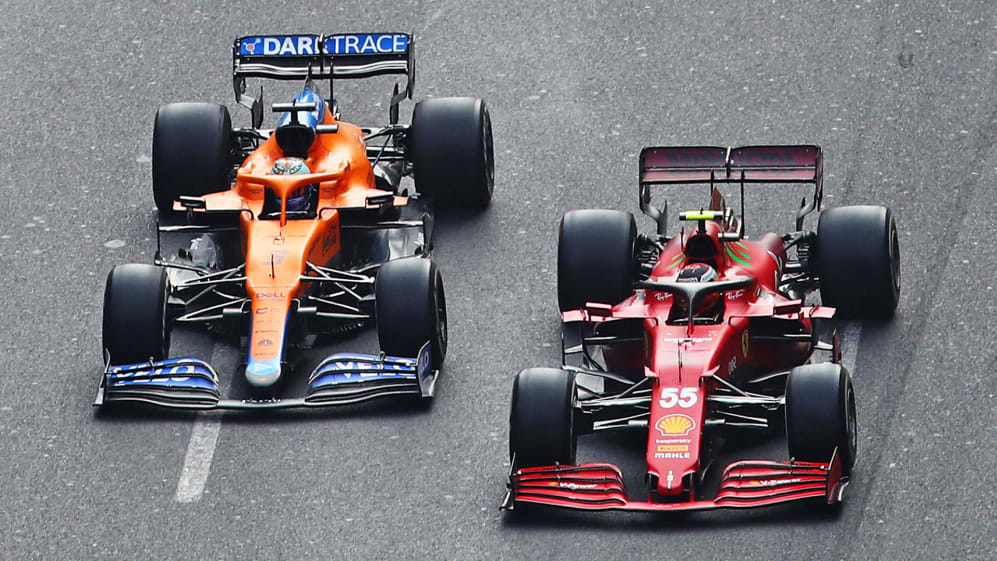 McLaren lost the third place in the constructors' championship they've held since Abu Dhabi last year to Ferrari following the Azerbaijan Grand Prix. But given that their rivals in red had had one car on pole position and another in P5 at the race start – as the McLarens lined up P9 and P13 – team boss Andreas Seidl said he couldn't be too disappointed with his squad's Baku performance.
McLaren's cars had been expected to go well on the power-sensitive Baku City Circuit. But a disappointing qualifying saw Daniel Ricciardo crash in Q2, as Lando Norris made it to Q3 and claimed sixth on the grid – only for a red flag infringement to see him dropped three places to ninth. Over at Ferrari, by contrast, Charles Leclerc took his second consecutive pole position, as Carlos Sainz wound up P5 on the grid.
READ MORE: Leclerc says possible tree branch on track triggered start of fall from pole to P4 in Baku
But with Norris then overcoming a bad start to come home P5, and right on the tail of Leclerc, as Ricciardo took P9 behind Sainz, Seidl said he was satisfied not to have been outscored by more than the four points that Ferrari took over McLaren in Baku – even if it had given the Scuderia P3 in the constructors'.
"If you start P9 and P13 and are after the first corners P12 and P13, then finishing P5 and P9 – just one position behind each [of] the Ferraris – it is clearly damage limitation," said Seidl after the race. "In the end, we need to finish higher up on Saturday, then our Sundays are a lot easier because I think we had the pace today [to run] further up the front.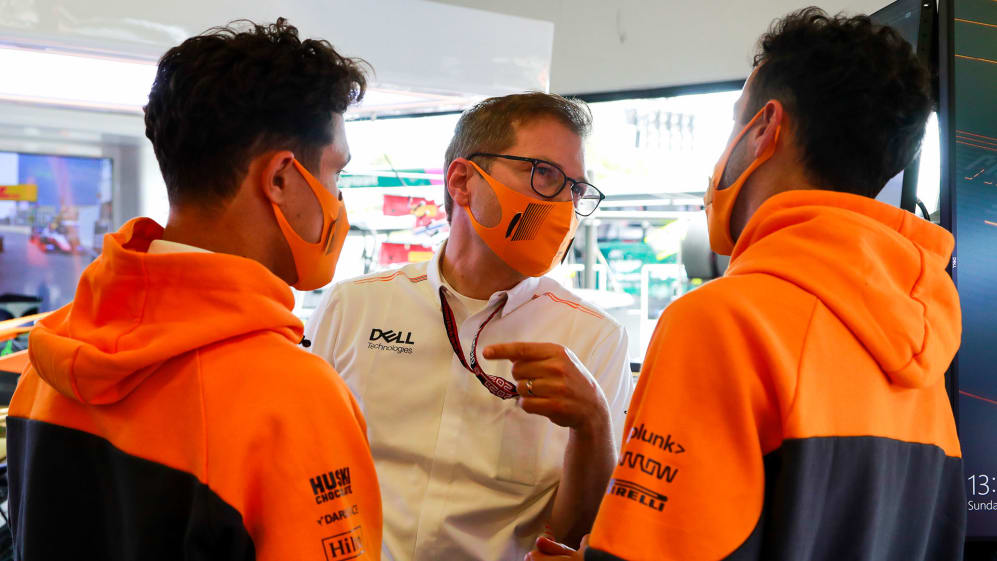 "But as soon as you were in the train today, there's not a lot you can do," Seidl added. "Again, a good job from both drivers and the team to keep their head calm in a tricky race. So, we're pretty happy that we only lost four points to Ferrari today, which was a good outcome after a disappointing Saturday."
The Azerbaijan Grand Prix's red flag stoppage – caused by Max Verstappen's crash on the pit straight – set up a thrilling two lap finale, with Norris climbing from seventh on the standing start grid to finish fifth. But given Norris' strong recovery before the race was red flagged – as Leclerc had conversely fallen down the order – Seidl suggested that McLaren may have been in a position to score even more points had the race run its course, rather than being stopped…
READ MORE: Norris happy with recovery to P5 in Azerbaijan GP after 'annoying' opening lap
"I think if it would have been a normal race, it's clear that Mercedes and Red Bull were gone," said Seidl. "But I think if it would have been a flat-out race, it could have been very interesting with the tyre degradation of the Ferraris.
"So difficult to say what would have been possible in a normal race and also difficult to say what would have happened if we would have finished yesterday in quali where we should have been, in terms of car performance. But in the end, it doesn't count; we need to get it together on Saturday and on Sunday and that's what you have to work for. Then you get the results you deserve as a team and that's our focus."
Seidl, meanwhile, refused to speculate on how McLaren might fare against Ferrari when F1 returns to the more 'normal' confines of the Circuit Paul Ricard for the French Grand Prix on June 18-20. But he did reveal his pleasure at McLaren having once again moved closer to the pace of Mercedes and Red Bull in Baku – with Seidl aiming for more fights with those top two teams in the near future.
READ MORE: Ricciardo says triple header will 'fast-track' progress with McLaren, after bagging points in Baku
"It's difficult to draw any conclusions from earlier races of the season in terms of the pecking order on specific tracks," said Seidl, when asked if he felt McLaren would be more on the pace of Ferrari at Paul Ricard.
"So I simply think it's difficult to say. In general, what was positive again, ignoring our final positions in qualifying yesterday, is that we definitely got a lot closer to the Mercedes and Red Bulls in front of us in terms of pace, which is encouraging.
"These are the steps we have to make as a team," he concluded. "We have to make these steps to fight these teams again in the future."
McLaren now sit two points adrift of Ferrari in the constructors' standings, with the Scuderia now in the highest position they've been in the championship since last year's 70th Anniversary Grand Prix.
2021
Constructors' standings after Baku
POSITION
POINTS

1

Red Bull Racing

174

2

Mercedes

148

3

Ferrari

94

4

McLaren

92

5

AlphaTauri

39