Feature
What To Watch For in the Russian GP: Norris vs Sainz, Verstappen's charge and Hamilton's dilemma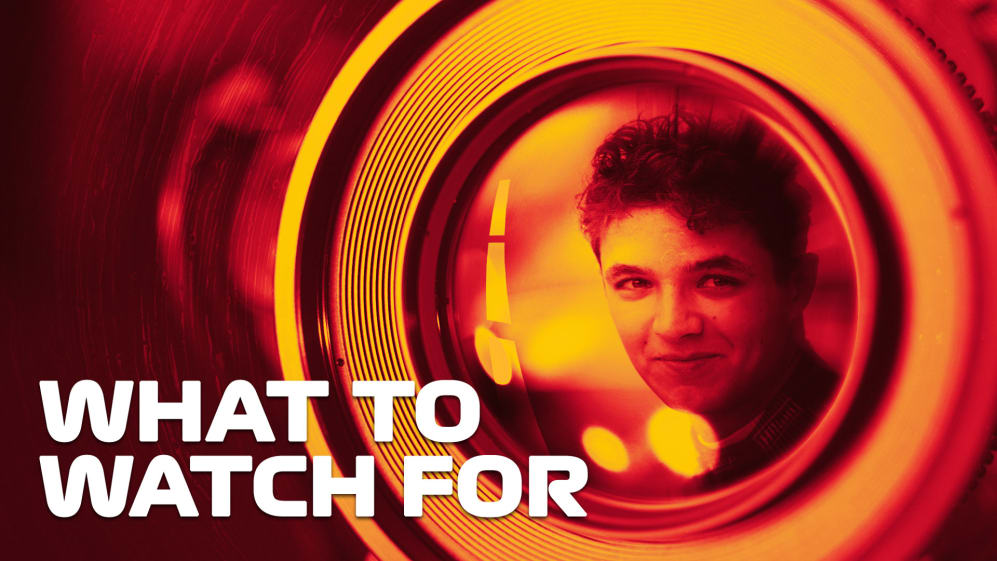 From a debut pole position to George Russell chasing another podium, and from Mercedes with work to do to Max Verstappen with even more work to do, we pick out some of the key things to keep an eye on at Sochi Autodrom when the lights go out...
READ MORE: Norris beats Sainz and Russell to claim sensational maiden pole for Russian Grand Prix
Verstappen's charge from the back of the grid
Red Bull knew Max Verstappen would have a grid penalty in Sochi, but what they weren't sure of was whether it would be just three places or a lot more. His penalty for the collision with Lewis Hamilton in Monza was a certainty, but in the end his team looked at the weather forecast and relative performance and decided to take a new power unit.
That decision now looks like a very good call. Verstappen will start last on the grid, but his main title rival is only fourth after a difficult end to qualifying, while Valtteri Bottas is seventh, so Mercedes have to make up ground.
But Verstappen has to make up more, and was fully focused on his race performance on Friday in order to maximise his chances of climbing through the field. Verstappen can be thrilling to watch even when out front, so the prospect of him trying to fight his way through from last on the grid is a special one.
Hamilton weighing up risk and reward
For Hamilton, a pit lane error that saw him crash when coming in for slick tyres will leave him feeling like Saturday was something of a missed opportunity. With Verstappen's grid position set, the seven-time world champion had a chance to really put the pressure on with pole position, and the signs were good as Mercedes had dominated the weekend up to Q3.
So to only qualify fourth was a major disappointment, and Hamilton called his mistake "embarrassing". That said, he's still on the second row, and with a McLaren, a Ferrari and a Williams ahead. Given the performance of Hamilton's car, there's certainly a good chance he can make further progress.
READ MORE: 'It was 100% my fault' – Hamilton shoulders blame for pit lane crash that cost him shot at Sochi pole
What Hamilton has to weigh up is how much risk is he willing to take in order to make that progress? How Verstappen advances through the field could play a part, but even if he pays no attention to his rival's race he will know that as they start he is set for a 12-point gain and the championship lead.
From fourth he'll still get a good slipstream on the run to Turn 2 but Hamilton will be in the pack a little more than he would have wanted and that comes with added danger of incident, so it will be fascinating to see how aggressive or cautious he is given the race situation.
Norris and Sainz on the front row
The two cars on the row directly ahead of Hamilton know each other very well, with Lando Norris and Carlos Sainz team mates at McLaren for the past two years. They might be in different teams now, but their cars are pretty closely matched, and for the first time they will line up on the front row together.
Sainz has already hinted at wanting to work with Norris to try and win the race, and even though they're in rival teams it's not a silly suggestion. Given Mercedes' pace advantage, Sainz could do with getting the DRS from Norris in order to be able to defend from the likes of Hamilton and Bottas if and when they attack.
READ MORE: 'We will put on a fight' says Sainz as he eyes podium after bagging first front row start for Ferrari
That does have advantages for Norris, too, because it means Sainz will help keep those drivers at bay, but they will still be fighting each other at the same time. And the most intense part of that fight is likely to come at the start of the race, with the long run down to Turn 2 often seeing the pole-sitter under threat - a fact that isn't lost on Norris.
"Probably the only place I wouldn't want to be pole is here!" Norris admitted after qualifying, but he's very much in the mix for victory given McLaren's straight-line speed and strong race pace.
WATCH: Ride onboard with Lando Norris at Sochi to see how he took his first-ever F1 pole position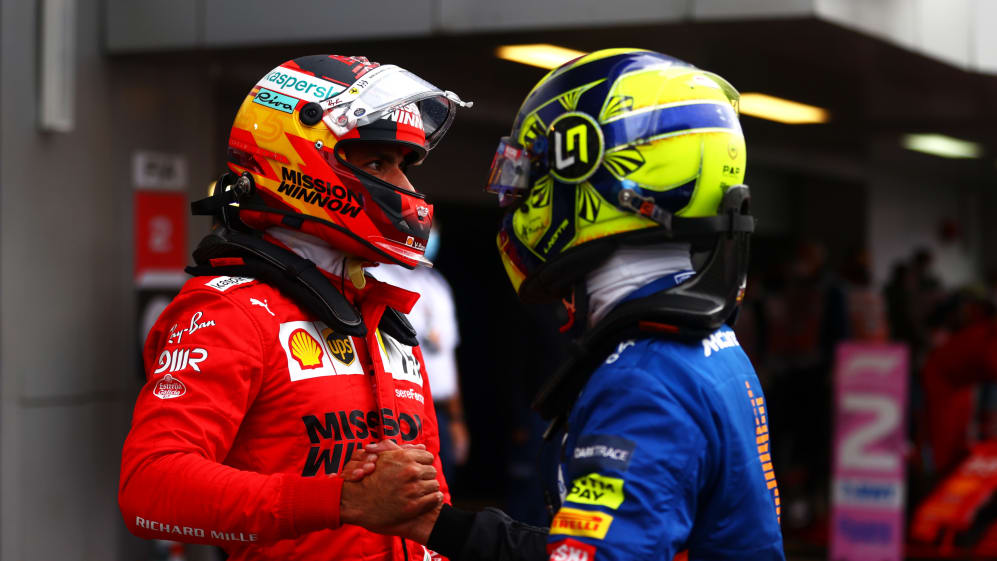 Russell chasing a second podium
It's still a pretty optimistic request to have another McLaren victory on Sunday – even from pole – but even more of an ask would be for George Russell to secure what would be his second podium in four races.
Russell was classified in second place at Spa-Francorchamps and followed that up with more points in Monza last time out, with those two results coming after his first top-10 finish for Williams in Hungary. But while he has an excellent chance of securing a fourth points haul in five races, Russell is aiming higher.
READ MORE: Russell aiming for Russian GP podium after earning second top-3 start since summer break
The Williams – like the McLaren – is strong in a straight line and Russell thinks he will be difficult to pass. In fact, he's looking ahead rather than behind him in the early stages of the race, because the run to Turn 2 is going to see him with a big slipstream from Norris ahead of him, and with the top speed advantage both cars have there's every chance he could get ahead of at least Sainz.
A Williams leading at the end of the opening lap? Certainly don't rule it out. And with Russell's future secured and Williams on a roll, they have nothing to lose by going for it.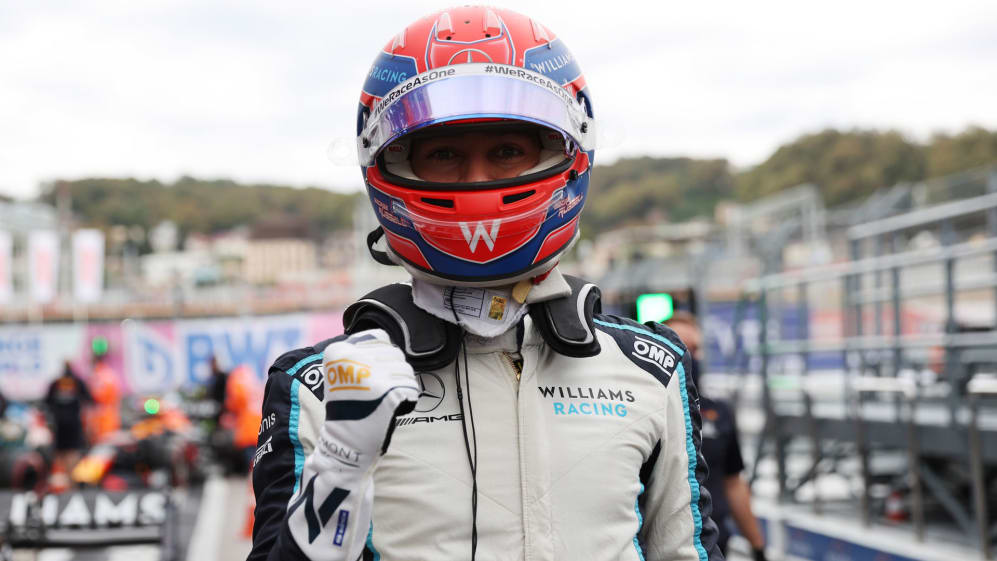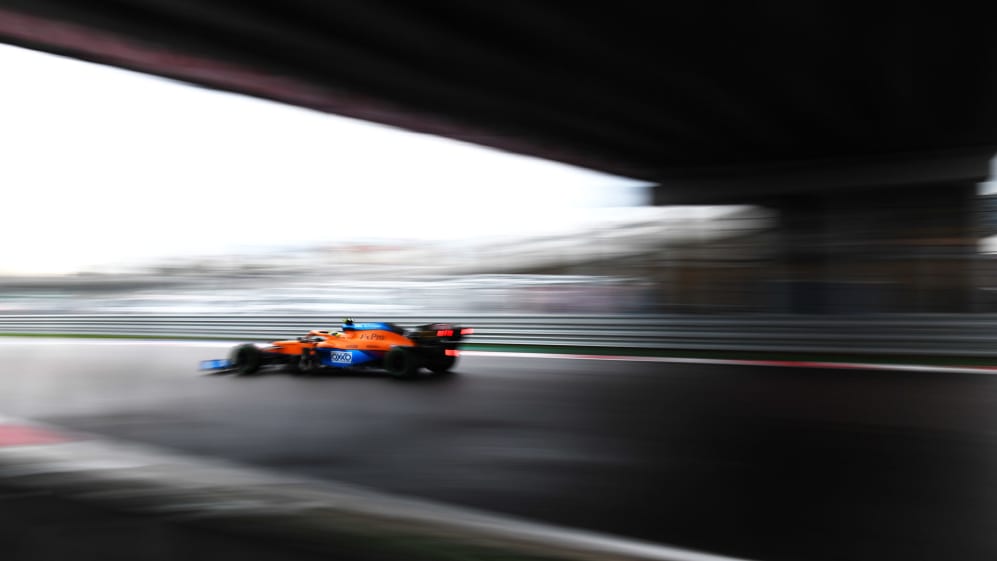 While they were able to improve, it was extremely slippery and not just because of the wet parts of the circuit. The rain had also washed away any rubber put down on Friday, and so even if it's dry on Sunday then the race itself is likely to take place on a track that is low on grip.
That could induce mistakes and make tyre wear a greater challenge, so it will be far from simple even if the weather doesn't intervene again.