Ocon hails 'fantastic race' after last-lap pass on Red Bull's Albon to secure P5
Renault's Esteban Ocon waited until Lap 44 of 44 of the 2020 Belgian Grand Prix to execute a pass on the Red Bull of Alex Albon, claiming fifth position to help Renault to their biggest points haul since returning to F1 in 2016.
Ocon initially passed Albon for fifth at the start of the race, but lost the position when the drivers pitted together under the Safety Car on Lap 11. But with Albon unable to stay with the fourth-placed Renault of Daniel Ricciardo throughout the latter part of the race, a frustrated Ocon tried several times to pass on the run down to Turn 5 at Les Combes, before eventually getting the move done on the final tour.
READ MORE: Ricciardo buzzing after 'big' final lap gives him extra point to go with fourth place
"Good points and bad points but in the end a very positive weekend," said Ocon, who with Ricciardo scoring 13 points for fourth place and fastest lap, and Ocon taking 10 for fifth, helped give Renault their biggest race tally since their F1 comeback in 2016.
"To get fourth and fifth for Renault is a fantastic race. Of course, I got [Albon] at the start, lost him at the pit stops so we were a bit frustrated there – and then we had quicker pace than the Red Bull!"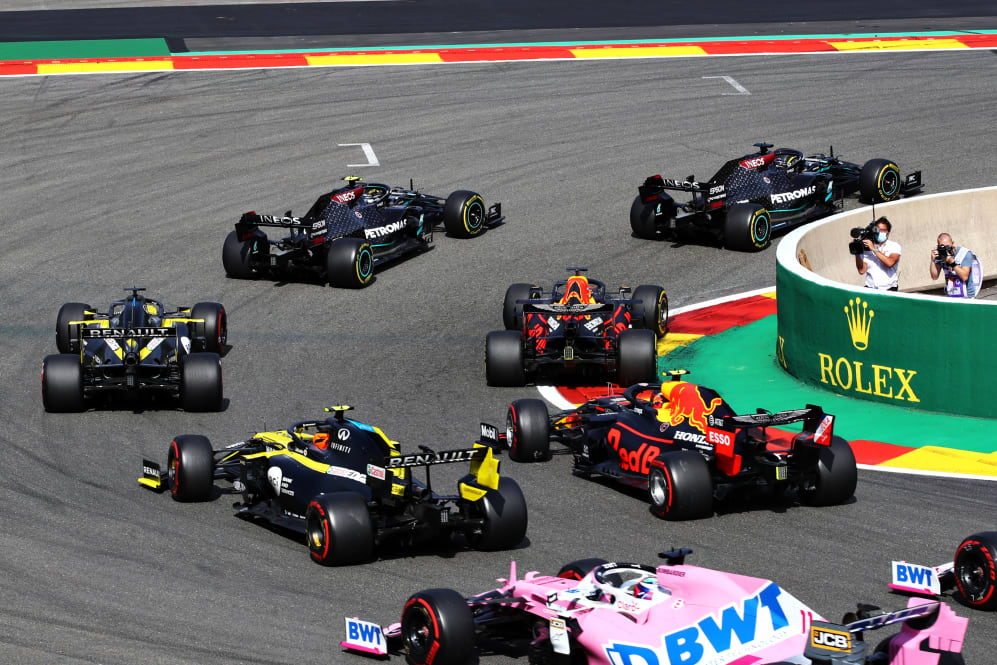 For Albon's part, having been unable to find a way past Ocon in the lead up to their solitary pit stops, Red Bull had opted to roll the dice and put him on medium tyres, as the rest of the field opted for hards. And it was that, felt Albon, that had cost him P5 at the chequered flag, on a day when he'd been seen as a potential podium candidate.
"I think the mediums maybe wasn't the right choice," said Albon. "It was our decision, but obviously we just didn't expect as much deg [degradation] as we got.
READ MORE: Belgian GP 'not enjoyable' says Verstappen after 'lonely' run to P3
"We said before the race that the Renaults would be hard to overtake. With DRS, you're just staying the same as them, so it was pretty tricky to do anything. Then we put the medium on; it was okay, but again, just [hard] to try to do overtakes, and I had to push as much as I could through Sector 3 to be close enough to get the run down at Turn 5, so it was frustrating. I think the tyres just dropped off."
Meanwhile, in more positive news for Renault, next stop is the Monza track where they scored their previous biggest points haul since their F1 return last year. And Ocon felt that his and Ricciardo's race pace boded well for the team in Italy.
"The track will have more or less the same characteristic [as Spa] in more extreme, so we should be quick there as well," said Ocon. "So that's very positive obviously for next week… Let's try and extract the best from that track too and hopefully do an even better one."