Ricciardo: Renault performance at power-rewarding Monza 'a real statement'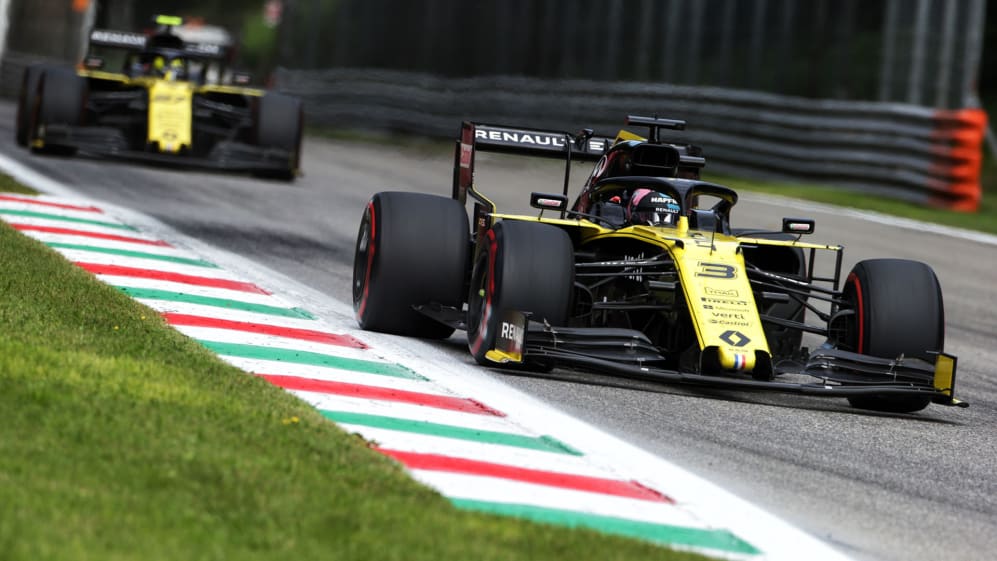 The 2019 Italian Grand Prix saw Renault enjoy their best result at Monza since all the way back in 2008, with Daniel Ricciardo finishing a comfortable fourth, while team mate Nico Hulkenberg was just one spot lower – and according to Ricciardo, the team's success in Italy was no fluke.
Ricciardo and Hulkenberg locked out the third row of the grid on Saturday. But rather than falling away in race conditions and getting passed by one or both of the Red Bulls behind them, the Renaults held their own, Ricciardo benefitting from Sebastian Vettel's spin that dropped the Ferrari driver down the order, and from pitting under a Virtual Safety Car, to come home a season-best fourth, 12 seconds up the road from his team mate – and much to the Australian's delight.
READ MORE: Vettel 'can't be happy' with race-ruining Monza spin
I really believe we were a fourth-place car today
"I think today, the VSC gave us a little bit of a buffer, and a bit of comfort and we could kind of cruise till the end," said Ricciardo. "But I really believe we were a fourth-place car today. Obviously Seb gave us a bit of a help. I saw he spun, I don't know if he had a problem. But once we were in fourth, I felt we definitely had that pace.
"We're coming up to different circuits," Ricciardo added, "high-downforce Singapore, street circuit, bumpy and whatever. But even though this is unique, it's Monza and you take all the wing off, I definitely think there's still something we can learn from this."
"We knew we were on good form and in good shape for here," agreed Hulkenberg, who like Ricciardo took his best result of the year. "We delivered, we rewarded ourselves with I think the most points we've ever scored, since I've been in the team at least. Pace was good, operational-wise everything was good and fine. It feels great after a difficult year to finally have a really good weekend."
Finishing ahead of both Red Bulls will have been particularly pleasing for the team's former driver Ricciardo. And having raised plenty of eyebrows last year when he decamped to Renault, whose power units had been so publicly criticised by Red Bull during his time at the team, Ricciardo was quick to dedicate the result – Renault's best since returning to Formula 1 in 2016 – to the team's engine department in Viry in France.
"I want to give a special shout-out – obviously I'm happy for the whole team, but to the boys in Viry, building the engines," he said. "I think to get the best team result here in Monza on a power circuit since 2008 is a real statement. They've copped a lot of grief in the last few years and they've made some big gains this year on the power unit, so this one's for them."
Renault's 22-point haul in Monza – on a day when McLaren scored just one – sees them leapfrog Toro Rosso for fifth in the constructors' standings, meaning they now trail McLaren by 18 points with seven races remaining this year.
2019
Constructor standings after Italy
POSITION
POINTS

1

Mercedes

505

2

Ferrari

351

3

Red Bull Racing

266

4

McLaren

83

5

Renault

65

6

Toro Rosso

51