'On his good days, he was just incredible' – Leclerc opens up on 'big brother' Vettel and how he compares to current team mate Sainz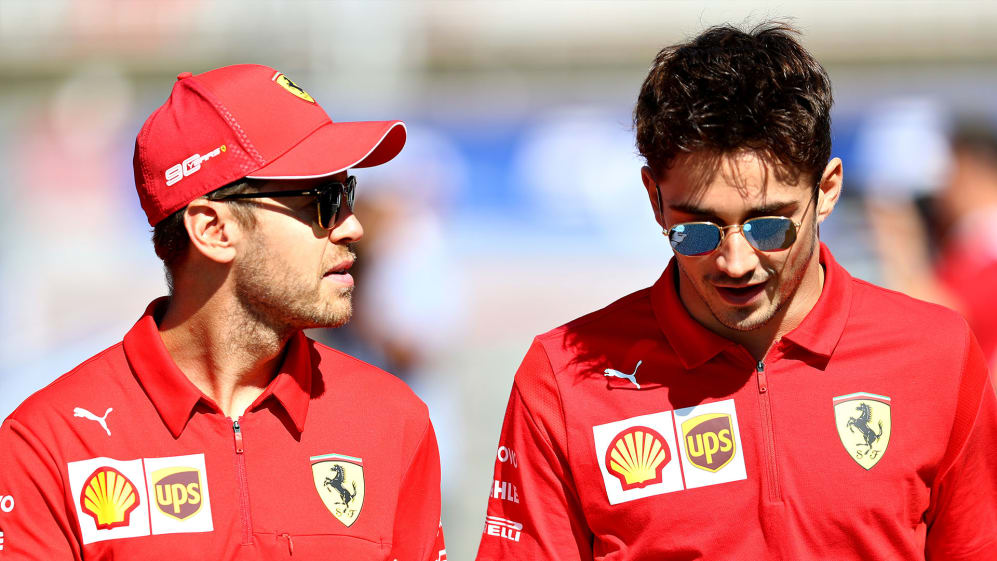 Charles Leclerc has described Sebastian Vettel as having been like an 'older brother' during their two years together at Ferrari – with Leclerc going on to deny that there were tensions between the pair, despite some high-profiles comings together.
Speaking on Formula 1's podcast Beyond The Grid last week, Leclerc was asked about the toughest team mate he'd been paired with in F1, with Leclerc replying: "I wouldn't know between Seb and Carlos [Sainz] I think.
LISTEN: Charles Leclerc on why he'd be happy to spend his entire F1 career with Ferrari
"Seb, in his good days – I mean, the last year [in 2020] was more difficult for Seb, but in his good days, he was just incredible, and just incredibly difficult to beat, if not impossible. And Carlos is just very, very consistent, so it's different approaches, but both of them were very, very strong."
Pushed on the differences between Vettel and Sainz as team mates, Leclerc went on: "With Seb it was a little bit of a different relationship. I saw him a little bit more like an older brother. I mean, he had so much experience that it was different, it was not the same type of competition that I had with Seb than what I have with Carlos.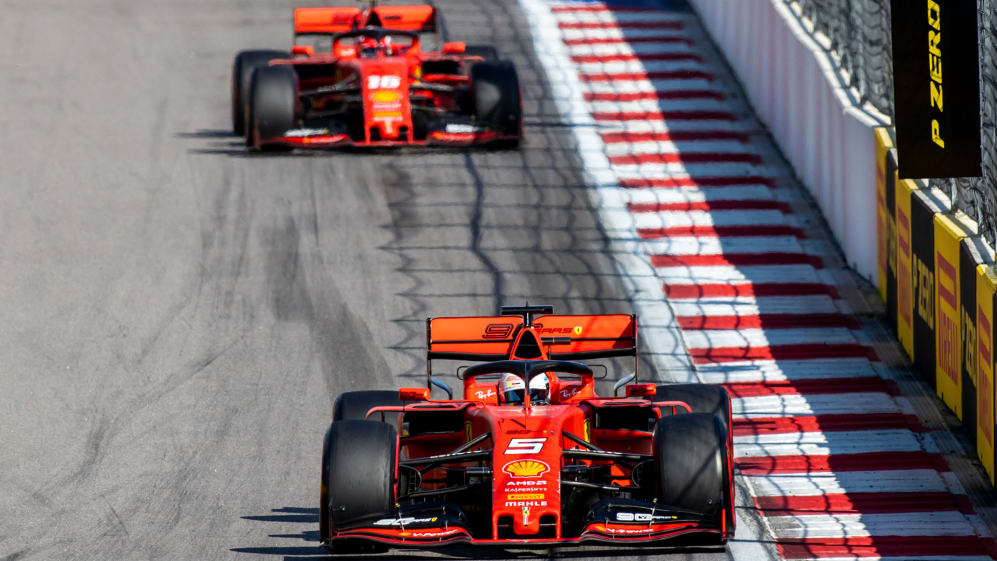 "With Carlos, we are more or less the same age, we are so competitive with everything. Seb had more experience, so he was a little bit… less competitive with everything.
"If I wanted to win something, he would basically a bit let me win this thing and I would be happy and he wouldn't care," Leclerc laughed. "Then once you put on the helmet, this whole relationship stops. You just think about the performance, you just think about trying to extract the maximum from the car, and especially, beat the guy who has the same car as yours."
That desire to beat the other led to some uncomfortable moments between Vettel and Leclerc, most notably when they clashed at the 2019 Brazilian and 2020 Styrian Grands Prix – while Vettel was famously unhappy with Leclerc after believing his 2019 Italian Grand Prix qualifying to have been compromised by the Monegasque, allowing Leclerc to claim pole position and the eventual win.
READ MORE: Vettel sticks around after DNF in British Grand Prix to help collect litter at Silverstone
Leclerc signing a five-year contract extension at the end of 2019, as Vettel was told ahead of the start of the 2020 season that his services would no longer be required at the Scuderia, might only have served to ratchet up the awkwardness between the two. But Leclerc denied that there had ever been serious tensions between them.
"It wasn't that hard actually," said Leclerc, when asked about managing the relationship with Vettel. "I mean Brazil was probably the moment where it was quite difficult, but right after the race, only right after the race. Obviously with the heat of the moment, it's not easy.
"Then I think the thing that was more difficult to manage is how much the media are coming into play and… trying to make things exciting, and trying to make people think there were actually tensions when there weren't.
"We knew there weren't tensions, but we were also asked at every race we came to whether there was tension, and I think we managed it very well.
READ MORE: Binotto hails Ferrari progress after no points in France to almost winning at Silverstone
"In Austria, I think it was quite straightforward, because whenever I do a mistake, I'm just putting my hand up, and that's it. For Brazil, I had my opinion, he had his opinion, and we never really got the answer that we both wanted. So basically, it stayed like this. But we dealt with it very well and there were never any tensions."
Listen to the full episode of Beyond The Grid with Charles Leclerc in the player below, or via Spotify, Apple Podcasts, Google Podcasts or your favourite podcast app - it's on all of them.