P3 grid slot gives Red Bull 'fighting chance' for British GP, says Verstappen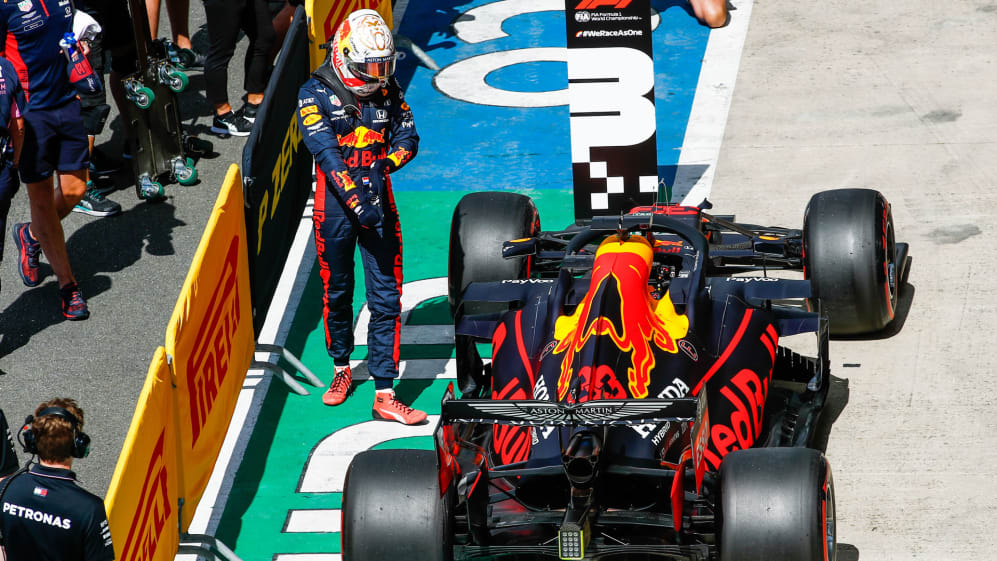 Max Verstappen may have qualified over a second off Lewis Hamilton for the 2020 British Grand Prix, but the Dutchman was cautiously optimistic ahead of Sunday's race that his P3 grid slot would allow him to take the fight to Mercedes.
Verstappen's third place on the grid represents Red Bull's best qualifying at Silverstone since 2016, while Verstappen also found himself as the sole Red Bull in Q3, after Alex Albon failed to progress out of the second segment of qualifying.
READ MORE: Hamilton recovers from spin to take record seventh Silverstone pole
But after finishing a full 1.022s adrift of Hamilton's Mercedes, Verstappen couldn't declare himself completely satisfied with his performance relative to the Silver Arrows.
"Of course, the gap is quite big but it's also no real surprise," he said. "They've been really dominant all year so far.
"But overall I think qualifying itself was pretty okay. That was pretty much all the time [in the car] in third, so there was not much more I think I could do. I think also my final lap in Q3 was pretty good, although I had a bit of a moment out of the last corner.
"It's just a big gap and we just try and do the best we can – and for us that's third at the moment. We did that and it's a better position than seventh, let's say, to start the race."
READ MORE: Albon rues lack of 'track time and confidence' after tough British GP qualifying
Our Friday data analysis showed Red Bull just 0.1s adrift of Mercedes on long run pace. And asked whether he really felt he could get in amongst Hamilton and his Mercedes team mate Valtteri Bottas on race day, Verstappen replied: "Normally not, but we just hope to have a clean start and from there onwards, I'll just try to do the best I can in the car, and if that's trying to follow them a bit, we can be happy with that and try to score some points.
"[But P3] gives us a fighting chance for tomorrow and we'll find out what's going to happen. I'm not too worried about the guys behind, but I'll just try to do my own race and try to keep a bit of pressure on them."
READ MORE: 'It looked like he never left' – Hamilton, Verstappen and Bottas impressed by Hulkenberg return
Verstappen will now be praying for some sort of disruption in the race to help his cause, with the Safety Car having been called into action at every British Grand Prix since 2012 – and four times alone last year – while Verstappen at least secured the strategic advantage of making it through Q2 on the medium tyre, meaning he'll start Sunday's race on the more durable rubber.