Feature
Friday Pace Analysis: Stroll fastest at Silverstone but are Racing Point really in the mix?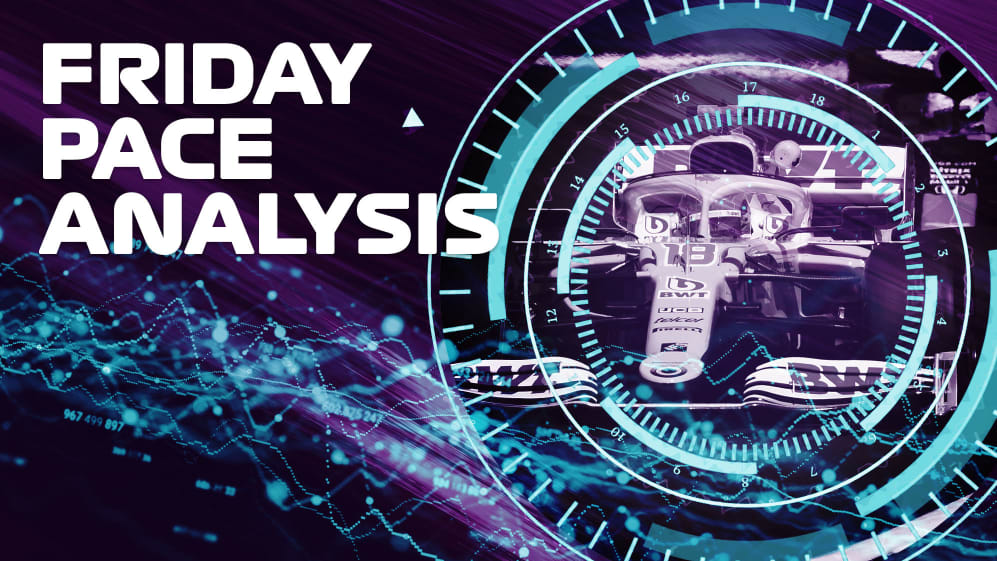 Welcome to the new normal, a Formula 1 World Championship where Racing Point are fighting among the big guns – the pink cars looking at home around the sweeping high-speed turns of the iconic Silverstone Circuit. But does Lance Stroll's eye-catching lap that topped the timing screens in Free Practice 2 for the 2020 British Grand Prix mean they are in the hunt for some silverware come race day? It's data digging time.
ONE LAP PACE
Lance Stroll doesn't give a lot away in interviews, and even on a day when he set the pace – which is not a common occurrence – he wasn't very excited when we chatted after the running on Friday.
He described the RP20 – which looks remarkably similar to last year's Mercedes that was so impressive at Silverstone – as "really hooked up", and said it "felt great" – but perhaps he knew that ultimately, they don't quite have the pace of the Silver Arrows on one-lap pace – and our data would back that up.
READ MORE: Stroll fastest for Racing Point in FP2 at Silverstone as Albon crash brings out the red flags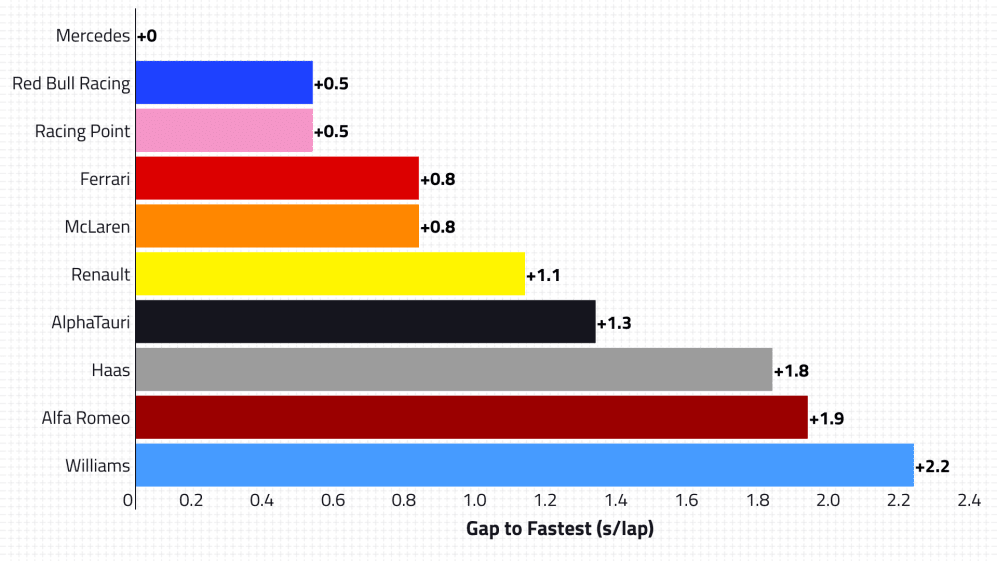 Despite not finding a good balance and having a "difficult day", as Lewis Hamilton said, it was Mercedes who were the quickest on this metric. Trackside chief Andrew Shovlin admitted they probably don't have the "same pace advantage that we had in Budapest".
But while they didn't seem to have the pace on the soft tyre runs, there's a quiet confidence that they can make gains overnight and they are simply not in the business of panicking. Red Bull's Alex Albon, who looked pretty comfortable out there before he crashed, reckons Mercedes are "hiding a lot". And our data suggests they have a half a second advantage over Red Bull and Racing Point.
READ MORE: Albon says RB16 feeling 'more balanced'... despite heavy FP2-ending crash at Silverstone
Ferrari's Charles Leclerc admitted his team had taken a "radical" approach with their downforce levels at Silverstone, and it seemed to pay off with regards their qualifying preparations, with the red cars around 0.3s slower than Red Bull and Racing Point and 0.8 adrift of Mercedes. However, it seems to have had a very negative impact on their race pace, as we'll delve into further down.
RACE PACE
Red Bull have been relentless with their aerodynamic development so far this year, but that hasn't necessarily translated into pure performance on track in the opening three races, as both Max Verstappen and Albon struggled with an RB16 that looked like a bit of a handful.
But they haven't taken their foot off the development accelerator with even more new bits being available this weekend. The difference now, though, is that they appear to have a better overall understanding of the car as well as getting more out of the new parts, and the result is a car with better balance.
MUST-SEE: Verstappen and Grosjean trade insults after blocking incident in FP2
It's perhaps no surprise then, that the car looked much smoother out on track across the two practice sessions, with their performance on high fuel across the tyre compounds looking very good. So good in fact that Mercedes made a point mentioning how close they were...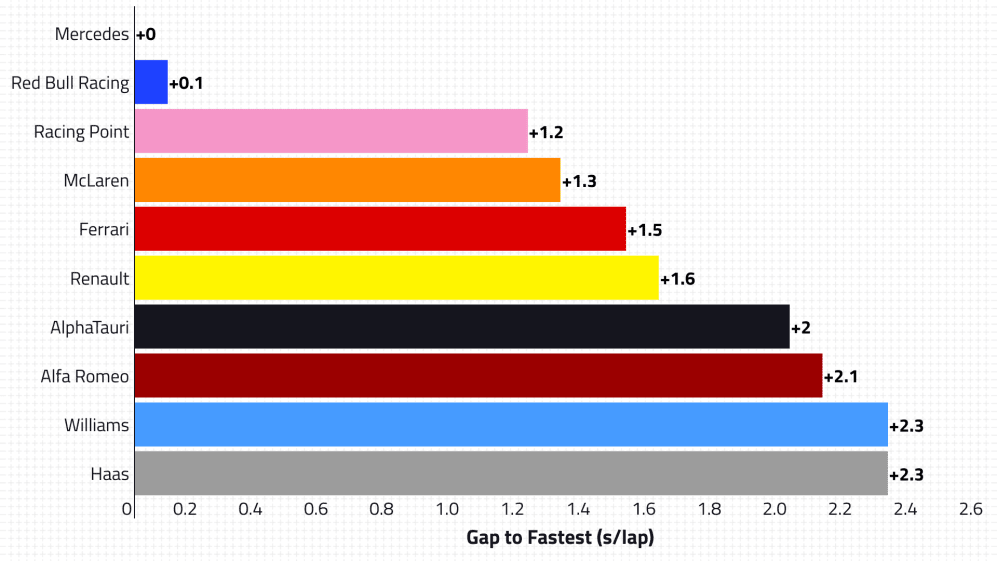 Our data suggests there's only a tenth of a second in it between the two teams, so if Red Bull can qualify close to the silver cars, we could be in for good battle come Sunday afternoon. There's a bit of a gap back to the rest of the field. Well, more than a bit – it's over a second.
Racing Point are next best, but their data might be slightly skewed by the fact Nico Hulkenberg was on a very different programme. The German had just 24 hours' notice that he would be in the car, and had a mere 20 minutes between getting his negative Covid-19 test result and climbing into the RP20 for FP1.
READ MORE: 'My body will feel it tomorrow' says happy Hulkenberg after 'wild' return to F1
His focus was on getting comfortable with the car, rather than setting impressive pace over one lap or over a series of laps for race prep purposes. Overall, Stroll was pretty complimentary about the car over low fuel, and suspects that as the conditions cool, they'll close the gap. It's likely they will be closer come Sunday afternoon.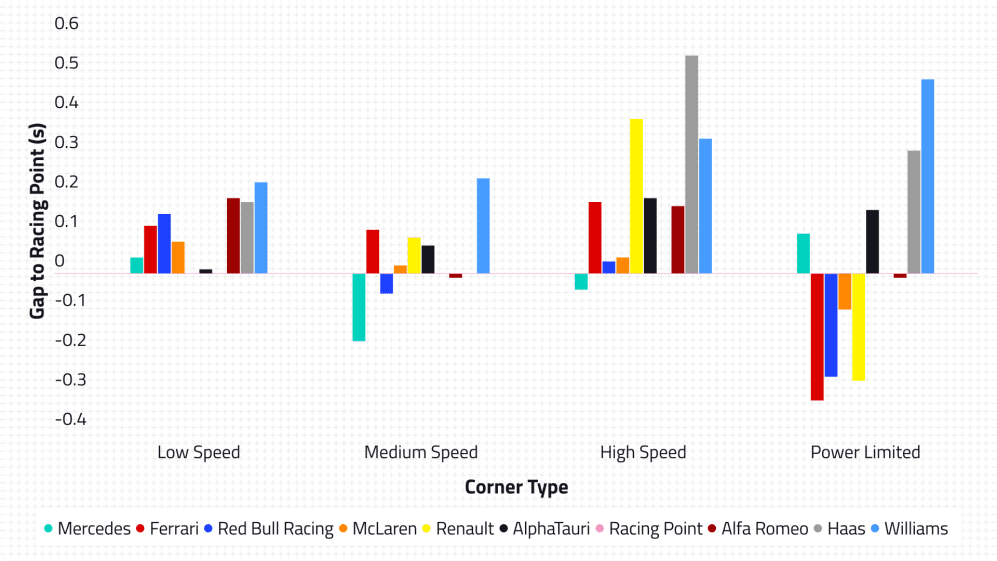 Behind them, it's going to be a tight fight between McLaren, Ferrari and Renault by the looks of it. Both McLaren and Renault ran upgraded parts – McLaren had new bargeboards, Renault did too plus a new floor – so there was a split in focus between correlating the new bits and gathering data for the weekend.
Alfa Romeo deserve a mention, the Swiss-based team enjoying their strongest Friday of the year, with Kimi Raikkonen and Antonio Giovinazzi feeling gains both in short and long run pace. They look like they are around the eighth best in the long-run metric. George Russell said he reckons Williams' fight is with Haas this weekend and judging by our data, he's right, as they are neck-and-neck.
READ MORE: Perez 'did nothing wrong' in taking pre-Silverstone trip to Mexico, says Racing Point boss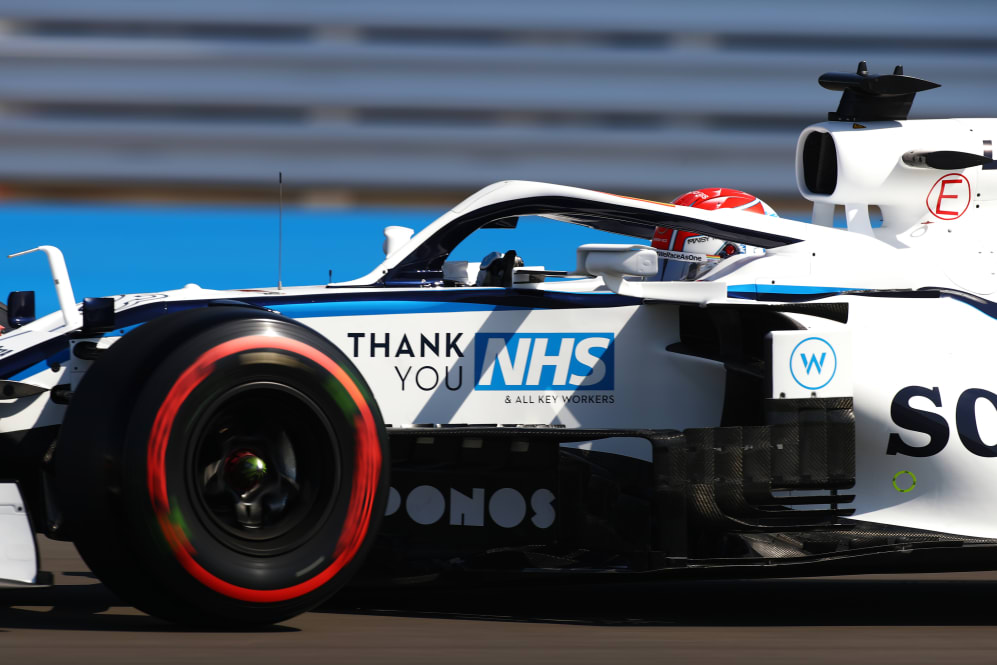 VERDICT
Racing Point may not be the outright fastest, but they are podium contenders this weekend, their performance in the low-speed corners particularly impressive.
But it's world champions Mercedes' pace in the medium and high-speed corners which is paying dividends around the super-quick Silverstone, and it's likely that Hamilton and Bottas will be the main contenders when it comes to the battle for pole on Saturday.
READ MORE: Mercedes drivers looking forward to change of conditions after 'hard day of driving' at Silverstone
Red Bull are part of the conversation, though, and should Verstappen pull out a lap that is better than the car is capable of – as he so often has – he could force himself into the mix and then make their strong race pace count on Sunday.
Conditions are expected to cool dramatically as the weekend goes on, with temperatures on Sunday potentially half that experienced on Friday at around 17C. The wind direction will likely change, too, creating more uncertainty.
Reason, then, to be excited about the next couple of days. We've been treated to three thrilling races to kick off the 2020 campaign. Let's hope we can make it four.