P7 on the grid at Monza 'damage limitation' for Renault says Ricciardo
After finishing an impressive fourth in FP3, Daniel Ricciardo was underwhelmed with his P7 qualifying position but said it was an exercise in "damage limitation" as Renault's pace faded in comparison with the likes of McLaren and Racing Point at Monza on Saturday afternoon.
The Australian had hopes of another stellar qualifying performance in Italy after he qualified and finished fourth at the similarly low-downforce Spa-Francorchamps last weekend, but he couldn't match that this time out, as he recovered from a fuel pump issue that forced him to stop on track at the end of FP3.
READ MORE: Q2 exit at home 'hurts' says Leclerc as Ferraris start outside top 10 at Monza for first time since 1984
"I kind of feel like seventh was… like a damage limitation, in a way," he said. "We were a little bit behind in qualifying. I felt like we didn't show the speed that we showed yesterday or even this morning.
"Just felt like the others ramped up a little more and we might have stayed a little more stagnant."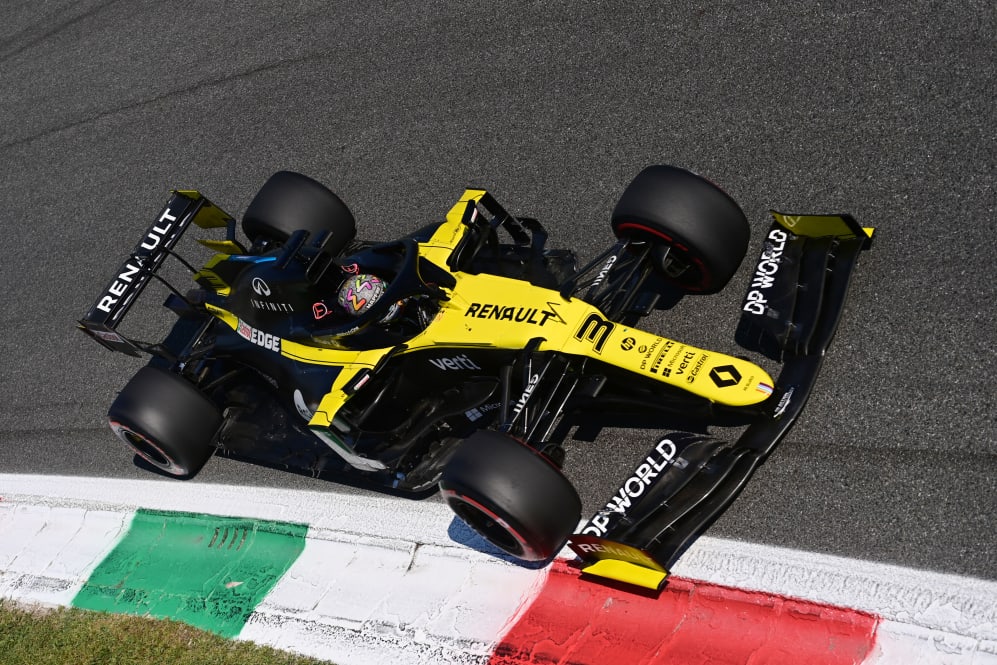 Renault's midfield rivals fared slightly better in Italy: Carlos Sainz managed P3 for McLaren, Sergio Perez P4 for Racing Point, Max Verstappen P5 for Red Bull and Lando Norris P6 for McLaren.
And after finishing 11th and ninth in Q1 and Q2 respectively, Ricciardo said he soon realised getting into Q3 was the target, rather than another top-five grid spot.
READ MORE: Sainz 'shaking' after thrilling final lap gives McLaren best Monza grid slot since 2012
He continued: "I was like 'if we just get into Q3…' it's not aiming that high, but how the session was going I was like 'alright, Q3 is not too bad'. So then to get seventh, I know we're deep enough there to have a fight and to race the cars we should be racing. I'm not going to say we're over the moon but how the session was tracking, I think seventh was a good recovery."
Renault's race pace could be their saving grace this time around and we could see another terrific chase between Ricciardo and Red Bull's Verstappen, who starts a row ahead of him on the grid, as we did at Spa when they scrapped in the opening laps and finished three seconds apart at the flag.
READ MORE: Bottas fires 'party mode' potshot at Red Bull after Mercedes secure first 1-2 at Monza since 2016
"Our race car's [pace is] a bit stronger so I'm confident we can pick it up a bit… As I said, I think to come out of that session with seventh – coming into the weekend, yes, we were hoping for more – but in that hour I actually think seventh was a good job."
Ricciardo's best finish in Italy is fourth, having achieved that for Red Bull in 2017 and Renault last year. He is yet to score a podium for Renault since joining the team in 2019.