Feature
PALMER: Could Mercedes have beaten Verstappen in Mexico City with bolder calls from the pit wall?
Max Verstappen has been nothing short of sensational this season and deservedly notched up his 14th win of the season, ensuring his domination of 2022 will go down in the history books. Nobody has scored more wins in a single campaign in Formula 1.
His dominance is underlined by the fact that there are still two races remaining to bolster that stat. Barely anybody has been able to beat Max and Red Bull on merit this season, and it was the case again in Mexico on Sunday.
But could Mercedes have won it?
Mercedes arrived in Mexico in buoyant mood. The thin air, caused by the extreme altitude of Mexico City, meant that their drag deficit, which has been hampering their straight-line speed this year, was reduced.
POWER RANKINGS: Who tops the charts after the Mexico City Grand Prix?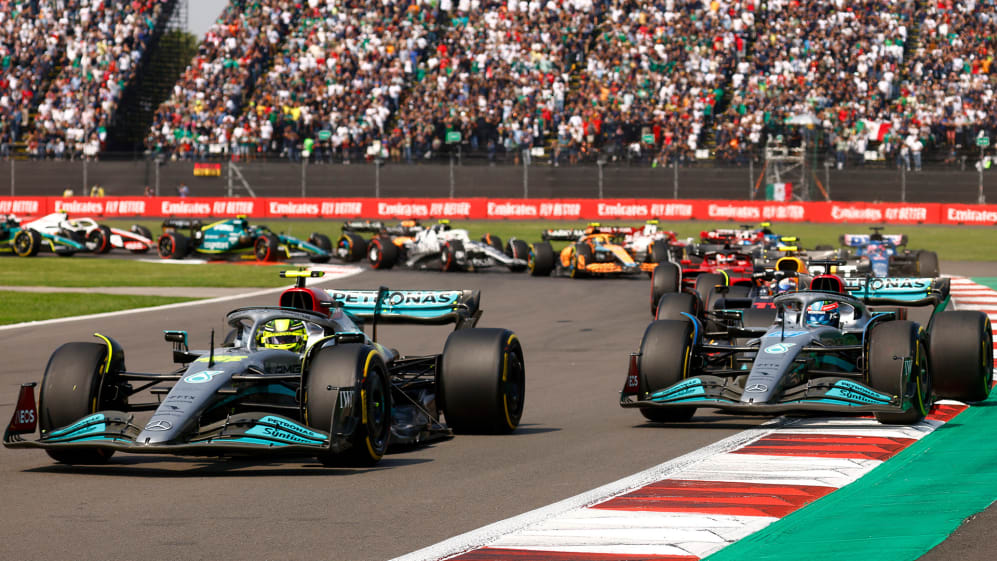 Verstappen produced a sublime lap in qualifying to clinch pole position, doing what neither Mercedes driver could manage – putting three best sectors together on a single lap. Hamilton was compromised by abusing track limits on his first Q3 effort, which naturally meant he had to be slightly more cautious on his second, as he had no banker lap. Russell meanwhile was neck-and-neck with Verstappen heading into the final sector before sliding off wide at Turn 12 and aborting the lap.
But Mexico City is a circuit where the pole-sitter has had an erratic time in the past, so the thought of a Mercedes victory – or at least an entertaining fight for the win – seemed plausible on Saturday evening. No pole-sitter at the previous three Mexican Grands Prix had even managed to make the podium.
READ MORE: 'In hindsight it's always easier' – Wolff defends Mercedes' Mexico strategy as wait for 2022 win goes on
Inevitably that changed with the dominant Dutchman on pole, commanding a lights-to-flag victory as we've come to expect this year. What we didn't expect was Mercedes' challenge wilting, after they were talking up their chances pre-race and have been so close to victory at other circuits where their pace seemed less competitive.
This came down predominantly to their strategy and more specifically their use of the hard tyre in the Grand Prix.
The hard tyre wasn't a good tyre, as evidenced by Daniel Ricciardo, who used the soft to charge his way past the midfielders who had opted for it earlier on. Ricciardo was even fast enough to overcome the deserved 10-second penalty that he received for taking Tsunoda off at Turn 6 in his botched attempt.
Given Ricciardo made effectively 20 seconds on Lando Norris – on the soft tyre versus the hard tyre in the second stint – it's plausible that a similar choice for Mercedes could have given Hamilton a chance of fighting Verstappen, given his 15-second deficit in the end.
The decision for Hamilton was a tough call for Mercedes, who would have lost track position to Perez had they waited for the soft tyre, rather than boxing for hards earlier on. It was an understandable choice, and in all likelihood wouldn't have changed the outcome for their seven-time champion.
READ MORE: The design secrets that set Red Bull's RB18 apart from its F1 rivals
Hamilton, unlike Norris, was lapping in clear air, and thus the comparison to Ricciardo's pace is probably too generous. It certainly would have made it a closer fight though, had Hamilton been able to clear Perez quickly – no guarantee given Red Bull's top-end speed advantage.
The call for Russell was the bigger error from Mercedes, in my opinion. Russell matched the pace of Hamilton throughout the Mexican weekend and had nothing to lose by doing something different, as he was already fourth in a four-car race. Switching him to softs would likely have given Mercedes a double podium, and, by staying out, there was the added benefit of pitting during a potential Safety Car.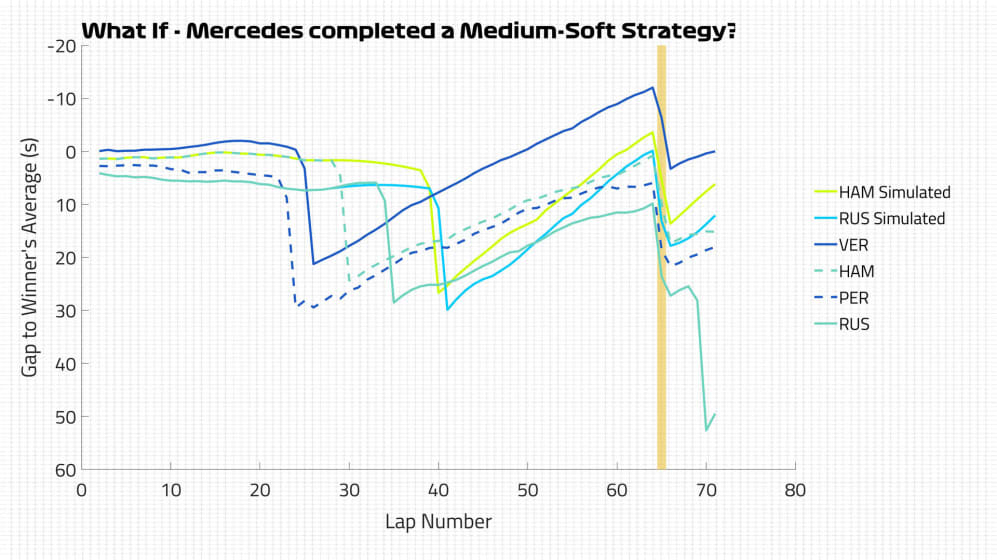 George was calling for it from the cockpit as well, but Mercedes were ultimately cautious with strategy in Mexico – and that's not how they will be able to challenge the mighty Verstappen-Red Bull partnership in 2022.
Credit should go to Verstappen for the way he absorbed the early pressure and then optimised his own strategy by ensuring he had plenty of life in the medium tyre. Mexico has always been a low energy track that's kind on tyres. Red Bull used that to their full advantage, but it still takes the driver to do the job from the cockpit as well.
Verstappen is looking the complete package right now and while his victory stats show the extent of his dominance this season, they don't display the full array of his skillset that we've witnessed.
READ MORE: 'He's been perfect' – Horner full of praise after Verstappen's record-breaking victory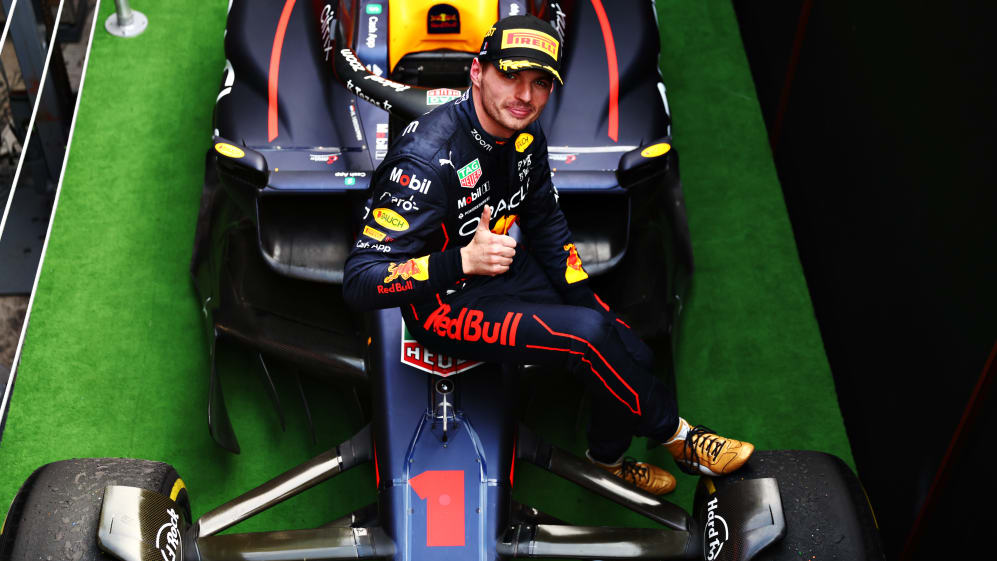 His wins from lowly starting positions have involved carving his way into victory contention within laps. He has recovered from a poor pit stop in Austin, from his own errors in Barcelona and Hungary, and he wins in the dry or the soaking wet.
Of the six races Verstappen hasn't won this year, he would have either won or finished on the podium in all of them were it not for reliability issues, damage at Silverstone and a rare qualifying team blunder in Singapore. Probably the only average weekend Max has had behind the wheel has been Monaco, and we have just completed Round 20.
For those hoping to take the fight to Verstappen next year, they'll need to be either raising their own game, or banking on the Dutchman taking his eye off the ball after securing title number two, because there's not many chinks in his armour at the moment.