Feature
PALMER: Did Ferrari let Red Bull off the hook in Miami?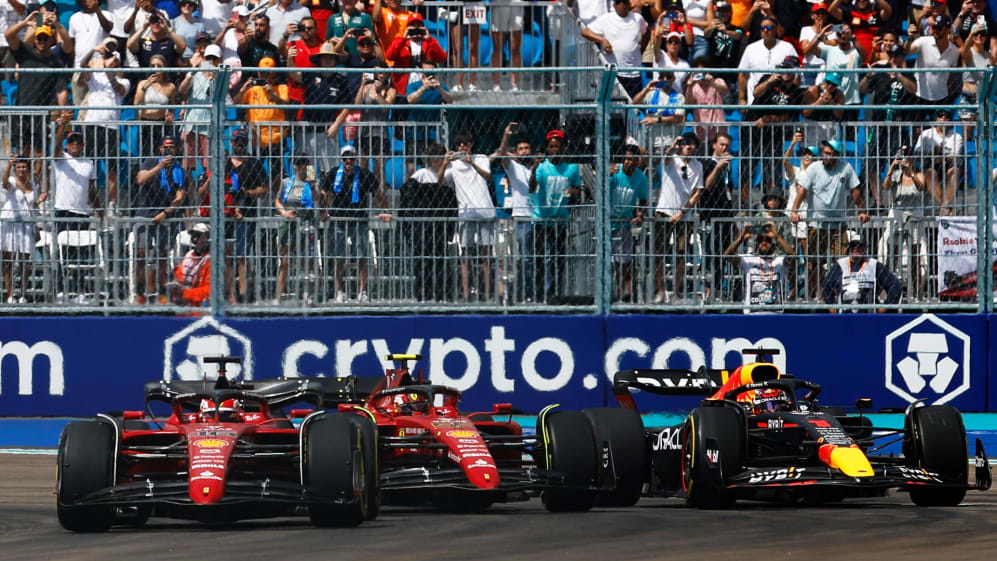 A second win on the bounce for Max Verstappen in Miami, and while he still trails Charles Leclerc in the championship by 19 points, it looks as though he is just starting to lay down a marker.
The manner of Verstappen's recent victories is what has been eye catching. In both Imola and Miami, it wasn't just a lights to flag victory – he had to come from behind to overhaul Leclerc and did so quite comfortably.
READ MORE: Horner says Red Bull threw 'everything' at the Miami GP – as he anticipates season-long title fight with Ferrari
In Imola that fight was in the Sprint, where the Red Bull showed it was significantly better on the tyres in the race for the first real time this season, while in Miami the story was much the same, particularly on the medium tyre that both he and Leclerc started on.
Both in Imola and Miami, small details meant the weekends weren't a cruise for Verstappen. In Italy his Sprint start let him down, leaving him with work to do. He made full amends on Saturday though and his Grand Prix was the measured lights-to-flag win Miami could also have been, were it not for a snap of oversteer in Q3.
Verstappen slipped from provisional pole heading into the final runs of Q3 down to third on the grid, because he overcooked it over the Turn 5 apex kerb, amidst very high track evolution in Miami. He should have been close with Leclerc for pole at the very least, but ended up being shuffled to the second row.
The worry for Ferrari at the moment though must be the manner with which Verstappen is able to beat them, even when he starts behind both cars, and on a Miami circuit which the majority of the other drivers found tricky to overtake on without a significant tyre offset.
READ MORE: Verstappen elated with 'comeback' win in Miami – but calls on Red Bull to iron out 'hit and miss' weekends
Verstappen didn't rely on team tactics or strategy for the win either, he outmuscled Sainz at the first corner to immediately split the Ferraris. Sainz was a bit hampered by his inside line and being boxed in by Leclerc at the apex, but could he have been a bit more aggressive in squeezing Verstappen before the braking zone?
This move was essential for Verstappen's win. A front row lock out is such a dangerous advantage for a team because it gives them the strategic options to cover off the nearest threat in the pitstop phase.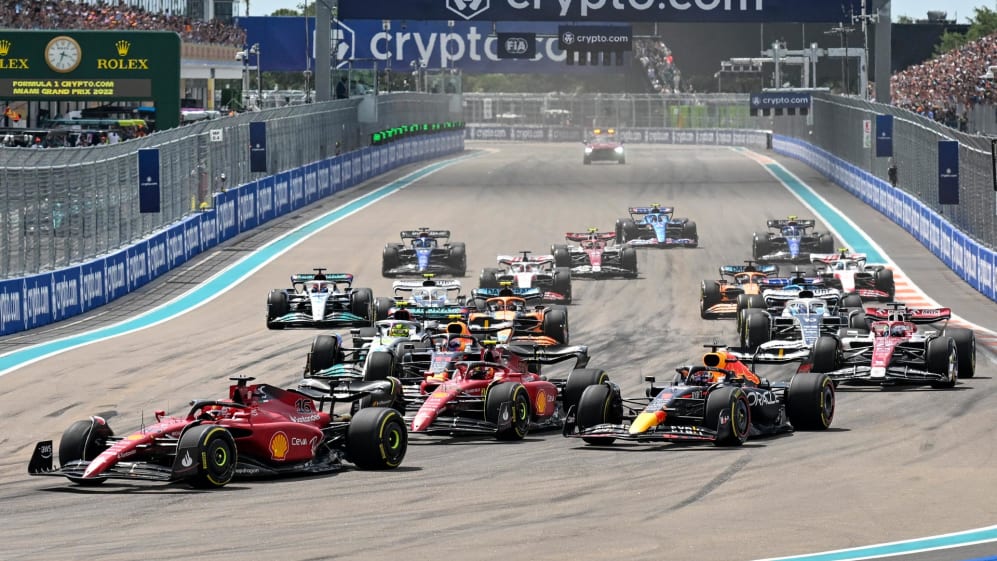 It also could have made Sainz harder to pass on track, because for the large part he'd have had a slight slipstream from his team mate, who didn't vanish up the road for the whole of the first stint – the gap between the two Ferraris was only around four seconds at most before Leclerc pitted.
But with Sainz dealt with, Verstappen could just focus on Leclerc, and he made even lighter work of passing the race leader.
Leclerc looked to have similar outright pace to Verstappen in the race, but he was a little more erratic, complaining over the radio that his Ferrari was tricky to drive.
READ MORE: 'We need to respond' – Binotto urges Ferrari to hit back after second straight Verstappen win
This not only affected his lap times, but it allowed Verstappen to pounce early. At the end of Lap 8 Verstappen was within DRS range of Leclerc, in a Red Bull that is quick on the straights, the pressure was beginning to mount on Leclerc who was just showing signs of struggling with his front tyres.
Leclerc immediately cracked, running wide at Turn 17 as soon as Verstappen loomed large in the Ferrari's mirrors. This gave the Dutchman a brilliant opportunity to pass, which became a slam dunk when Leclerc gifted Verstappen the inside line into Turn 1. Passes for the race lead don't come much easier than that, particularly against a driver who is almost certainly Leclerc's main title rival.
After all the drama of his Hamilton title fight in 2021, Verstappen must be appreciating this fight so far, with both drivers being extremely respectful of one another, but Leclerc in Miami was surely too generous. Maybe he was hoping to get the DRS on the long straights next lap, but unlike in Bahrain or Jeddah where that tactic worked, the next DRS wasn't on the corner exit – but seven turns later, Verstappen could break clear, and did.
The drivers were maybe a little soft with Verstappen in Miami, but I also thought the race strategy from Ferrari was kind to Red Bull.
READ MORE: 6 Winners and 5 Losers from the Miami Grand Prix – Who got the crowd cheering in the Sunshine State?
They didn't cause the Red Bull strategists a single headache all race, despite having two cars trailing the race leader and Perez dropping back with some engine gremlins.
Maybe Leclerc could have pitted sooner, with a view to undercutting Verstappen again for the lead. Instead Ferrari were cautious, extending for an easier one stop and only pitting when Leclerc was 4.5 seconds behind Verstappen and out of undercut territory.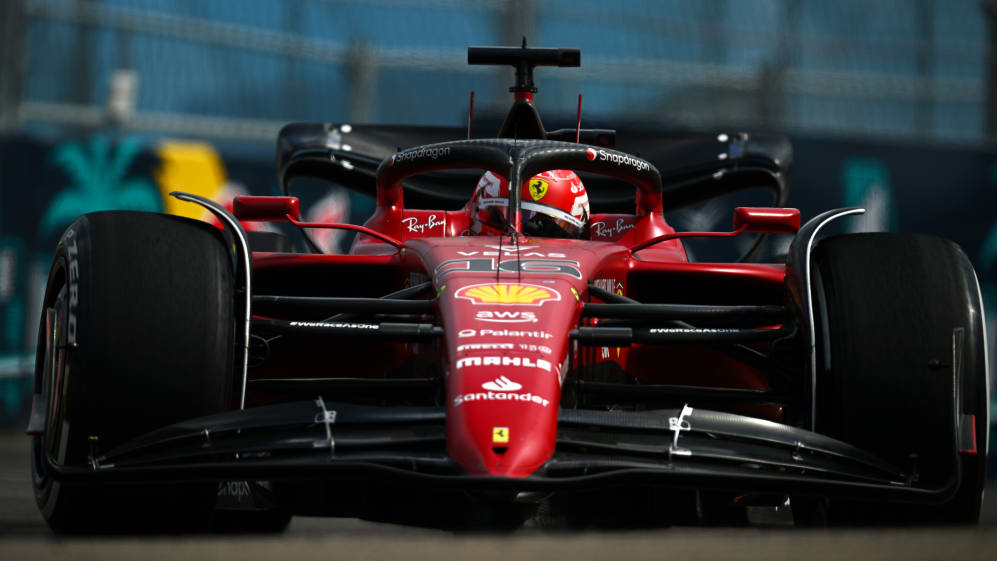 More surprisingly they didn't pit either car during the Safety Car near the end, in another reserved strategy choice. Admittedly they didn't have any new softs or medium tyres left, but a new hard or even a used soft could have been racier options to try and win the race, for probably no real loss with only 11 laps remaining.
As it was Verstappen just had to hold off Leclerc on the same tyres. Leclerc has been superb as well this season and put the pressure back on Max, but he was unflappable and held his nerve to take a second successive, commanding, win.
For all the Red Bull and Verstappen momentum, there are still concerns on the reliability side as experienced by Verstappen on Friday and Perez on Sunday. If that were to resurface again then Ferrari's cautious approach suddenly looks more justified.
F1 NATION: Max's Miami masterclass – plus Colton Herta stars on this week's episode
Also the circuits have potentially suited Red Bull more this year thus far, with most of them being tracks suiting Red Bull's low downforce package and higher top speed. Barcelona and Monaco up next are very different.
Ferrari have also so far held back on upgrades, but will introduce some new updates to their car in Spain next time out to try and hit back. It promises to be an exciting and important next weekend for both teams, but particularly Ferrari who will need to stop the Verstappen momentum and get back to their winning ways.