Feature
PALMER: How Albon pulled off a blinding strategy call to take Williams' first point of the season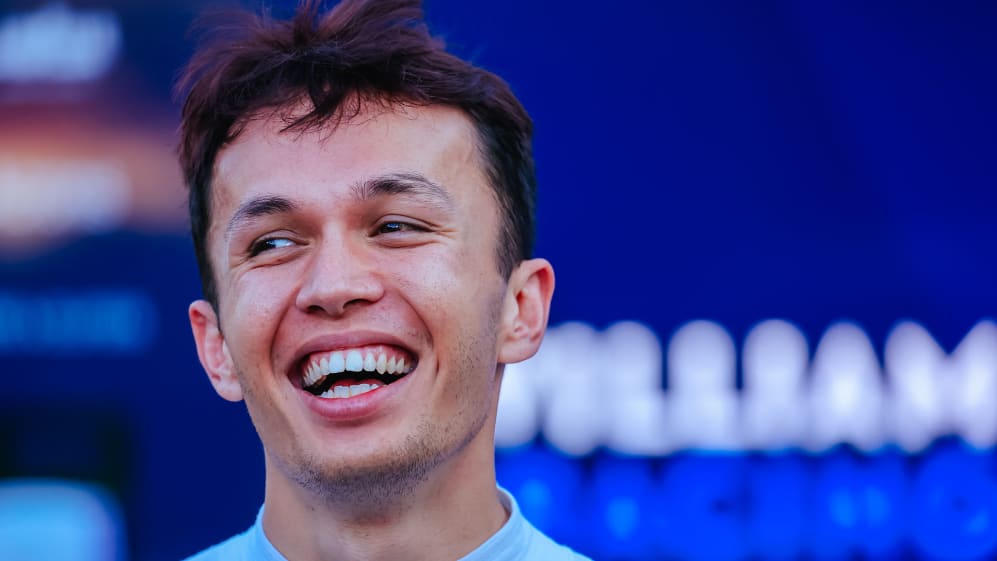 Williams must have been concerned that there would be a void at the team following George Russell's move to Mercedes this year...
Russell has thus far done a terrific job at the Silver Arrows, matching Lewis Hamilton fairly well across qualifying and the races after three rounds, backing up Mercedes' decision to bring him in.
BEYOND THE GRID: Kevin Magnussen on the 'misery' he felt before leaving F1 – and his triumphant return
But another success story has been Russell's replacement at the team. Alex Albon has started life brilliantly at the Grove-based outfit and seems to have slotted straight into Russell's shoes, already scoring his first point for the team in Melbourne.
Qualifying was Russell's forte over the last years, earning him the 'Mr Saturday' title for his brilliant succession of Q2 appearances (and even some Q3 ones) at times last year.
Albon also managed that Q2 feat on his debut with the team in Bahrain, and whilst he hasn't been able to repeat that in the subsequent qualifying sessions yet, he has been significantly stronger than team mate Nicolas Latifi, to the point that the Canadian is now arguably overdriving and making numerous mistakes as well, trying to find more time in the car.
The opening races for Williams were much like last year, respectable enough qualifying pace but little to shout about on Sundays. That is until Sunday's Australian Grand Prix.
READ MORE: Albon says P10 finish was 'unimaginable' before pulling off inspired strategy in Australia
Starting from plumb last, after his car was disqualified for having too little fuel in it at the end of qualifying, it looked like it would be another tough afternoon. It ended up being a fairytale for the team with a perfectly executed strategy jumping them into the top 10 and earning a coveted first point.
Albert Park is a temporary circuit, with barriers lining the track at close proximity, meaning once again that the chance of a Safety Car was always going to be significant in this Grand Prix.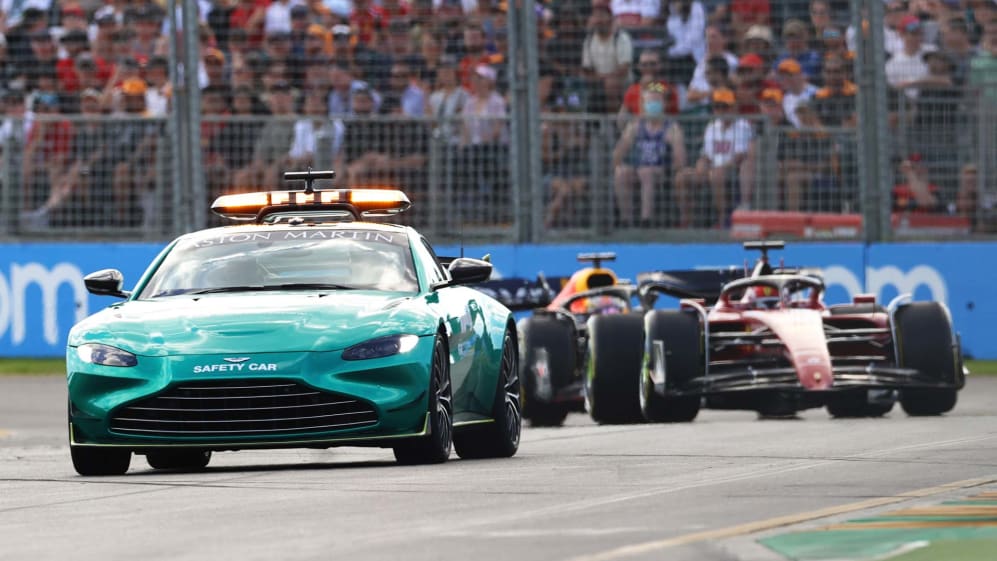 In addition to this we saw plenty of driver errors on Sunday, as even big, experienced names like Carlos Sainz and Sebastian Vettel made errors, which ended their races and brought out the Safety Cars.
When the Safety Car was deployed for Vettel's crash, Albon couldn't pit, because like Hamilton and Magnussen in Jeddah, he had started on the hard tyres and wouldn't be able to get a medium to the end. Again, he was joined by Magnussen on this strategy in Australia, and Alpine's Fernando Alonso.
READ MORE: Alonso 'speechless' after weekend unravels to leave him last in Melbourne
In theory, this butchered their strategies because everybody else who had started on medium tyres was able to take a 'free' pit stop and emerge just behind them on hards that would go to the end. Effectively Alonso, Magnussen and Albon had to make up a pit stop's worth of time in the remaining laps, and they had to do it on significantly used tyres, compared to the others' new hards.
It's for that reason Alonso and Magnussen took the opportunity to jump in when the VSC was called for Max Verstappen's Red Bull stopping. It meant they could take a pit stop at reduced cost, even if it still dropped them behind slower cars.
Williams kept Albon out and it worked perfectly. After the event both Haas and Alpine will have looked at Williams' strategy and rued a missed chance.
In theory it looked like Albon was hung out to dry at this point, but a perfect combination allowed him to make it happen.
Firstly, Lance Stroll had managed to get himself into the top 10, but didn't have the pace to be there. This meant that a train formed behind him and all of these cars were going much slower than Albon ahead.
READ MORE: Stroll pleased to fight from last row to P12 after 'frustrating' penalty for weaving
Even better for Albon, Stroll was defending with the utmost aggression, copping a penalty for weaving to keep Valtteri Bottas behind on the main straight, and then avoiding further punishment for a robust re-pass of the Finn into Turn 3.
The penalty Stroll had was even better news for Albon, because the cars behind him then knew they needn't take unnecessary risks in passing the Canadian.
Pierre Gasly took his time with the move, and by the time the drivers further back had their chance, Fernando Alonso had cooked his medium tyres by running in traffic for so long, and would-be 10th place rival Zhou Guanyu had lost huge amounts of time. The Stroll-train allowed Albon to open up a whopping gap to cars that should have been quicker than his Williams on very old hard tyres.
The other factor was Albon's rapid pace in the Williams.
For a car that couldn't make it to Q2 and hadn't had much in the way of race pace in the opening couple of rounds, to pump in the lap times he required was exceptional.
F1 NATION: Australian Grand Prix round up with Seidl, Albon, Webber… and Daniel Ricciardo's mum
Albon pretty much matched the McLaren pace for the final 18 laps – cars that qualified fourth and seventh, and he kept Esteban Ocon at a distance behind too (see graph below).
The strategy was managed to perfection, with Williams leaving it until the last possible moment to pit their driver, so that he could make the most of the clear air and emerge ahead of Zhou.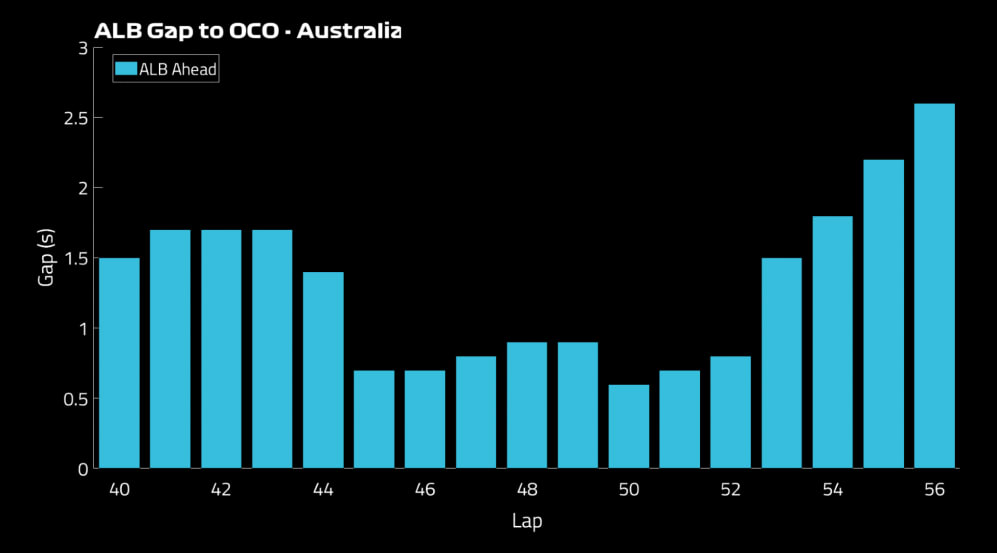 This one point puts Williams ahead of Aston Martin, who had one of the more miserable team weekends in recent memory, but the positives may be even greater than that.
Wiliams have shown that they can unlock some race pace if the circumstances are right. Now they will be working hard to understand how they were able to do this and try and achieve it more regularly.
As for Albon, the team have been enjoying working with him since he got behind the wheel in Barcelona. He's always been a popular team member, but now he has a result behind him early on, it should give him a lift. There's no reason why this point won't be the first of many, as George Russell showed last year.