Opinion
PALMER: Should McLaren have overruled Norris to ensure victory in Sochi?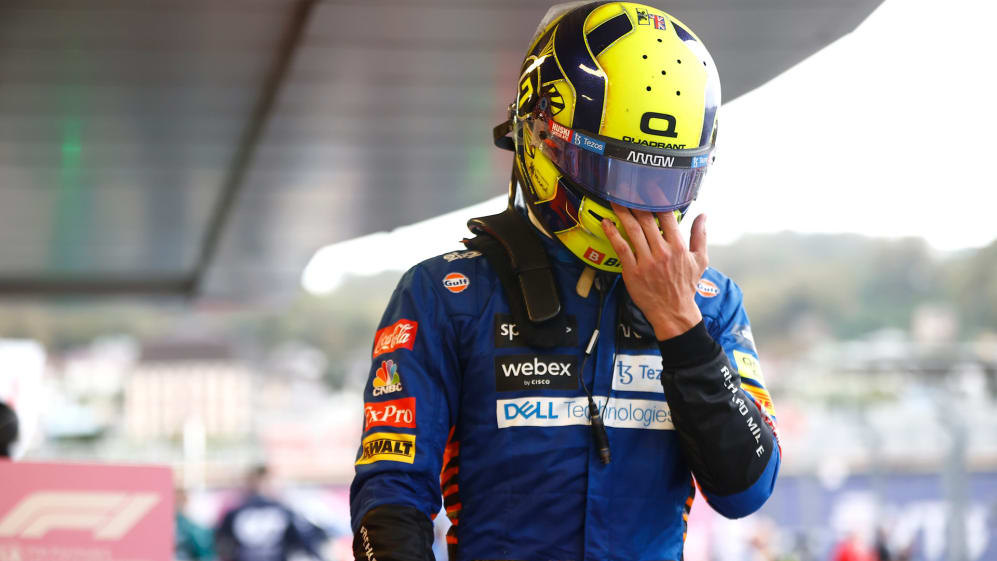 Lando Norris looked like he had the Russian Grand Prix under control, with a slim but stable lead over Lewis Hamilton – until rain fell in the final laps of the race…
As a driver looking for a first Grand Prix win, in an underdog McLaren car, and with a seven-time World Champion behind, this must have been the most stressful thing possible, because it really is the toughest of conditions.
F1 NATION: The gang reflect on Norris' 'hero or zero' call in Sochi – and Hamilton's milestone 100th win
When it starts raining and you are on slicks, you have to deal with the grip level getting worse each lap by an unknown amount and varying from corner to corner. It's so much easier to deal with a track that starts wet and is drying – as it was in qualifying – than a dry track getting progressively wetter.
We all know how strong Hamilton is at driving in wet conditions – more often than not he ends up as the winner. That ended up being the case once more at a slippery Sochi, but it was only a result of Norris not pitting for the intermediate tyres. Like for like in the conditions, Norris proved he was a match for Hamilton in a battle of wits out front, which is enormously impressive from a driver seeking that first win.
Clearly it was the pit stop which made the difference, and between the top two this was a team decision, rather than a driver decision, which won the race.
Further back, other drivers took an early pit stop for the inters and benefitted. The likes of Valtteri Bottas and Kimi Raikkonen pitted first and gained, but these were drivers who were out of the points and had nothing to lose by gambling.
READ MORE: Unpicking the six laps that turned the Russian GP upside down – and how Bottas played a key role in Hamilton's win
Various other drivers pitted as well depending on how much they were struggling in the conditions and largely whether they were in a position to roll the dice or not.
At the front though the decision was much harder. Norris and Hamilton were ticking along okay for a few laps as the track was getting wetter. Norris only lost three and then two seconds compared to Bottas on the Finn's first couple of flying laps on intermediates. At this stage, the inters were quicker but not by enough to take a pit stop and gain overall.
This explains the reluctance of the leaders to pit, as well as the likes of Fernando Alonso, Charles Leclerc and Sergio Perez, who were all performing well in the damp.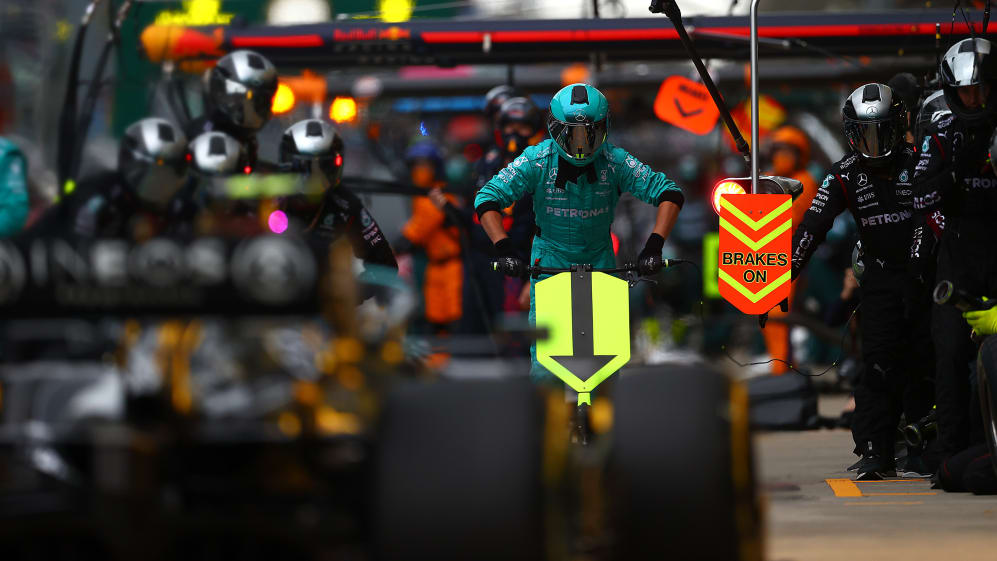 They all lost out in the end, but Norris was the biggest loser by not pitting until it was too late. But this was really a decision that had to be made by the pit wall.
In changeable conditions the drivers have an important role in decisions. They feel the grip level underneath them and can radio the team to say if they think slicks can work or if it's too slippery.
In Sochi though, the problem was not the current conditions, which the drivers were comfortable with; it was the incoming weather.
READ MORE: 6 Winners and 5 Losers from the Russian GP – Who were the stars and strugglers at Sochi?
The drivers radioing in their feelings really only adds to the wealth of information those on the pit wall have, and it is they who have the better position to call the strategy in these instances.
They can see who has pitted for inters already, they can see the pace difference of those tyres, they can see if there's a sensible gap to pit into, and most importantly on Sunday, they should be able to see the weather forecast.
All of this meant that while Hamilton ignored Mercedes' first call into the pits, Mercedes had the confidence to force the issue and call Lewis in again, explaining that this was the optimum crossover point, and more rain was coming.
While Hamilton didn't want to pit, he finally acquiesced to his team's request at the second time of asking and won the Grand Prix.
READ MORE: 100-time GP winner Hamilton insists Norris has 'many wins ahead' after McLaren man is denied maiden victory in Russia
There has been some criticism of Norris for being inexperienced or even arrogant in the way he dealt with the final laps – but actually I think Lando drove the optimum race with the information he had available to him.
It's a time where drivers need important but concise information from their engineers as they scrabble around with limited grip on the edge of disaster.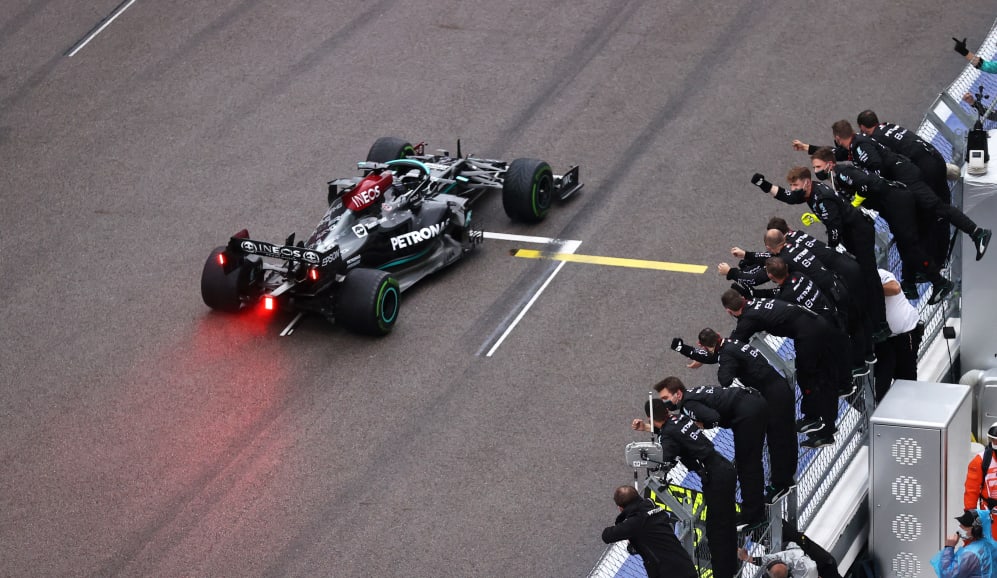 The engineers have all the information, but it's a tough job for them as well to know what to tell the drivers and what is excess in a time of high stress. With some snappy replies, clearly Norris felt that too much information was of little use to him before the stops.
I actually think this was where the race was won for Mercedes. So many times we've heard Pete Bonnington on the radio to Hamilton, and he's always incredibly calm. Both team and driver have been in this position countless times before and they know how to win.
WATCH Norris' despair, Hamilton's joy, and Schumacher's beep machine – The best team radio from Sochi
Lando didn't receive as strong information from the pit wall. It was as much the team asking him what to do as the other way around. But while he's the driver, he was actually the one with the least information in that moment.
It seemed fundamentally that McLaren didn't see the weather worsening, and if they did then they had to take control of the situation and order Norris in, even if like Hamilton, it was against his natural instinct from the cockpit.
I do have sympathy for the team though. What a pressured moment for them, having only won their first race in almost a decade last time out.
For Mercedes in second, the call was definitely easier as well. They had a huge gap behind so it was easier to pit knowing there was very little risk, as they were second anyway.
WATCH: From Monaco magic to Silverstone supremacy – 10 of Hamilton's best victories after he takes win #100
Of course, McLaren could have taken the pit stop and secured themselves second place as a minimum, but they were here to win, having led for so long. The eventual finish of seventh was due to them clinging onto the hope of a win rather than accepting second and pitting the lap after Hamilton did.
It's a shame for Norris. But while the result will be heartbreaking for him, it was still an incredible weekend performance that he can take heart from, as can the McLaren team who are clearly on a huge upward trajectory. With the form they are on, Lando may get another opportunity before the year is out.