Perez fears costly engine damage after 'big mistake' from Bottas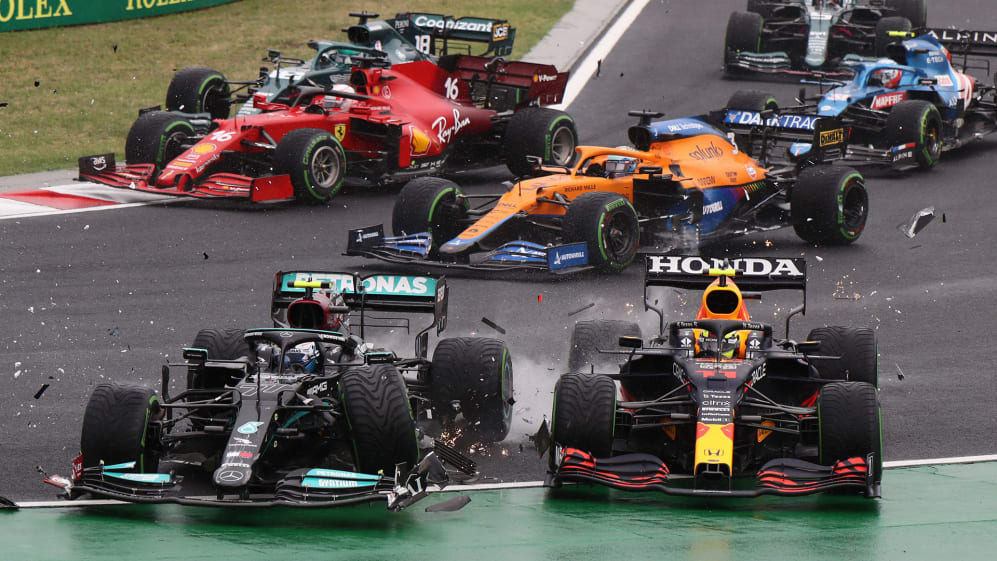 For the second race in a row, Sergio Perez was left without points after being an unfortunate victim in the first corner collision in Hungary – and even worse for the Red Bull driver, he fears his engine may have also been damaged.
Perez started fourth on the grid at the Hungaroring, but was hit by Valtteri Bottas going into Turn 1 after the Finn had misjudged his braking and ran into the back of McLaren's Lando Norris.
READ MORE: 'Apologies don't change anything' – Norris hits out at Bottas as Finn admits he created 'a mess'
Perez, like Bottas, was out on the spot and left to rue what might have been.
Speaking while the race was still going on, the Mexican said: "It's a big shame. [I was] up to third, I outbraked the McLaren, I was really finding good grip already and unfortunately got some damage and that meant basically I lost a lot today.
"In the beginning; I thought 'oh it was Lando'," continued Perez, "but it was clear that Bottas made a big mistake and took everyone out of the race.
"It's a big shame, it's a massive blow for the team but we also lost the engine very likely so not ideal.
Bottas was handed a five-place grid drop for Belgium for causing the crash, but Perez fears he may also be facing a grid penalty. The two-time Grand Prix winner entered the weekend having used two of the three engines in his allocation for the season. However, he has already used more control electronics and energy stores than permitted, so any further changes could trigger a grid drop in Belgium.
"It's a big penalty," sighed Perez, "I don't know what to say."
With his closest rivals in the championship also failing to score, Perez remains in fourth place in the drivers' standings behind Norris. His Red Bull team meanwhile slip to second in the constructors' standings behind rivals Mercedes, with Verstappen's solitary point in Hungary one of just four the squad have scored in the last two races.