Perez handed 5-second post-race penalty for Safety Car infringement – but holds onto Singapore Grand Prix win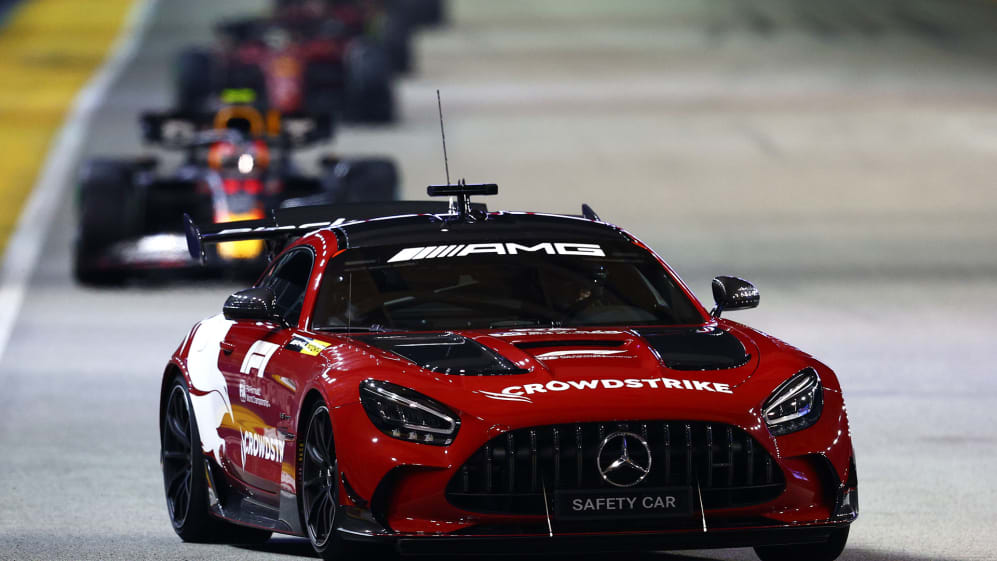 Sergio Perez's elation after crossing the line in P1 at the end of a tough Singapore Grand Prix was kept in check by a post-race investigation hanging over him for an alleged Safety Car infringement – with Perez ultimately handed a five-second penalty that meant he held onto his fourth career victory.
Perez was actually investigated for two occurrences of failing to keep within 10 car lengths of the Safety Car during a pair of caution periods. However, the Mexican driver was handed a reprimand for the first of these, which occurred on Lap 10 after Zhou Guanyu and Nicholas Latifi made contact – Perez claiming that his brakes and tyres hadn't been warm enough in the damp conditions to keep pace with the Safety Car.
READ MORE: Perez hails 'best performance' in F1 in Singapore Grand Prix as he gives his view on Safety Car investigation
A five-second penalty and two penalty points on his licence, however, were then issued to Perez for the second violation, with the stewards ruling: "Article 55.10 of the FIA Formula 1 Sporting Regulations requires that the leader must keep within 10 car lengths of the Safety Car once deployed until the lights are extinguished.
"Car 11 [Perez] was the lead car on Lap 36 during the second Safety Car period in the race [brought out when Yuki Tsunoda hit the wall]. It was admitted that while the lights of the Safety Car were still on, PER failed to keep within 10 car lengths of the Safety Car between Turn 13 and Turn 14.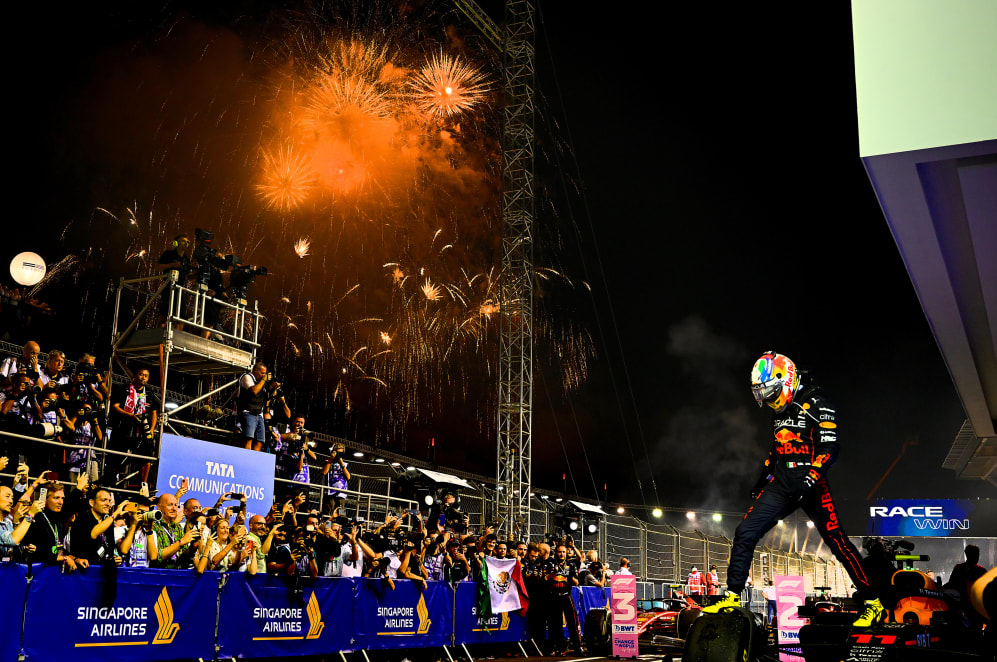 "This occurred notwithstanding the fact that the Race Director had issued a warning to the team that PER was not respecting the less than 10 car lengths regulation between Turns 9 and 10. The team passed that warning on to PER.
"We imposed a reprimand on PER for a breach of the same regulation during the first Safety Car deployment during the race.
"As this was the second breach of Article 55.10 by PER during the race and followed an express warning from the Race Director, we determined to impose a five-second time penalty on PER."
READ MORE: Leclerc says his start 'wasn't good enough' as pole-sitter forced to settle for P2 at Singapore GP
In the closing stages of the foreshortened Singapore Grand Prix, however, Perez was told by Red Bull that he was under investigation for the infringement and encouraged by his race engineer Hugh Bird to "disappear" down the road from the chasing Charles Leclerc.
And with Leclerc ultimately crossing the line 7.595s adrift of Perez, the Mexican did enough to hold onto his fourth career win, as Leclerc and Carlos Sainz completed the podium.