Perez laments 'weekend to forget' at Silverstone and says fastest lap bid cost him P7 finish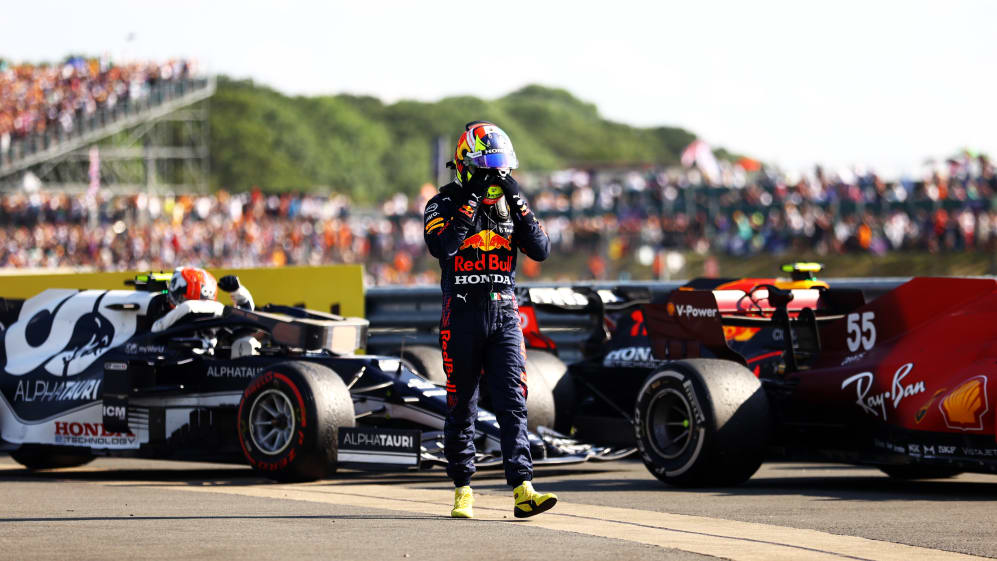 Red Bull's Sergio Perez endured a torrid weekend at Silverstone that saw him leave a race weekend without points for only the second time this season. With only the fastest lap as consolation, Perez said the British Grand Prix was one to forget for him.
Perez spun out of the F1 Sprint and ended up retiring from it on Saturday, which meant he started Sunday's Grand Prix from the pit lane. He made it as high as P8 but was pitted late on to take the fastest lap bonus point away from Lewis Hamilton (though since Perez finished outside the top ten, he did not receive the bonus point himself). Contact with Alfa Romeo's Kimi Raikkonen added insult to injury late in the race with Perez ending up 16th at the flag.
READ MORE: 'I'd rather fight than finish P11 or P12' says Raikkonen as he and Perez escape penalty after late collision
Asked after the race if it was a weekend to forget, he replied: "Yes, definitely. I think with my mistake from yesterday, today we were able to make a lot more progress than yesterday but at the end we could have finished seventh; I was looking after the tyres better than the people ahead.
"But then we went for fastest lap for some strategic reasons. I think overall it was a weekend that we have to forget and aim to come back stronger," he said.
The Mexican reiterated that he could have finished seventh – without that late stop for soft tyres, with which he set the fastest lap with just one lap of the race remaining – as Lance Stroll and Fernando Alonso were in his sights.
"I think P7 was possible today; with a couple more laps I think I could have got Lance and Fernando, but in the end, for strategic reasons we decided to stop to take the fastest lap. It's a weekend for us to forget and we lost a lot of ground in the championship.
READ MORE: 'All this weekend will do is add fire to our championship fight' says Horner after Verstappen crash
"We need to regroup, work hard and come back as strong as possible in Hungary," he added.
Sixteenth at Silverstone means that Perez's last point-score at Silverstone was in 2018, because the Mexican missed last year's brace of Grands Prix at the track after contracting Covid-19. It may not be his happiest of hunting grounds, but Hungary – where Perez qualified fourth and finished seventh last season – is up next.