Polesitter Hamilton reveals he had to calm himself down during 'horrible' qualifying session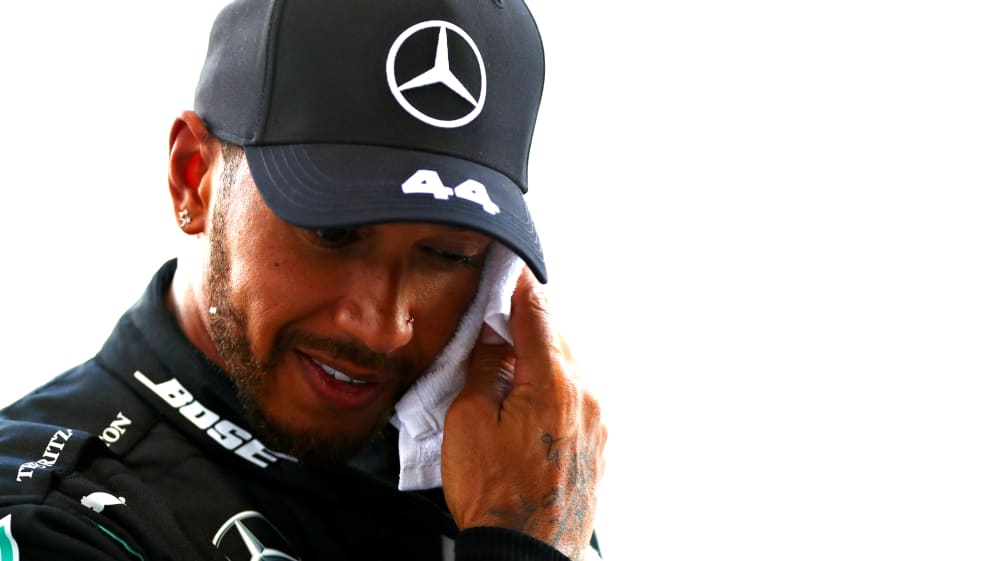 Lewis Hamilton may have taken his seventh pole of the season by more than 0.5s, but it was anything but a cakewalk for the reigning champion in Russian GP qualifying, who at one point was staring down the barrel of elimination in Q2 in what he admitted was a 'horrible' session…
Hamilton's opening Q2 time was deleted for a Turn 18 track limits violation, and then midway through his second run the red flags were flown after Sebastian Vettel crashed with a little over two minutes of the segment remaining.
When the session was restarted again, Hamilton then faced a race to the line on cold tyres to get another lap in, eventually getting to job done with just 1.2s remaining on the clock.
READ MORE: Hamilton survives Q2 scare to beat Verstappen to Russia pole, as Vettel crashes heavily
"It was one of the worst qualifying sessions. It was horrible, heart in your mouth the whole way," began Hamilton. "Everything was so rushed, there was panic and all sorts going on."
"And then timing – once we went out for that second run in Q2 – just having to calm myself down and find my centre, calm my heart down, and wanting to deliver in Q3," he explained.
"I was dead slow in the middle of the last corner, about to start the lap [in Q2], and I could just hear Bono [race engineer Pete Bonnington] say 'go, go, go, go, go, go, go!' and I was just gunning to try and get across the line. So very, very fortunate. I think it was just luck, I think it was just the right timing for us."
Once safely into Q3, Hamilton was then back to his brilliant best, his first lap comfortably good enough for pole and his second even quicker to give him his 96th career pole ahead of Red Bull's Max Verstappen and team mate Vatteri Bottas.
READ MORE: 'I tried to take more risk' – Vettel explains reason for big shunt in Q2
"I was adamant I had no choice, I had to deliver on those two laps… But yeah, I'm super grateful for everyone just about keeping their cool. It could be a lot, lot worse. I could be out of the top 10. So I'm really grateful to compete."
However, Hamilton fears his rivals will gain a tow off him on Sunday – and both start on the more durable medium tyre, while Hamilton had to use softs to make it to Q3 and therefore faces the prospect of a much earlier stop.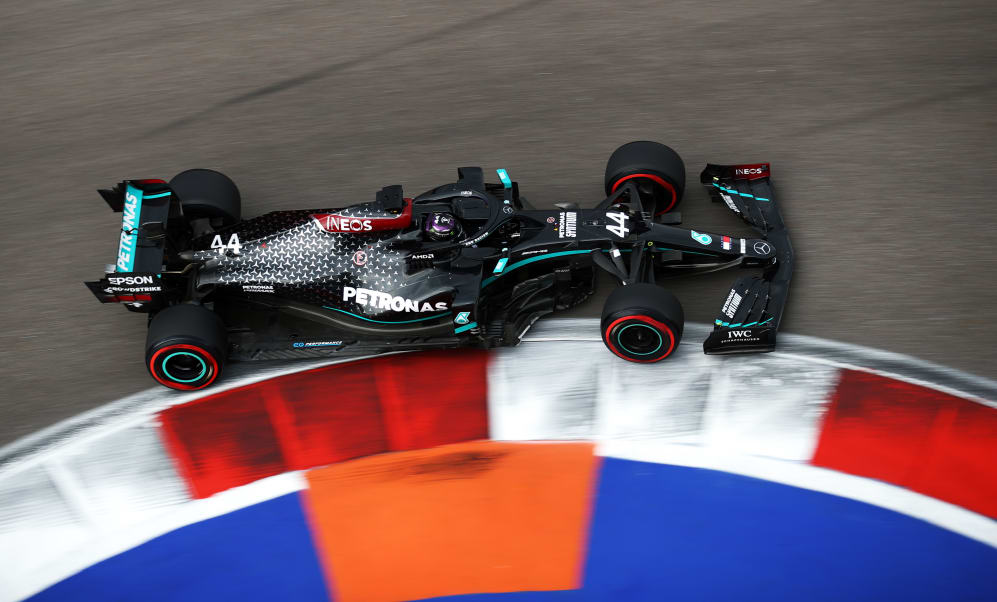 "It's nice being on pole but here is probably the worst place to be on pole with the draggier cars this year," he said. "Undoubtedly, I'm most likely going to get dragged past tomorrow. Both of the cars I'm racing against, they're both on the medium tomorrow, so that's definitely going to make it hard to win the race.
"That's going to be a struggle," he added. "I don't know if it's going to put me on a two stop… unlikely, because the pit lane is too slow. So, I'm just going to have to nurse those tyres for as far as I can.
READ MORE: 'Maybe I was playing games and wanted third...' - Bottas optimistic about Russia chances, despite 2nd-row start
"Those guys, if they get by, they're going to be pulling away, so I'm going to sit down tonight and try to figure out if there's a different kind of race to try and keep my position."
Hamilton aims to equal a legendary Michael Schumacher record by winning his 91st Grand Prix, while Bottas has a 55-point gap in the title race to close. Will Red Bull's Verstappen upset the Silver Arrows on Sunday at Sochi?