Race Director announces barrier where Grosjean crashed will have tyres added ahead of Sakhir GP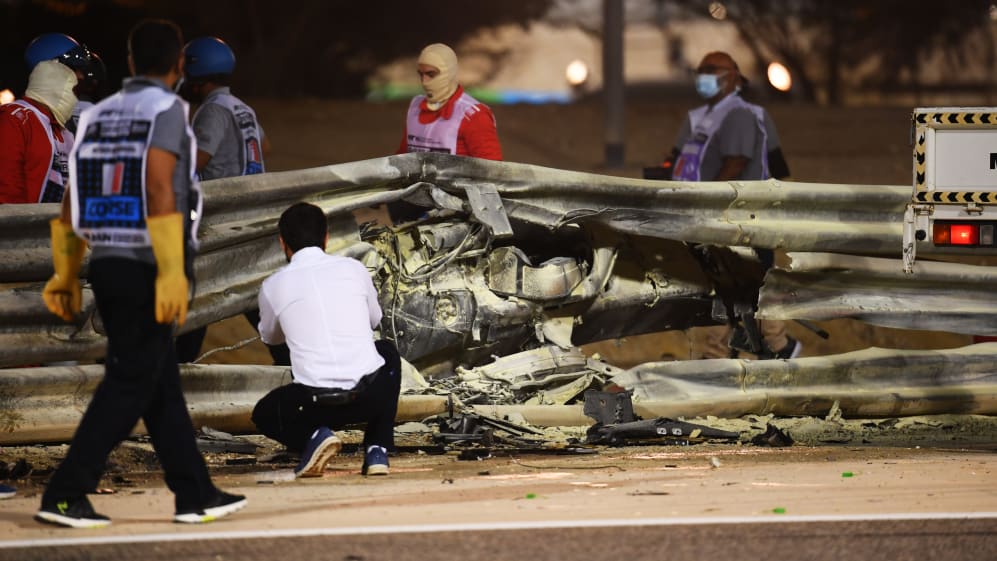 Formula 1 Race Director Michael Masi has announced two rows of tyres will be installed at the barrier where Romain Grosjean crashed in Sunday's Bahrain Grand Prix, ahead of this weekend's race at the same venue.
Although the Sakhir Grand Prix will use a different track layout to last week's race – the 'Outer Loop' circuit that misses the infield section – the cars will still race past the spot between Turns 3 and 4 where Grosjean crashed heavily.
READ MORE: FIA announce details of Grosjean crash investigation and expect to release findings within eight weeks
At the time the damaged barrier was replaced with temporary concrete blocks so the race could continue. But to avoid a repeat of the incident that saw the Frenchman's Haas car split apart as it speared into the barrier, the steel structure will have two rows of tyres placed in front of it for this weekend's Grand Prix.
The Race Director's notes also revealed two other safety changes will also be made to the circuit: "The tyre barrier on the right hand side of T9 will be extended and increased in depth to four rows of tyres with conveyor belt.
"The right hand kerb between T8 and T9 will be removed to reduce the risk of a car becoming airborne while the Outer circuit layout is being used.
"These changes are in accordance with Article 5 of the FIA Circuit Licence conditions of issue, and as such the current FIA Grade 1 licence for all configurations of Bahrain International circuit remains valid."
READ MORE: Grosjean discharged from hospital in Bahrain after three nights of care following crash