Renault 'have all the ingredients for a good 2021' says Alonso after testing R.S.20 at Barcelona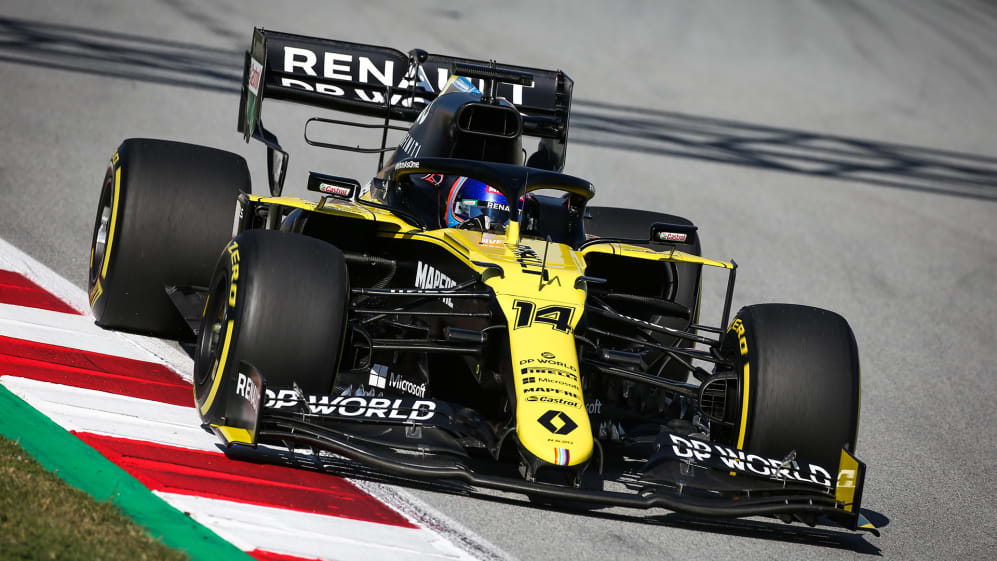 Fernando Alonso got his first taste of a Renault Formula 1 car since 2009 on Tuesday, when he tested their current R.S.20 challenger at the Circuit de Barcelona-Catalunya during a filming day. And the experience left the returning two-time champion buoyed about both the team and his chances of a strong season next year.
With Alonso's return to Renault having been confirmed back in July, the Spaniard visited Renault's Enstone and Viry facilities last month, before getting the opportunity to drive the 2020 Renault at Barcelona – the venue where he'd first tested for Benetton 20 years ago.
READ MORE: Alonso completes simulator session and seat fit at Renault as he bids to get 'ahead of the game' for 2021
Speaking after the test, Alonso said it had been a "very special" day – while admitting that getting back up to speed with modern F1 cars, having recently raced everything from IndyCars to a Toyota Dakar truck, had been a steep learning curve.
"It's been a very good day here in Barcelona," he said. "Only 100km, but for me they were very special getting back to the F1 car and the team.
"After 18 years in Formula 1 and now getting back, it's true that you are missing a little bit the braking points, how quick all the corners arrive, braking performance, cornering speed performance, so there are many things that I need to get used to again. But it will take a shorter period of time than getting used to a completely new thing, like for example Dakar or Indy."
Oops! Error retrieving Twitter post
The nature of filming days – where teams can run 100km on demonstration-spec Pirelli rubber – meant that Alonso was unable to get a true sense of the Renault R.S.20's performance. But the Spaniard said it was looking positive for next year, with the team arriving at Barcelona on the back of their first podium since returning to the sport in 2016, scored by Daniel Ricciardo at the Eifel Grand Prix – while they now sit just two points off fourth-placed McLaren in the constructors' standings.
"I don't know yet," said Alonso of his prospects for next season. "We all have high hopes inside the team, looking at this year, how the team progressed in the championship and in the positions on the weekend.
"But at the same time, I think we have to have the feet on the ground, knowing the regulations will be more or less the same until 2022. We know that the deficit all the midfield teams have right now will carry on next year.
READ MORE: 2022 F1 regulation changes play into Alonso's hands, says Symonds
"So our feet are on the ground, but with a lot of positive energy and optimism for next year. I think we have a great team, great talented people in the team, great sponsors, a lot of fans around the world, so I think we have all the ingredients to do a good 2021."
Alonso was impressed with Renault's current R.S.20 car after his run in Spain – and particularly the power unit.
"I think the car was a nice surprise," he said. "We know the car is performing well at the last couple of races and I felt the grip and certainly good potential in it.
"The last time I drove a Renault engine was in 2018 and I felt a step forwards, which is quite important there. Everything felt good. I wasn't able to maximise the performance of the car because I'm not up to speed yet, but I'm happy with the day."
Oops! Error retrieving Twitter post
He also revealed he keeps a close eye on how Renault are doing this season, and says he was thrilled when Ricciardo broke their podium duck in Germany on Sunday.
"I watch every race," he said. "I'm in the weekend even from a distance. I follow every lap. The podium was very well deserved, finally. I'm so happy for everyone. Cyril might be a bit worried for the tattoo but, other than that, it was a fantastic moment."
It remains to be seen whether or not Alonso will get to drive the R.S.20 again at some point this season, meanwhile, with Renault understood to have been exploring the possibility of running him in the end-of-season Young Driver Test.