Renault reveal Ricciardo and Hulkenberg's new R.S.19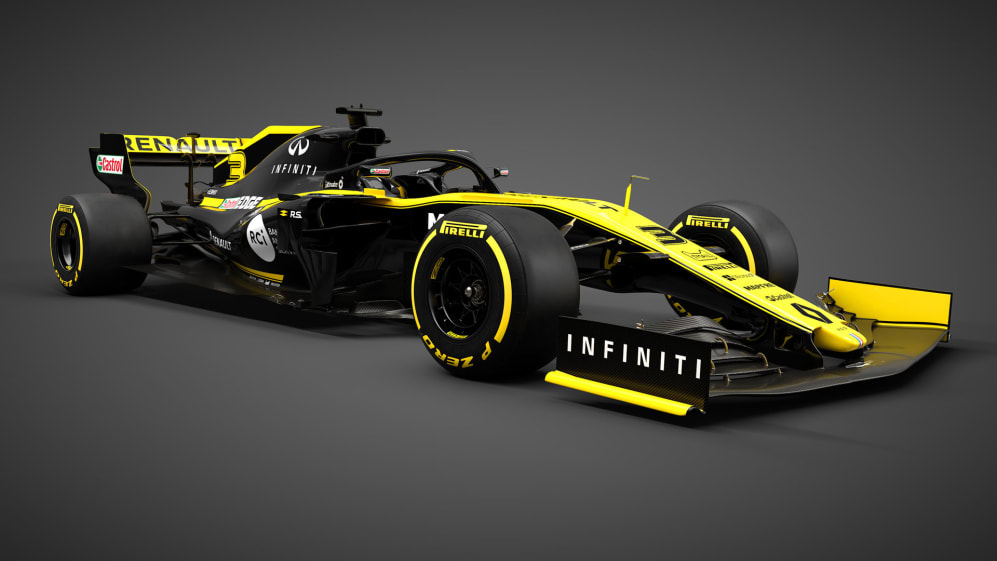 Renault have put their money where their mouth is for 2019 by signing up Daniel Ricciardo to drive for them alongside Nico Hulkenberg – and now they've revealed the car that their sharp new driver pairing will be armed with this season, the R.S.19.
Decked out in unfamiliar yellow-and-black, Ricciardo helped his new team mate unveil their 2019 livery at Renault's Enstone factory in the UK, while digital renderings of the R.S.19 were revealed online. The car itself is set to take its first laps in anger at the Circuit de Barcelona-Catalunya when winter testing begins there on February 18.
Last year's R.S.18 gave Renault their most successful season in Formula 1 since their return to the sport in 2016, with the efforts of Hulkenberg and the now-departed Carlos Sainz comfortably helping the Anglo-French squad to net fourth place in the constructors' standings ahead of rivals Haas.
Renault R.S.19: All the angles of the 2019 F1 car
And with the arrival of Ricciardo from Red Bull – undoubtedly the team's hottest signing to-date – Renault will now look to step their performance up a gear for 2019, as they build towards their previously stated goal of competing for both wins and titles in either 2020 or 2021.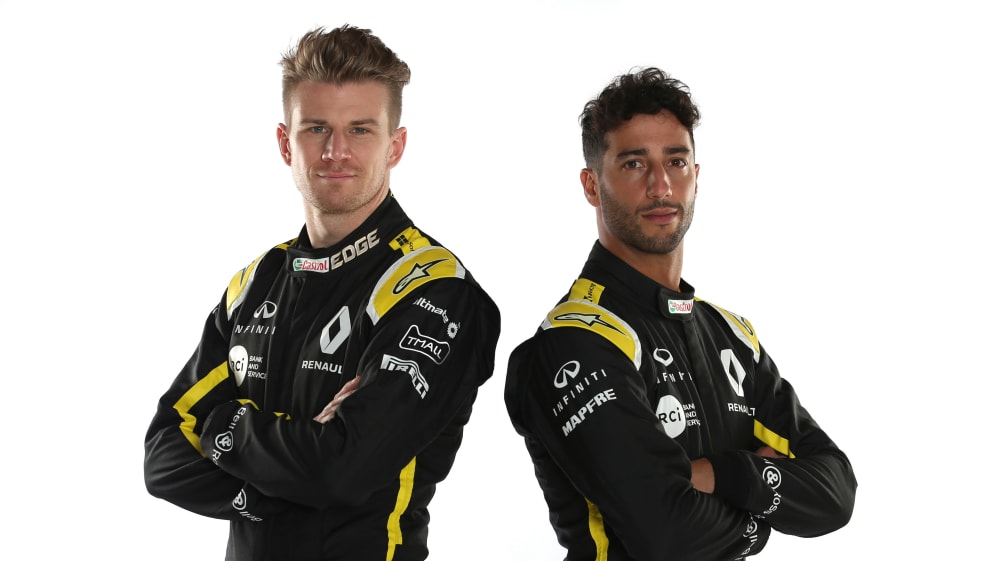 "We go into this season aiming to keep [our] strong and measured momentum," said Team Principal Cyril Abiteboul. "We do not target x or y position or a number of points: what I want to see is that the team continues its trajectory of progression towards the top teams.
"Engine excellency will be our priority in Viry while the structure now in place in Enstone strives to improve the competitiveness of the chassis, season after season."
Meanwhile new recruit Ricciardo stated that his goal was to bring some 'positive energy' to Renault to help motivate them to greater things.
"Renault has a massive history in motorsport, so to be part of the next step of their Formula 1 journey is an exciting challenge," said Ricciardo. "I'm here to do a job on track and drive as fast as possible, but I would like to bring the team energy. I want to put a spring in everyone's step because that's part of my job and also my character.
"I aim to be able to get the team to work that extra bit harder, put in more effort and rally everyone together. I'd like to be a catalyst for positive energy."
Oops! Error retrieving Twitter post