Ricciardo says Abiteboul tattoo 'definitely will happen' – and is eyeing different bet with Zak Brown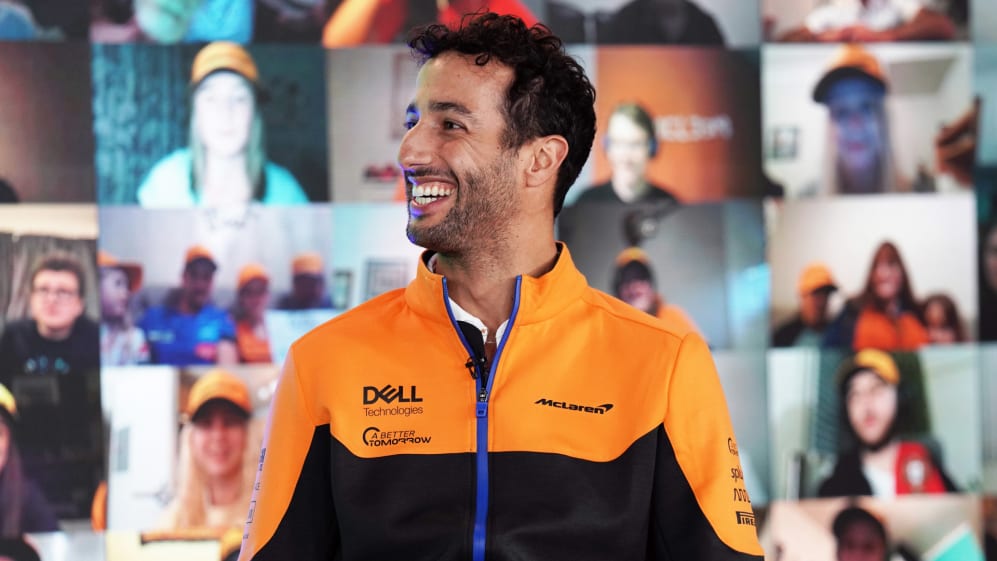 Newly-minted McLaren driver Daniel Ricciardo has said that his former Renault boss Cyril Abiteboul will still honour the tattoo bet the pair made in 2020 – and revealed he is eyeing a different kind of wager with his new chief, McLaren Racing CEO Zak Brown.
Abiteboul – who recently stepped down from his role as Renault/Alpine Team Principal – is yet to fulfil his end of a bet made with Ricciardo last season, in which he said he would get a tattoo if his driver scored a podium in 2020. Ricciardo eventually did finish on the podium at the Eifel Grand Prix (and again at the Emilia Romagna Grand Prix), and insists that Abiteboul will get his tattoo at some point.
READ MORE: Will the McLaren march continue? 5 takeaways from their 2021 season launch
"You'll definitely know when I get it done with Cyril," said Ricciardo after McLaren launched their 2021 F1 car, the MCL35M, earlier this week. "Unfortunately, it hasn't happened yet, but it will. We certainly left on the terms that there was unfinished business, that business being the tattoo.
"I hope it does happen, obviously sooner rather than later, but it definitely will," he said.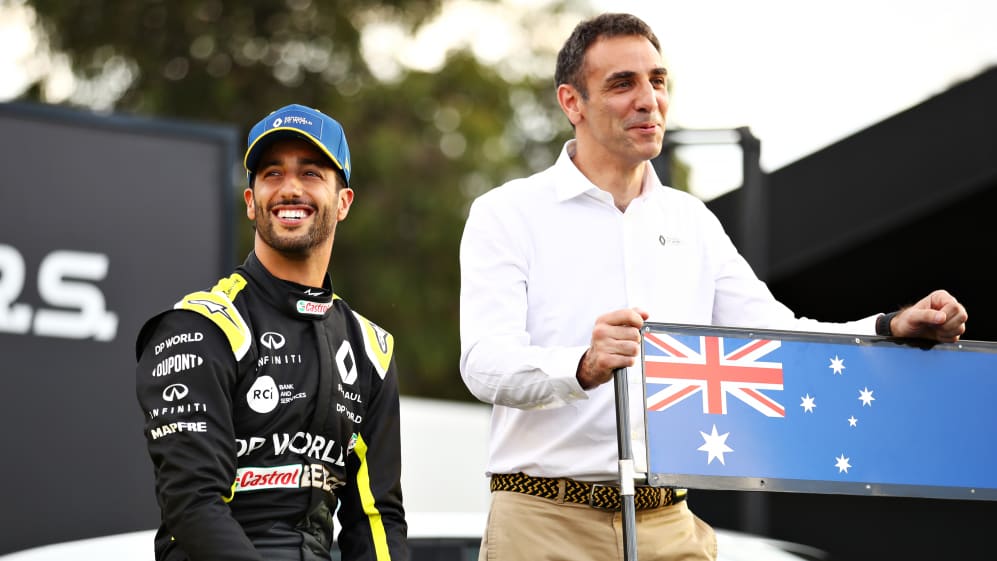 But with McLaren Chief Executive Officer Zak Brown having revealed his dislike of needles to his new driver, Ricciardo added that he didn't expect the pair to be making any tattoo bets this season. But the Australian did reveal a potential alternative wager, involving Brown's incredible personal car collection...
"Actually, we were just having lunch with Zak a couple of hours ago and he mentioned something about him hating needles," continued Ricciardo, "so I can't see that tattoo thing happening with Zak.
READ MORE: 'It's nice to be back in a race car' says Norris as he gets first taste of the MCL35M at Silverstone
"But we'll think of something else. I know he's got a pretty good car collection, so maybe we could just bet one of his cars or something."
Ricciardo exuded optimism after McLaren's MCL35M reveal this week, crediting Team Principal Andreas Seidl as a "massive asset" to the squad that finished third in the 2020 constructors' championship.
"Everything I've seen and everything I've known up until now certainly excites me about where McLaren is heading," he said.
"I really do believe in the personnel. I like Zak; I do believe Andreas is a massive asset for the team… I think Andreas is really helping steer this ship in the right direction.
READ MORE: Our first tech take on McLaren's 2021 MCL35M
"James [Key, technical director] as well, I got to work with James in 2013 at Toro Rosso, and that was fairly short-lived; by that summer I was already going to Red Bull. So I'm looking forward to getting to work with him again.
"They've got more backing as well from the end of last year, some more investment. They're expanding, I think they're doing what it takes to be a real contender in the championship," he concluded.
McLaren were the first team to launch their car ahead of the 2021 season, with both Seidl and Brown having set clear targets for the team as they embark on a new era with Mercedes power.