Report
Russell fastest on final morning of Barcelona running amid flurry of red flags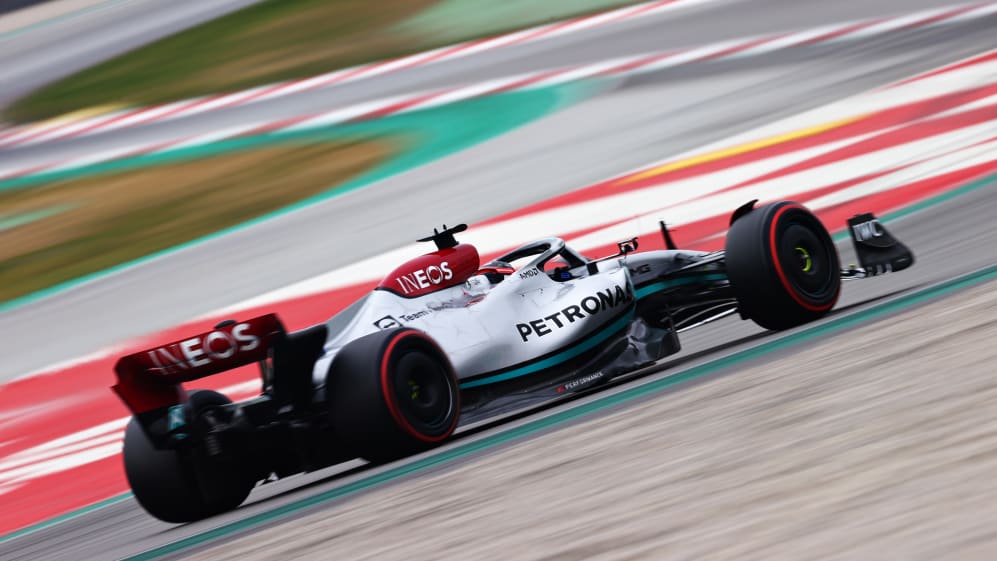 Mercedes topped their first pre-season session of 2022 as George Russell led the leaderboard on the third and final morning in Barcelona – but five red flags, including two separate accidents, punctuated proceedings.
All 10 cars emerged on the chilly Barcelona morning, but the session was red-flagged before the hour mark when Alpine's Fernando Alonso (P7, 12 laps) stopped with smoke emerging from the back of his A522. Alpine then stated that they would not emerge for the rest of the day, citing a hydraulics issue.
READ MORE: Pirelli to conduct wet-weather test in the final session of Barcelona running
AlphaTauri's Pierre Gasly (P9) brought out the second pause when he crashed at Turn 5, causing front wing and suspension damage – and leaving an hour of the session remaining. Zhou Guanyu (P8) stopped in the gravel at Turn 10 soon after Gasly's incident, green flags leaving around 30 minutes to play. But the session was once again stopped when he crawled to a halt on the main straight – and for a fifth time when Sebastian Vettel (P3) stopped with around five minutes left.
George Russell went fastest for Mercedes before Gasly and Zhou's incidents, posting a session-high 66 laps and setting the eventual benchmark of 1m 19.233s. Team mate Lewis Hamilton runs in the afternoon – hoping to add more to his tally after a data-logging issue and a sensor issue curtailed his Thursday morning stint.
Max Verstappen's best effort of 1m 19.765s put the champion second to Russell. And Aston Martin's Sebastian Vettel took P3 before Zhou's second issue, leaving Ferrari's Charles Leclerc – fastest on Day 2 – fourth in the morning.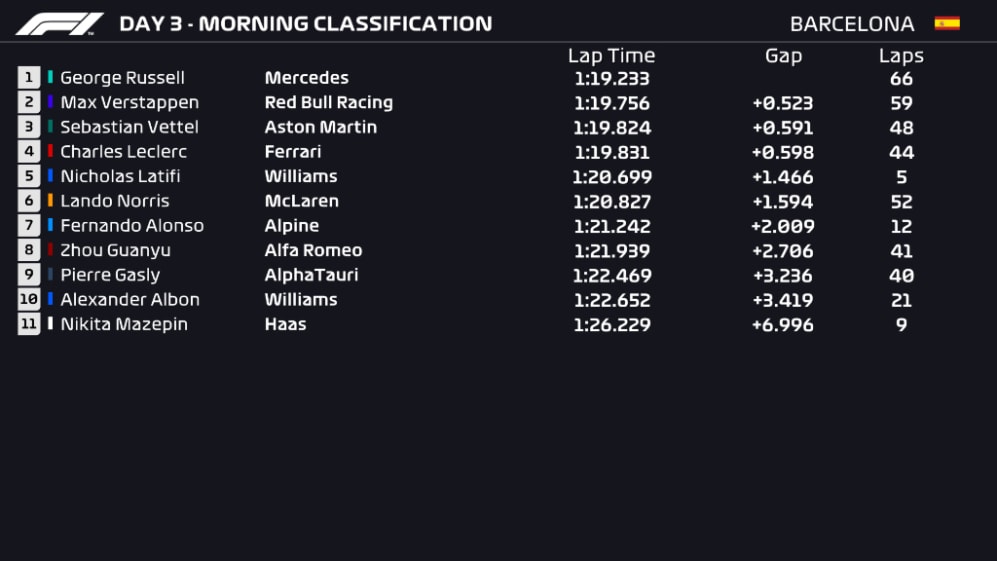 Williams' Nicholas Latifi rounded out the top five, but was afforded just five laps. The Canadian swapped with team mate Alex Albon (P10) midway through the morning and his team plan to swap the pair once again in the middle of the afternoon session.
Lando Norris took P6 for McLaren, finishing ahead of stricken Alpine driver Alonso. Zhou was next on the board for Alfa Romeo, completing 41 laps on his way to P8 before the stoppages.
READ MORE: Red flags, porpoising and Zhou's first outing – What we learned from Day 2 of pre-season running in Barcelona
With Gasly ninth and Albon 10th, Haas's Nikita Mazepin was last on the board. Reliability troubles continued for the team, Mazepin having completed just nine laps due to what Haas called a "suspected leak".
The final afternoon of 2022 pre-season running in Barcelona will see Pirelli artificially soak the circuit for teams to run the 18-inch wet and intermediate compounds – the likes of Hamilton and Sergio Perez to take duties, with every team changing drivers. Join us here for live coverage.