Russell pleased with 'well-executed' Bahrain GP – but says Williams should be better suited to Imola
Even though Williams haven't scored a point since 2019 and didn't ever really look like doing so in Bahrain, the opening race of the season gave both drivers reasons to be optimistic.
Pre-season testing showed the Williams to be another step forward on last year's car but still one that will likely run at the back of the field, with wind sensitivity a specific problem. Despite a particularly gusty first race weekend, George Russell reached Q2 and was on Esteban Ocon's tail as he finished 14th, fighting with a number of cars during the race.
READ MORE: Vettel says he 'couldn't avoid' Ocon as he apologises for hitting Frenchman
"I think it was a pretty well-executed race to be honest," Russell said. "I think we toughed it out one lap too many in the middle stint - that's when I had that little battle with Kimi [Raikkonen] - you know what it's like when he's on fresher tyres and we lost three or four seconds or so due to that, which was a bit unfortunate, but it wouldn't have changed our outcome.
That was probably the maximum we could have expected.
"And I think given the pace of the car, given the conditions, I think it was a very well-executed weekend and that was probably the maximum we could have expected. As I said, it's going to be a bit of a yo-yo season, and I do think this is probably the worst-case scenario so fingers cross it gets better from here.
"It was nice to be racing. I had a good little tussle at the beginning, made a few places, lost a few places - I forgot how tricky it was right in that battle with all the cars surrounding you! But I thought it was a very well-executed race.
READ MORE: How Mercedes' aggressive tactics helped them to beat Red Bull - despite having a slower car
"The first stint was tricky but I think the second and third stints were as good as can be and our relative pace was actually pretty strong. So that's where we were this weekend and we need to reassess in Imola."
And Imola is a venue that Russell believes could suit the Williams far more given the location of the circuit.
"Imola's the next race and it's very different to Bahrain so you're going from two ends of the spectrum.
"Bahrain's got a lot of slow speed corners, very exposed, generally very windy. Imola is a lot of high-speed corners, the angle of those corners are less - more 90-degree corners as opposed to 180-degree corners as we see here - and it's very enclosed with all the trees and the buildings around.
"So we're going between two extremes really. I'm not necessarily saying Imola is at the top end but it's in the top half, let's say."
HGHLIGHTS: Watch all the action from the Bahrain Grand Prix as the fight for victory went down to the last lap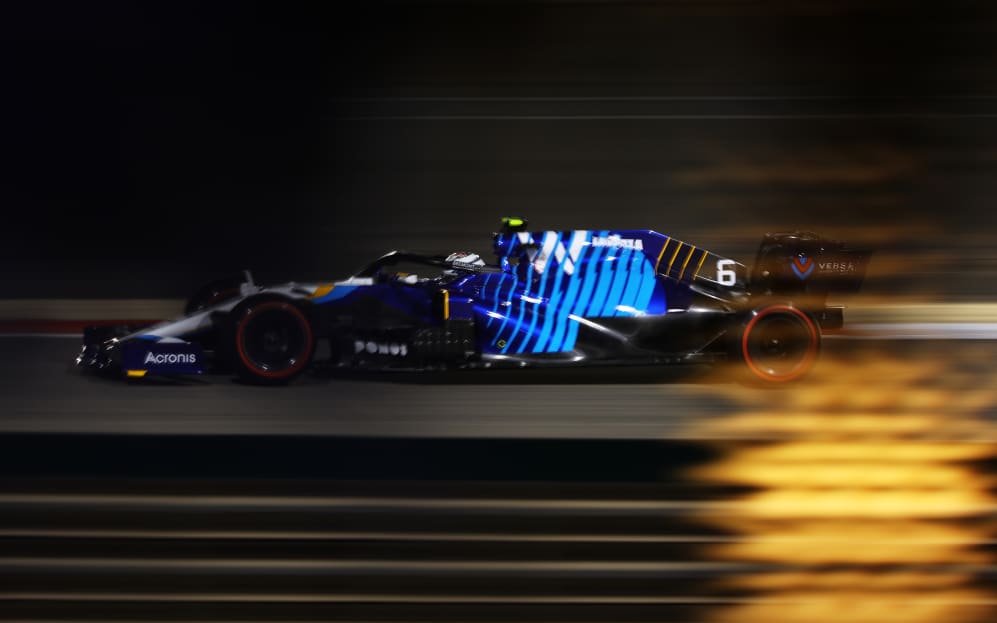 Although Russell had a competitive season-opener on Sunday, his team mate Nicholas Latifi was hit by a reliability issue that eventually forced his retirement, but not before some encouraging signs.
"Straight away from the first laps, even on the laps to the grid, I felt like we were getting some quite big oscillations in the engine on power and it seems like we had a suspected boost leak which is why we had to retire in the end," Latifi said.
READ MORE: 'I thought that was it' - Perez shocked to recover to P5 after car failure on formation lap
"We tried to just stay out as long as possible, hoping, you never know what could happen, a lot of cars might retire, but in the end the last half of that race we were just circulating basically, not really racing. So not how you want the first race to go but that's motorsport sometimes.
"To be honest, I was actually pleasantly surprised with how the car felt in the race. I was expecting something that was quite a bit more tricky to handle, obviously the wind was a bit less than expected but nonetheless still windy, and irrespective of the issue that caused us to retire I was actually surprised by the drivability of the car.
"So obviously still not where we want it to be, but it was better than expected so I think that's positive going forward."