Feature
Russell's big chance, Red Bull's recovery, and risk of rain – What To Watch For in the Hungarian GP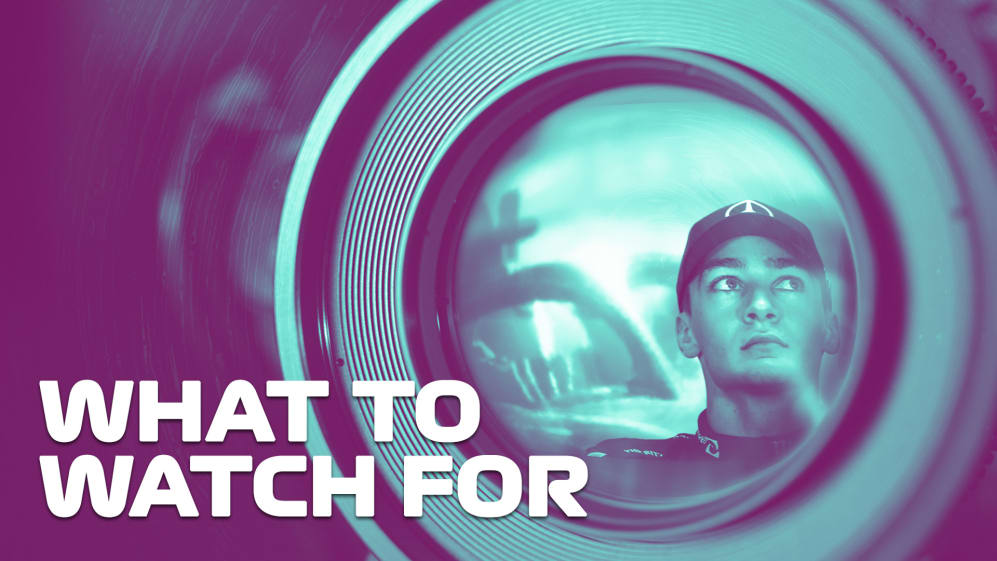 From a new name on pole position to a big chance for Ferrari, and from the Red Bulls far back to a threat of wet weather, we've picked out some of the key areas to keep an eye on when the lights go out at the Hungaroring...
1. Russell chasing his first win
In our pre-race weekend feature, we highlighted how the Hungaroring would be a track that would tell us a lot about the progress Mercedes have been making with their car because it was not expected to suit the W13 as much as Paul Ricard. So it's fair to say the final result from qualifying was a surprise.
READ MORE: Russell beats Sainz to take shock maiden pole at Hungaroring as Red Bulls hit trouble
After a Friday that George Russell described as one of the worst Mercedes have had all season, the turnaround was remarkable as he took the first pole position of his career with a stunning final lap in the dying seconds of Q3.
As Red Bull hit trouble, all eyes were on Ferrari but Russell delivered a lap that it hadn't looked like Mercedes was capable of as he jumped Carlos Sainz and Charles Leclerc to give the team their first pole position of 2022.
But as Russell himself said, there are no points handed out on Saturday and he is targeting his first victory given the starting position and performance over one lap, with Mercedes generally even more competitive in race trim.
The start will be crucial as track position is critical in Hungary, but so too will Russell's handling of the pressure from P1 on the grid as he chases his first ever win.
2. Ferrari with a big chance
There was clearly some disappointment in the Ferrari camp after qualifying after what they viewed as a missed opportunity because Russell beat Sainz and Leclerc to pole position, but the reality of the situation is they are still in a very strong place to start the race from.
With only a Mercedes driver ahead of them, both Sainz and Leclerc will feel they have a good chance of sticking with Russell, and with two cars against one they could try different strategies to try and get ahead of the Briton.
READ MORE: 'I felt I had the pace for pole' says Sainz after missing out to last-gasp Russell lap in Hungary
But there's also the starting positions of the Red Bull drivers to take into account, with Max Verstappen down in tenth.
Following a disappointing result in France last weekend, the opportunity is there for Ferrari to hit back quickly with a big result at the Hungaroring. Now they have to execute.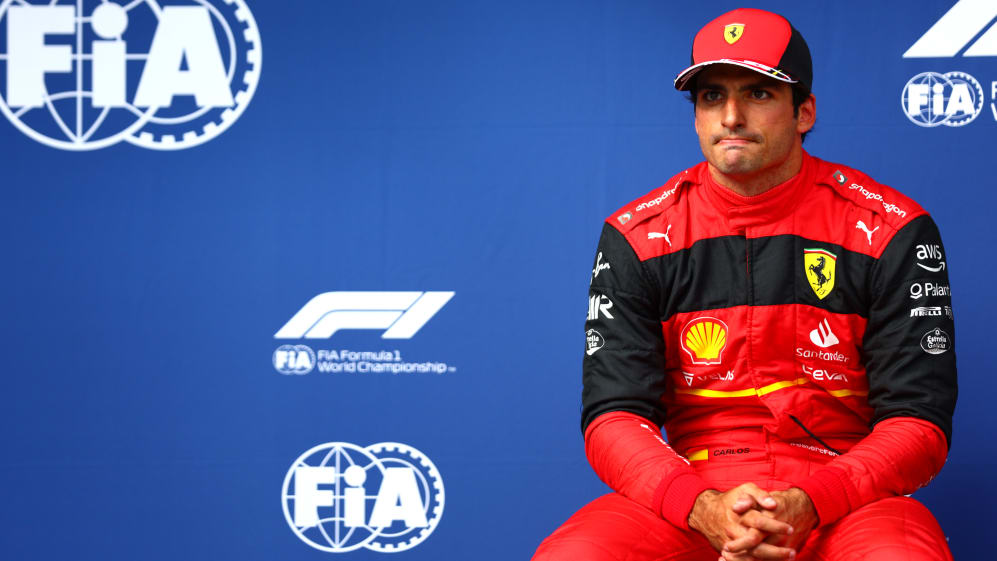 3. Red Bulls out of position
It was far from a smooth qualifying session for Red Bull, with Verstappen seeing his hopes of fighting for pole position ended by a loss of power on his final run. Verstappen had already made a mistake on his first lap, dropping him to tenth on the grid. On a track that is traditionally difficult to overtake on, he now faces a very tough task to fight his way through towards the front of the field
It was a similar story for Sergio Perez, who found himself involved in some track limits uncertainty once again in Q2. After a time was retrospectively deleted in Austria two races ago, this time Perez had his first timed lap deleted and then reinstated after the stewards determined he hadn't exceeded track limits at Turn 5 after all.
READ MORE: 'A lot of things can happen on Sunday' – Verstappen optimistic of fightback after power issue ruins Budapest qualifying
But that proved to be his best lap time of the session, with a final run not yielding an improvement and seeing Perez slip down to P11 and miss out by just 0.071s. Starting 11th doesn't come with the tyre advantage it used to, so that makes Perez's race even tougher.
If a year ago is anything to go by, though, then both Verstappen and Perez will be hoping to avoid being caught up in any first-lap drama and pick up the pieces from mistakes of others if they want to make some early gains.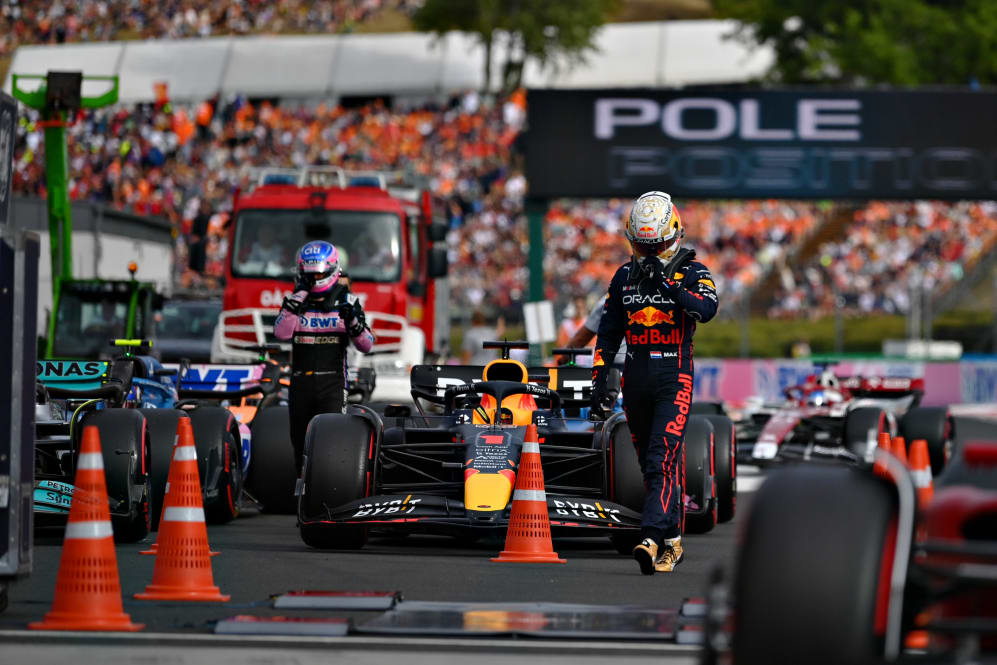 4. Norris in the mix
It wasn't just Verstappen who was left to rue his final attempt in Q3, as Lewis Hamilton also hit trouble and will start from seventh. The seven-time world champion had looked competitive throughout the session but missed out late on, and the strength of the McLaren and Alpine cars – and a DRS issue on his Mercedes – pushed him down to row four.
While Alpine will be happy to have both drivers starting in the top six, Lando Norris is a dark horse heading into the race after a very strong weekend so far for McLaren.
READ MORE: Norris 'very happy with fourth' after joint-best qualifying of the year in Budapest
Norris was second fastest in FP2 on Friday and carried that form into qualifying to end up less than 0.4s off pole position and a quarter of a second clear of Esteban Ocon behind him.
It was a performance that suggests McLaren have pace that could put them in the fight with the cars ahead, especially if Russell maintains the lead but isn't able to disappear up the road from Sainz and Leclerc. Norris already has one podium to his name this year and is well-placed to challenge for another on Sunday.
5. Plenty of weather watching
If Friday taught us anything, it was that both Ferrari and McLaren wanted dry conditions for the rest of the weekend as they were particularly competitive in the heat, whereas rain could throw a variable into the mix.
FP3 showed exactly that threat with Williams driver Nicholas Latifi fastest on intermediate tyres – the same ones Leclerc used, much to the Monegasque's surprise – and the competitive order much less clear. Fortunately for those two teams, it did dry up in time for qualifying, but there's some uncertainty over what the weather will do for the race itself.
HIGHLIGHTS: Watch the action from a remarkable qualifying session in Budapest, as Russell seals first pole in F1
After some heavy thunderstorms on Saturday, Sunday also comes with a risk of rain, although it is a lower chance and predicted to hit earlier in the day if the track does get some showers.
The few hours before the race is due to start currently carry a 40% chance of rain but that is still likely to be enough for teams to be nervously making contingency plans, with the weather also forecast to be much cooler than the rest of the weekend, therefore ensuring it takes longer for the track to dry out if it gets wet.