Sainz expects 'crazy close' midfield battle in Bahrain as fight for P3 hots up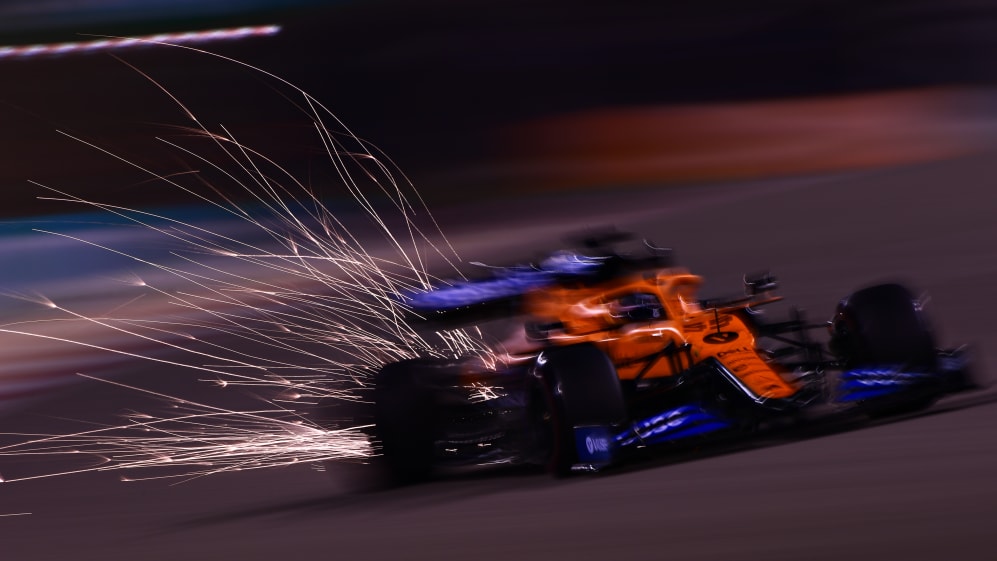 Carlos Sainz says the midfield teams are almost inseparable after Friday practice, adding that this could be a "special weekend" at the Bahrain International Circuit as McLaren attempt to wrestle P3 off Racing Point in the constructors' championship.
Sainz finished fourth in FP1 but 13th in FP2, explaining that just 0.2 seconds separates the likes of Racing Point, Ferrari and Renault.
IDEAL LAP: Hamilton quickest on day 1 in Bahrain – but is Verstappen actually the man to watch?
"It was crazy close yet again and we expect the tight battle again this weekend," he said, "but the thing is, at the moment, in the midfield there is five teams.
"There is the McLaren, the Ferrari, AlphaTauris, the Renaults, the Racing Points... Two-tenths [of a second] within those five teams and let's see who comes on top, but at the moment it's impossible to predict."
The Spaniard, bound for Ferrari in 2021, added that high rates of tyre wear could cause teams to pit more than once on Saturday and make for a "special" Grand Prix, echoing Renault's Daniel Ricciardo's prediction.
"I mean [it's] a bit of a special weekend in that sense because I don't think anybody's going to be capable of doing a one-stop on Sunday, which is normally the norm in this new form of Formula 1 races.
"But it means there's going to be a lot of strategic options; all three compounds work well, all three have a lot of deg, but they are all tyres you would use in the race so it's going to be interesting to see how it works out," he explained.
READ MORE: Mercedes drivers wary of Red Bull threat despite session-topping Friday in Bahrain
McLaren have made Bahrain one of their happier hunting grounds with Lando Norris taking P6 here in 2019, but Sainz has only finished this race once – in 2018 – and never scored points in here.
While the Woking team are just five points off Racing Point in the constructors' championship, Sainz has a one-point cushion over Norris in the fight for P7 in the drivers' standings.