Sainz left unsatisfied with P7 as he says Ferrari were 'quickest' midfielders in Spain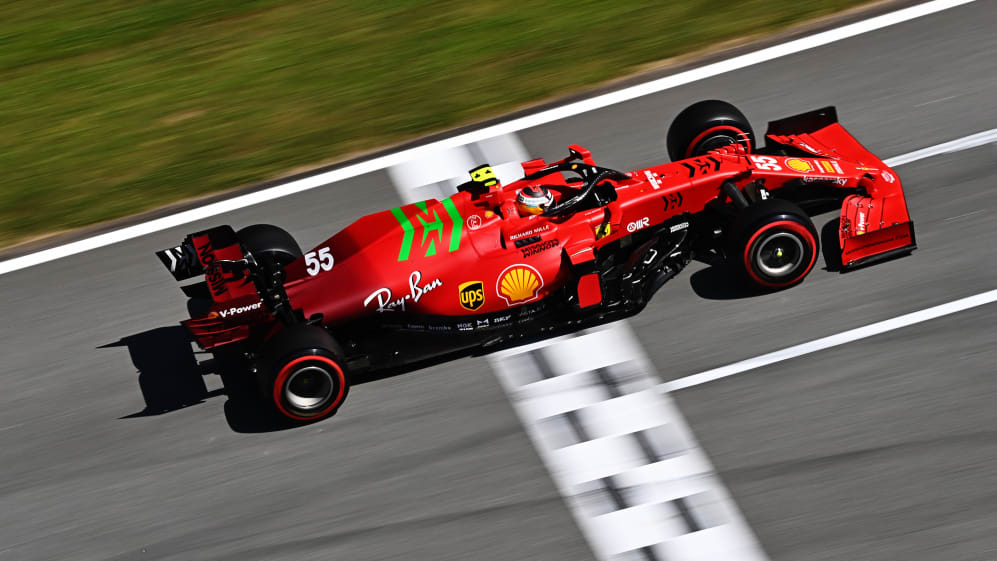 Carlos Sainz may have sealed another double-points haul for Ferrari with seventh at his home race in Barcelona, but the Spaniard was far from happy as he said the Scuderia "left some points on the table".
It was another successful march towards the front for Ferrari on Sunday as Charles Leclerc finished a stunning P4 – sparring with Valtteri Bottas at the start of the race – and Sainz a solid P7. But Ferrari's new recruit said he could have achieved more, if not for a compromising first lap.
READ MORE: 'P4 the best we could have done' – Leclerc delighted with 'very competitive' Ferrari performance in Spain
"Not very satisfied, to be honest, today," began Sainz. "The car was better than the result. I felt like today, for the first time of the year, we were clearly the quickest car of the midfield but I got a poor, poor first lap.
"More than the first lap is that I was boxed in into Turn 1 and I couldn't go anywhere. I guess I need to analyse what can I do better at the start to not lose the positions. Because from then on, we were fighting to get back. Overtaking was very difficult – possible – but very, very difficult, especially for us. We executed a good strategy, a good couple of pitstops and we managed to make it to P7. I felt like we left some points on the table," he explained.
The former McLaren driver also battled with ex-team mate Lando Norris (below), who was warned with a black-and-white flag for weaving on track in his defence of P8 in the latter stages of the race. Sainz recalled that there were no hard feelings with Norris, even though they "nearly crashed".
READ MORE: Why Red Bull were always likely to lose to Mercedes in Spain, however the strategy battle played out
"From my side, it was a very close reaction to Norris' movement," said Sainz. "I think I nearly crashed into him, but we talked after the race and it's all good. To be honest, black-and-white, whatever, I'm good with him."
Sainz took P7 off Esteban Ocon soon after but explained why he could not overtake Daniel Ricciardo for P6 at the end.
"Regarding that move, obviously I had a 15-20 lap tyre delta to [Norris], which made the overtaking a lot easier than what it was to Ricciardo, because Ricciardo, we had the same tyres, same age of tyre, which means I think today compared to the McLaren, we were at least two or three-tenths faster per lap.
"But even like that, with the dirty air of these cars, I think you need to be more than a second quicker than the car in front to be even able to do a move on someone, so those three or four-tenths advantage that I had on pace on Ricciardo was not enough to go side-by-side with him into Turn 1.
READ MORE: Ricciardo happy to face 'good problems' on way to joint-best finish for McLaren
"It's something we're trying to improve also, the top speed, and hopefully we can be better at it later in the year," he concluded.
Now that Sainz's home race is done and dusted, Ferrari head to Monaco for Leclerc's home race next.