Sainz says F1 'got it right' with 2022 rule changes and expects championship to become 'more and more interesting'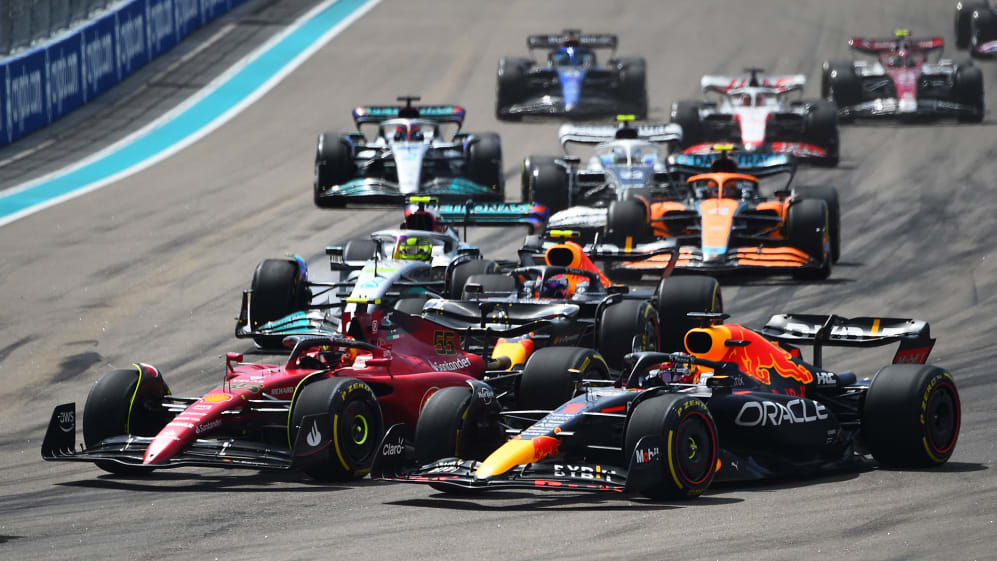 Carlos Sainz says F1's latest rules reset is the "right direction" for the sport – and reckons the racing is only going to get better as more teams get the hang of the new regs.
F1 moved to an all-new car concept for 2022, spearheaded by ground effect aerodynamics, overhauled bodywork and bigger tyres, while sticking with ultra-efficient 1.6-litre turbo-hybrid power units.
One of the primary goals was to generate closer racing and increase overtaking opportunities, with Ferrari driver Sainz – who claimed his first pole position and race victory this year – highlighting that these boxes have been ticked.
READ MORE: 'We're seeing the rewards' – Brawn hails positive impact of F1's 2022 rule changes
"I think Formula 1 got it right in principle. In general, I think these new cars have allowed us to race closer, to be able to overtake in places and corners or in circuits where before it was always more difficult, so I think the racing is more exciting," said Sainz.
"I think the field spread is still relatively big, but as soon as these regulations stabilise, I think we are all going to converge and the championship is just going to keep getting more and more interesting with the passing of the years and the races. I think it's been the right direction."
Alpine-bound Pierre Gasly echoed Sainz's sentiments, pointing to elements such as the budget cap and sliding scale of wind tunnel run allowance as factors that should help to close the gap between the front and rear of the pack going forward.
"I think overall it's been positive. I think in terms of racing we've seen more overtakes. In terms of driving-wise, it seems like it's easier for us to follow on some tracks. So definitely on that side, I think they've been improving the sport," he commented.
REVEALED: The move you voted as the best overtake of the 2022 F1 season
"I was hoping that we could see a bit more variety in the finishing order, like in the top finishing orders, with maybe more midfield teams getting the chance to fight for podiums. Hopefully, this is something that can improve over the next couple of years and get the field closer together, have more teams fighting for podiums.
"You will always have one or two dominant teams, but at least, hopefully, with gaps not big enough not to give opportunities for the midfield to be in contention for podiums. I think that was one of the big targets.
"Hopefully with the wind tunnel time etcetera over the years, it's going to merge towards a similar performance for most of the teams which, as a driver, will be the best for all of us to give us the chance to fight at the top."
World champion Max Verstappen added: "Definitely the racing improved. Some tracks are a little bit better than others, but on some tracks it's just very difficult to pass anyway, it doesn't matter what car you use. But I think that has been the main target.
READ MORE: From Magnussen's mega comeback to the pursuit of Piastri – 8 crazy storylines from the 2022 season
"Of course, there are always things that can be improved further… the ride of the cars, you know, they're stiff at the moment, and bouncing around a bit. But I think overall the rules have been pretty good."