Sainz says Italian GP near miss 'stings a bit less now' after period of reflection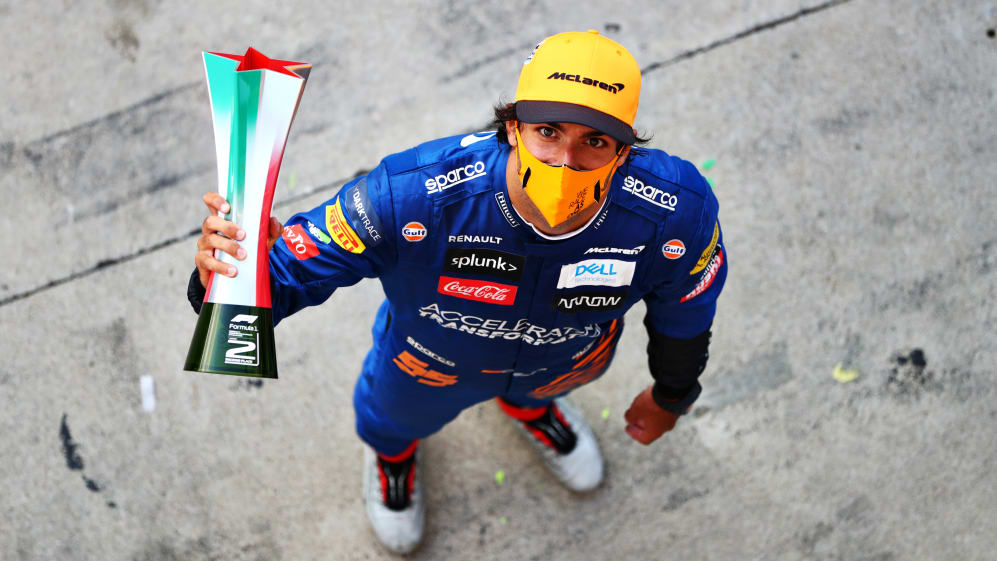 He may not have thought it in the immediate aftermath of last week's Italian Grand Prix, where he missed out on a maiden F1 victory by less than half a second, but after reflecting on the race in the days since, Carlos Sainz reckons his performance ranks as the best of his F1 career to-date.
The McLaren driver revealed he felt "rage" at the red flag shown after Charles Leclerc's crash at Monza last Sunday, which he felt had cost him the chance of the win, but speaking ahead of this weekend's Tuscan Grand Prix he said after having some time to reflect, there was nothing more he could have done to convert second place in a maiden victory.
"It does sting quite a bit less," he said. "After the race, the first thing I did on Sunday night was to go back to my room and watch the race and try to analyse what I could have done differently, and how could I have made that win happen.
"But the more I've looked at it, the more I've analysed it and the more I've tried to think about it with my engineers, it is actually a race where we did pretty much everything well. We executed maybe a perfect race."
Asked if it was his strongest race weekend since graduating to F1 the Spaniard said: "It has to be the best race. That's why when you go back, and you think about what you could have done better, you actually cannot find things that you could have done better and you have just to admit that it wasn't meant to be a win.
READ MORE: DATA ANALYSIS - The set-up decision that allowed Gasly to hold off Sainz
"Also in qualifying I felt very comfortable with the car, like we were making steps in the right direction, trying to make it a bit more comfortable and understanding this McLaren MCL35.
"The quali lap was obviously not perfect with the snap [of oversteer] in Lesmo but it was still pretty good, and the race – I think there was two races in that race – I did everything the maximum I could so I'm not going to complain and I want to… turn the page and try to focus on the next one," he added.
"The team and I had a very strong day that day and I'm pretty sure it was impossible to win so that second place feels much better when you realise [that]… "
Now Sainz is preparing to take on Mugello, a circuit on which nobody has raced in F1 – but some drivers, including his team mate Lando Norris, have raced on in junior single-seater formulae. And the Spaniard is expecting another solid performance for McLaren, though he stopped short of predicting a second podium in a row.
FORM GUIDE: Who's best-placed to take advantage of the new-for-F1 Mugello track?
"Mclaren are normally good in medium to high-speed [sections] so let's say we are confident going into this weekend, but at the same time, look: We were not confident going into Monza, and we overperformed. Here we might underperform, so I would prefer to keep it open and see how it goes," he said.
The Ferrari-bound Spaniard may be at a Scuderia-owned track this weekend but he still has nine races to contest for McLaren before making the switch to Maranello. Currently ninth in the championship on 41 points, Sainz had 26 points at this point in 2019.