Feature
FORM GUIDE: Who's best-placed to take advantage of the new-for-F1 Mugello track?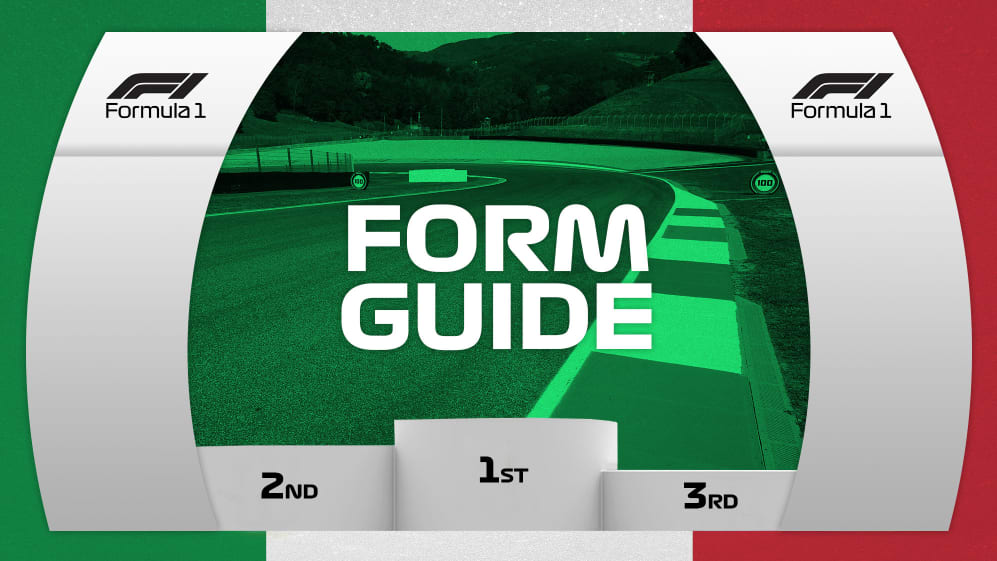 This weekend, the Formula 1 World Championship heads for uncharted territory, in the form of the Autodromo Internazionale del Mugello in Tuscany. No form to speak of around here then – but who can take best advantage of the latest arrival on the F1 calendar? Let's look at the favourites for pole, wins, podiums and points at the 2020 Tuscan Grand Prix.
Vying for pole
Well in theory, an easy one to start with anyway. Eight races down in 2020 and eight Mercedes pole positions thus far – with no driver from another team having yet managed to qualify within half a second of the fastest Mercedes driver on a Saturday. And if you thought that was going to change at Monza after the engine mode Technical Directive, Lewis Hamilton was 0.808s ahead of McLaren's Carlos Sainz last weekend…
READ MORE: Vettel to make sensational Racing Point switch in 2021 as they re-brand as Aston Martin
Mercedes also confirmed that both Hamilton and Valtteri Bottas had driven Mugello on the team's sim at Brackley, so they'll have got their eye in already – while although Hamilton leads the pole battle 6-2 in 2020, Bottas was a cigarette paper-like 0.069s off his team mate around Monza (which Hamilton admitted had got under his skin), so is definitely not to be written off.
As a track, Mugello is made up exclusively of medium and high-speed corners, meaning that this is a circuit that will reward teams with a well-sorted aero package. That being the case, while the track will once again play to Mercedes' strengths – with their W11 machine a monster in the medium-speed turns particularly – Red Bull, with their aerodynamically formidable RB16, should be nicely back into the mix as the second-best team, after their off-colour Monza display.
FAN VIEW: Things may have gone horribly wrong for Lewis Hamilton in the race at Monza, but his Mercedes had been as dominant as ever in qualifying on Saturday. F1 Play gamers are once again piling in to select the World Champion to be fastest over a single lap at Mugello this weekend.
In the mix for victory
It's not sticking our neck out too much to say that Mercedes will be the favourites to follow up a likely pole position with a likely win at Mugello. No team bar Ferrari have run a turbo-hybrid car at Mugello (Ferrari using a 2018-spec SF71H at a filming day earlier this year), while the data from the 2012 test at the circuit that many of the teams attended will be, by and large, meaningless.
Therefore, the closest comparison the teams have to help them prepare is Suzuka. That circuit, like Mugello, is narrow, fast and twisting, with Turn 1, the slowest corner at Mugello, still taken at nearly 90mph. Mercedes won at Suzuka last year, with Bottas getting the job done – while Spa-Francorchamps, another track with similarities to Mugello, saw Hamilton triumph comfortably from Bottas this year, with Red Bull's Max Verstappen in third never looking like launching a serious bid for victory.
READ MORE: Mick Schumacher to drive his father's 2004 Ferrari at Mugello ahead of team's 1000th GP
All told, then, the aerodynamic superiority of the Mercedes W11 should mean it will fly around Mugello – while with Turn 1 arriving at the end of a 0.7-mile-long straight, their power unit advantage, coupled with the tightness of the track, should help them to protect any advantage.
Expect Red Bull to be there or thereabouts though, with the RB16 a mighty, if tricky to drive, car aerodynamically, while if Verstappen can get in the groove with the track, his commitment around a drivers' circuit like Mugello could be enough to make the difference and help him get in amongst the Mercedes.
FAN VIEW: F1 Play gamers clearly see that result at Monza on Sunday as nothing more than a blip, and they expect the 2020 status quo to be restored this weekend. Namely a podium which looks eerily familiar - 1 Hamilton, 2 Bottas and 3 Verstappen. Outside the big three hardly anybody merits a look-in so far in voting.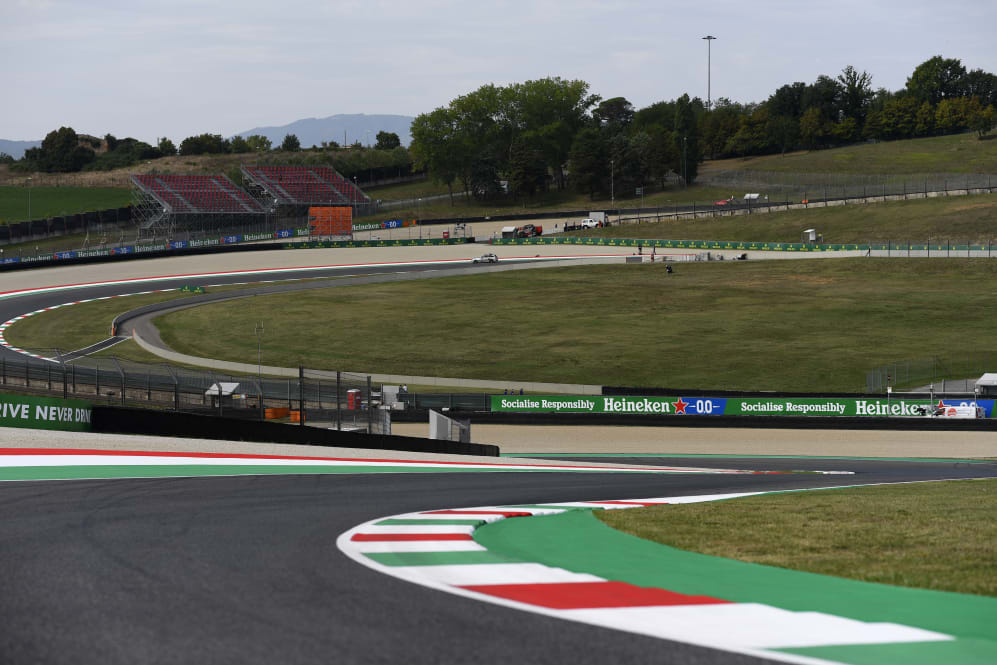 Podium outsiders
We better be careful what we say here, given that Monza's podium consisted of an AlphaTauri, a McLaren and a Racing Point. Plenty of circumstance led to that result, though, meaning that this weekend, it should be more of a return to 'normal'.
Looking to teams outside the holy trinity of Hamilton, Bottas and Verstappen, we'd expect to see McLaren, Renault and Racing Point swarming around the near-podium positions once more and looking to capitalise, with Daniel Ricciardo in particular having gone well for Renault at the Spa track that has similarities to Mugello, while he has prior racing experience at the Tuscan track – albeit 13 years ago in a piddly little Renault 2.0 car – to boot.
READ MORE: Ricciardo 'very excited' at 'insane' new circuits joining calendar
Meanwhile, it would be nice to see Sergio Perez follow up Lance Stroll's podium for Racing Point this weekend, after it was announced that he would leave the team in favour of Sebastian Vettel at the end of this year.
One thing to look out for, though, is the tyres, with the three hardest compounds in use this weekend on Mugello's abrasive surface. That's the same compounds as used at the British Grand Prix, where we witnessed tyre issues for a number of runners – while with similar pressures in use, and similar blistering sensitivity expected, this weekend, along with high ambient temperatures, how well drivers and teams can look after their rubber could be a crucial factor.
FAN VIEW: Carlos Sainz was inspired in claiming second place with a superb drive at Monza. And F1 Play gamers expect the McLaren man to have another fruitful weekend in the first ever Tuscan Grand Prix. Sainz's McLaren team mate Lando Norris (fourth in Monza) and Renault's Daniel Ricciardo are also proving popular.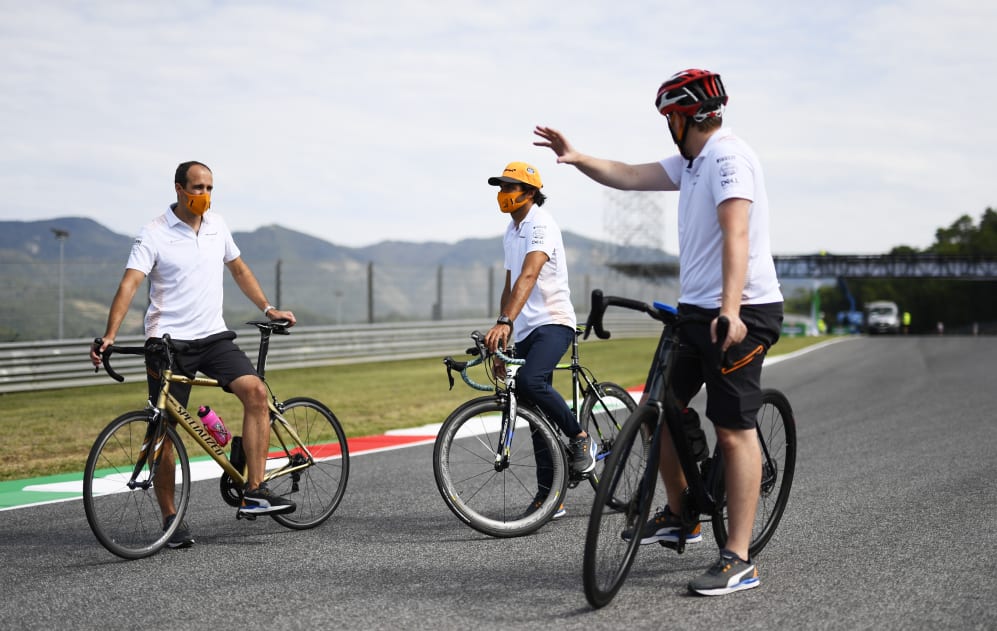 Points potential
It's about time we mention Ferrari, ahead of a Grand Prix to celebrate their 1,000th participation in a World Championship event. Their cars will be wearing a special livery this weekend while, given that they own the track and had drivers pounding around it almost ceaselessly back in the days of unlimited testing, Ferrari will theoretically be the team best-placed to hit the ground running at Mugello.
But we come off two races where Ferrari have failed to score any points at all, with their pace at Spa-Francorchamps not sufficient to get either car into the top 10 at the finish. That means they could struggle at Mugello, not helped by the circuit's 0.7-mile straight, given their current power unit struggles.
READ MORE: Mugello – all you need to know about F1's newest Grand Prix track
AlphaTauri would love to follow up Pierre Gasly's unexpected Monza win with another strong performance at their second 'home' Grand Prix in a week, while after some more promising performances from Kimi Raikkonen and Alfa Romeo recently, there's a sense that the Finn's first points of the season aren't far away. It would be fitting if he could take them at the scene of his first ever F1 test, 20 years ago – and at a track that he absolutely adores.
FAN VIEW: Two notable things to report here. First the remarkable lack of belief among F1 Play gamers that Ferrari can provide any marked improvement on their recent showings at Spa and Monza. Secondly there is a little support for Kimi Raikkonen to get in the points for Alfa Romeo after his 13th at Monza on Sunday.