Sainz says lack of 'confidence' on slippery Singapore streets saw him slip back from lead battle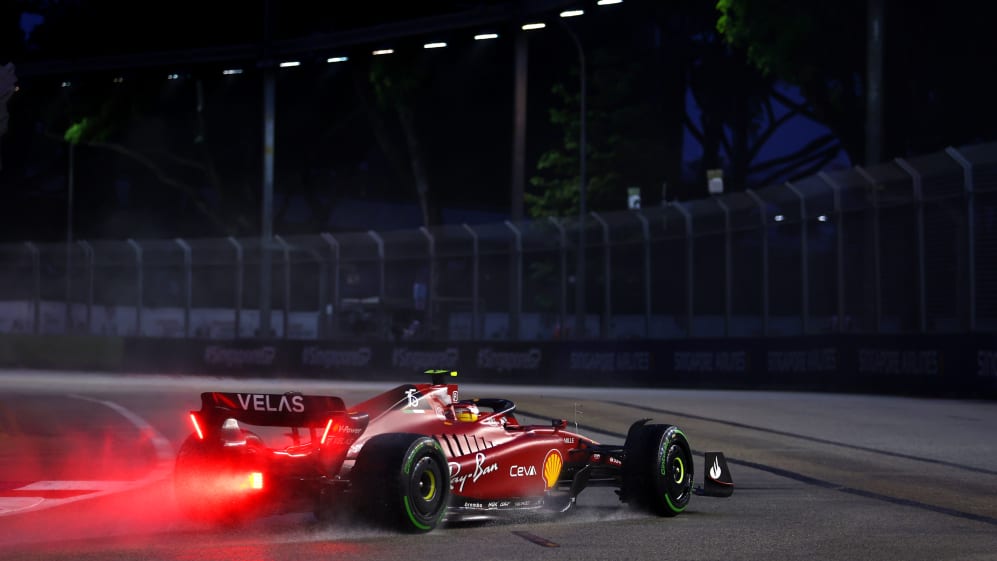 Carlos Sainz said that Singapore's slippery streets caused him to lose "confidence" and fall away from the lead battle on Sunday, as Ferrari team mate Charles Leclerc gave chase to eventual winner Sergio Perez.
Sainz qualified fourth but leapfrogged Mercedes driver Lewis Hamilton at the very start of the race. The Spanish driver soon fell back behind Leclerc and Perez, however, with Sainz ultimately finishing 10 seconds off Perez at the chequered flag – despite numerous Safety Car periods bunching up the pack.
READ MORE: Perez holds off Leclerc to win rollercoaster 2022 Singapore Grand Prix as Verstappen settles for 7th
"It was unfortunately quite lonely for me because I just didn't have the pace," said Sainz. "Today on the intermediate tyre, I lost a lot on the road to Charles and Checo. I couldn't keep up with them. I was struggling quite a lot on these tyres.
"I think I lost quite a bit the front and I was having a lot of moments, a lot of front locks, and every moment here costs you confidence and costs you the ability to recover that pace.
"At one point I had to settle a bit and recover that confidence because I couldn't keep up and once the confidence recovered in the slick and towards the last 10-15 laps, I managed to be quick, but it was just way too late."
Sainz denied that physicality – Singapore being the toughest race on the calendar given the heat, humidity and the length of the Grand Prix – was the issue that cost him at Marina Bay.
"I don't feel like the track is physical at all, it's usually warm in the car but this is not a problem because the physicality of it is much lower [in wet conditions]; it was just a matter of pure, pure pace and confidence," he continued.
READ MORE: Leclerc says his start 'wasn't good enough' as pole-sitter forced to settle for P2 at Singapore GP
"I think here confidence is key and when you have a couple of moments, it snowballs and then you have to take a bit more margin and then you start losing extra pace compared to other tracks because next time around, you might be in the wall and you might look like an idiot, no?
"So, it's a confidence thing that I will work on, I will have a good look with my engineers to see what I could have done better, what we can do in these sort of conditions, because [mixed conditions] is one of my strongest points as a driver. And I think it's going to be only a one off," maintained the Ferrari driver.
Ferrari out-scored not only Mercedes but also Red Bull thanks to their double podium finish in Singapore, while Sainz is just one point off Mercedes' George Russell heading into Japan.