Sainz still seeking 'perfect launch' as he gets up to speed with Ferrari start procedure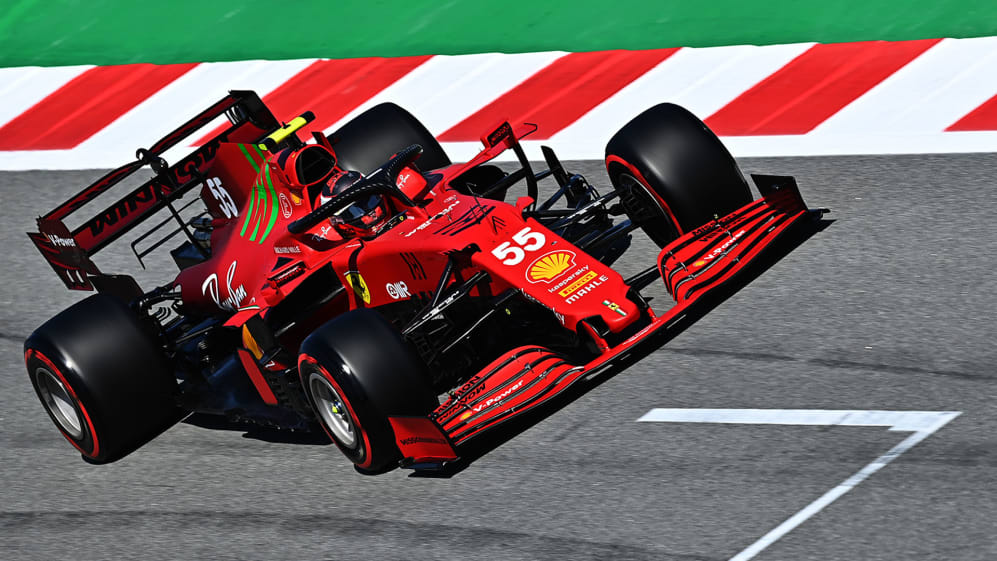 Carlos Sainz made a name for himself during his two seasons McLaren as a demon starter, but the Spaniard says a lack of familiarity with the start procedure behind the wheel of the Ferrari SF21 means he is still trying to optimise his getaways this season.
Sainz qualified sixth at the Spanish Grand Prix – his first home race as a Ferrari driver – but had fallen down to eighth by the end of the first lap. And asked after the race why his lightning start skills hadn't been as much in evidence this season as they were in his McLaren days, Sainz said a lack of confidence was the main cause.
READ MORE: Sainz left unsatisfied with P7 as he says Ferrari were 'quickest' midfielders in Spain
"I was just going through a big data analysis with my engineers 10 minutes ago," said Sainz on Sunday evening in Spain, "trying to understand what I could have done better. What is clear is that I still need to get a bit better, and a bit more confidence with the start system and the way we operate to get that perfect launch and that perfect first 100 metres."
However, according to Sainz, there had been a more crucial factor in his Lap 1 fall down the order at Barcelona: "I don't think [the start] was the main limitation today; the main limitation was a bit the positioning after that, getting in and out of the slipstream and being boxed in behind [Esteban] Ocon into Turn 1 and losing quite a lot of positions to the cars around the outside."
Of all the drivers who have changed teams for this season, it's arguably Sainz at Ferrari who has managed to get on or near the pace of his new team mate the quickest. But despite having qualified just 0.110s off Charles Leclerc in Spain, Sainz – who would finish the race in P7, to Leclerc's impressive P4 – said he is still working on "putting the whole weekend together" in order to achieve better results for the Scuderia.
"It's a combination of factors to get that perfect result like Charles did today," said Sainz. "You need to first of all put the weekend completely together, and it comes down to a good qualifying, to make the lap in Q3 – if I would have nailed it [this weekend], I would have started further ahead and it wouldn't have been an issue. And then nailing the start.
READ MORE: 'P4 the best we could have done' – Leclerc delighted with 'very competitive' Ferrari performance in Spain
"This is what I was particularly good at at McLaren, putting the whole weekend together, and this is what I need to keep on improving as the races go on with this team, to try and be performing at the highest possible level."
Getting up to speed at Ferrari means that Sainz currently sits eighth in the drivers' standings to Leclerc's P5, Sainz having scored half of Leclerc's points with 20 to the Monegasque's 40.