Schumacher explains his Friday-ending FP1 crash, as Magnussen enjoys 'pretty good day' after taking P5 in second practice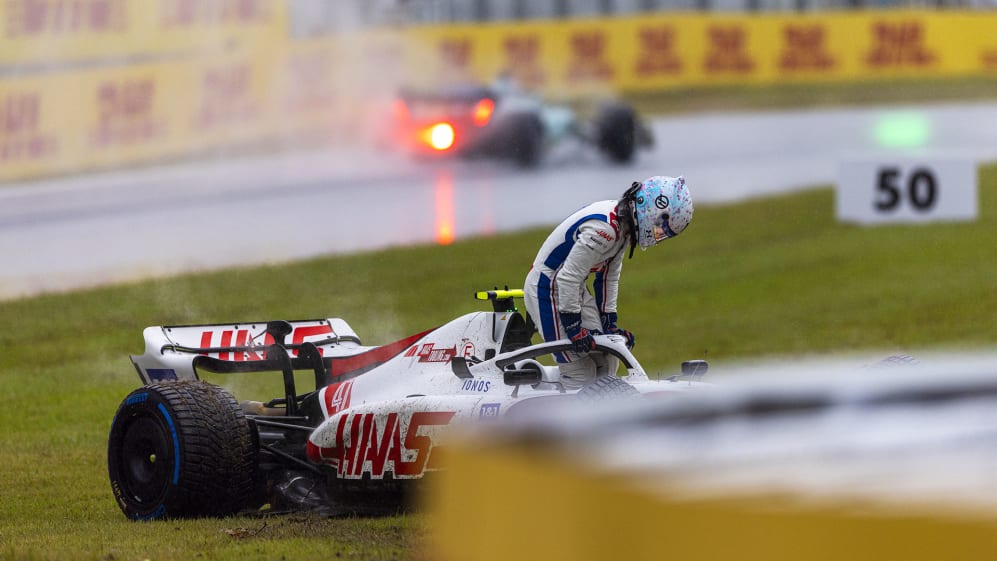 Haas had a mixed day in wet conditions at Suzuka, as Mick Schumacher crashed out of FP1 and sat out the second session on Friday – where Kevin Magnussen finished fifth in both sessions.
Schumacher set 13 laps to go seventh in a soaked first session at Suzuka (where running was limited across the board) but crashed after the chequered flag was flown in FP1. The German driver was unhurt, but his VF-22 suffered significant damage as he spun 360-degrees and clattered the barriers.
READ MORE: 'Emotional' Tsunoda says long-awaited home debut is a 'dream come true'
"Yeah, obviously it was quite rainy, unfortunately we had a little aquaplane moment then it led to us losing the rear," said Schumacher, who missed FP2 as his car needed a chassis change.
"Of course, it's not amazing; we lost some time especially in the FP2 session because we didn't get out and drive – mainly for safety reasons and the chassis. Yeah, we're going to do more of a job tomorrow but the track is great, the car feels great today, so I'm sure we'll be hopefully in a good position and tomorrow should be dry, so we'll see what we can do there."
Magnussen, who finished a second off the pace in FP1 and 1.2s off the pace in FP2 – posting P5 in both sessions – was pleased to get 32 laps under his belt but explained that his FP2 time might need taking with a pinch of salt…
READ MORE: 'We'll be starting from zero tomorrow' – Verstappen intrigued by changeable Suzuka weather conditions
"FP1, we were strong; FP2 I thought we weren't as strong," said the Dane.
"It was good, it was wet today all day so I was worried we weren't going to get any running but actually it was good conditions," added Magnussen. "For intermediates sometimes it was a bit too much [water] for intermediates, but we did quite a few laps. So I'm happy for the people who came out today to watch the cars go round that there was actually a bit of running. Yeah, a pretty good day."