Feature
The real Kimi Raikkonen - a Finnish perspective on the Iceman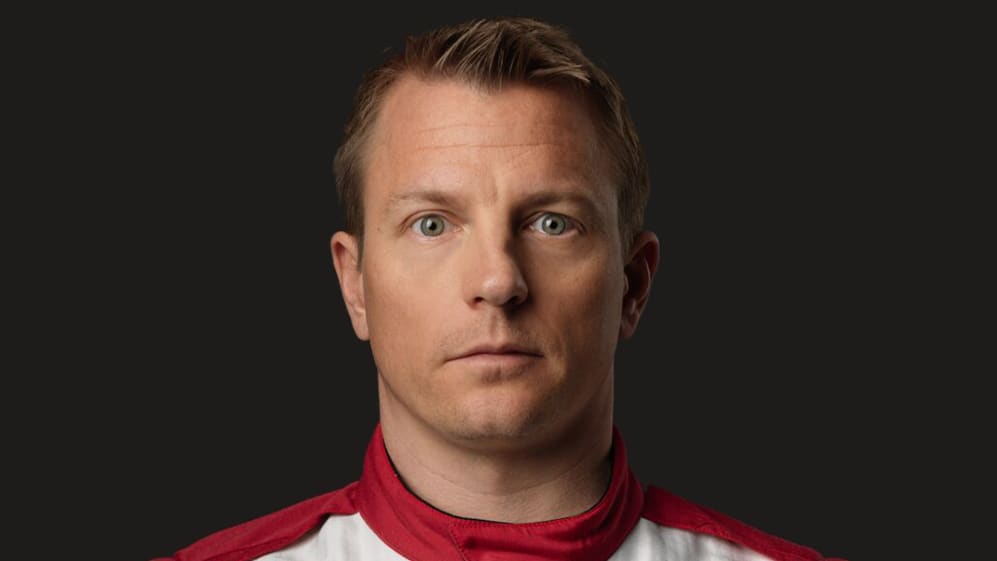 Ice cool, enigmatic and blindingly fast, fan favourite Kimi Raikkonen is renowned for being honest to the point of bluntness. The Finnish journalist Heikki Kulta, who has interviewed the 'Iceman' countless times over the past 20 years, shares his personal appreciation of the real Kimi, from Issue 4 of The Official Formula 1 Magazine…
'Be a fan, sure. But don't touch me.'
It is said that Finnish men do not speak or kiss. Sound familiar? In the world of Formula 1 this old adage seems to fit Kimi Raikkonen perfectly.
READ MORE: From wild man to family man: Kimi Raikkonen on life as a racing dad
Even age has not altered the character of a driver many consider to be the epitome of his nation's 'gruffness'. He has never liked strangers hugging him or patting him on the back, and while there is no denying that he has become more talkative over the years, Raikkonen continues to avoid over-enthusiastic crowds.
I first met him at the start of his career, when he was driving a Sauber in the 2000-2001 winter test sessions. It took some time before he came to accept that there was no need to run away from me.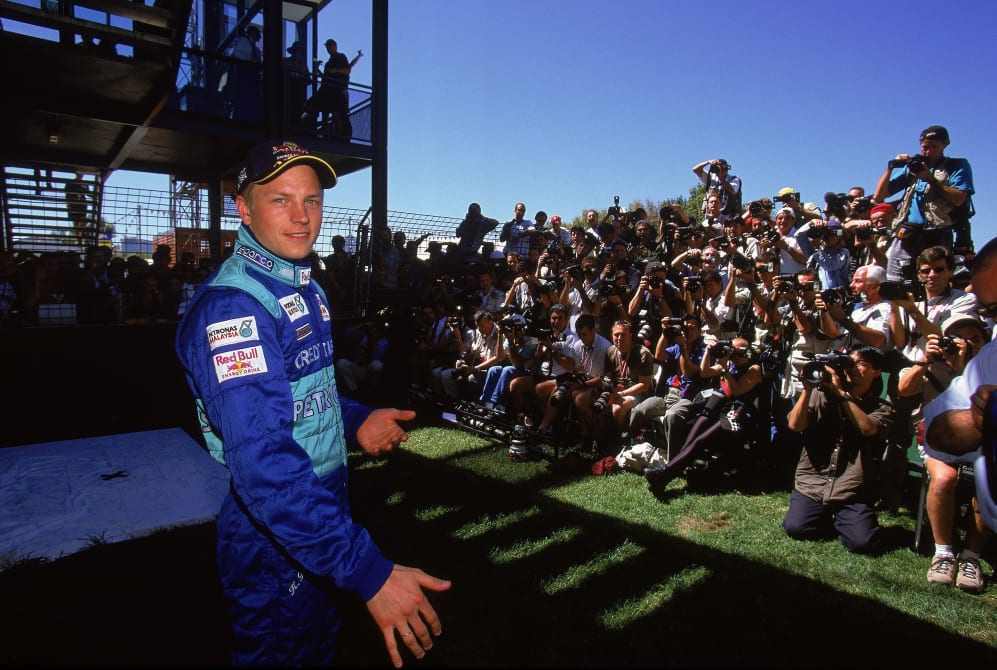 My first significant lesson in Raikkonen's dislike of people getting too close to him was in 2002, when he was driving for McLaren. I was having coffee with his father, Matti, in the McLaren hospitality suite at Monaco. We were watching free practice when Kimi approached a corner too fast, his car spun back onto the track after hitting the steel barrier and marshals rushed to help him out of the car.
"Now there'll be trouble," said Matti when he saw the attempt to help his son. Raikkonen pushed away the first marshal to reach him. "Kimi has never liked strangers touching him. And that's what always happens."
READ MORE: ORAL HISTORY – The inside story of Kimi Raikkonen's legendary first F1 test
A couple of years later, Raikkonen was battling for victory at Hockenheim when he lost his rear wing at high speed and the car crashed into the barrier. He hit his head and, for a moment, saw stars, but came to when the marshals dashed to check his condition and pull him to safety. His subsequent outburst startled onlookers, but they thought it was simply an expression of his disappointment.
Afterwards, however, Raikkonen seemed to be fully conscious of what he had done. "Even if I had won the race, I would have done the same thing if someone I didn't know manhandled me like that. I just can't stand that sort of thing," he admitted.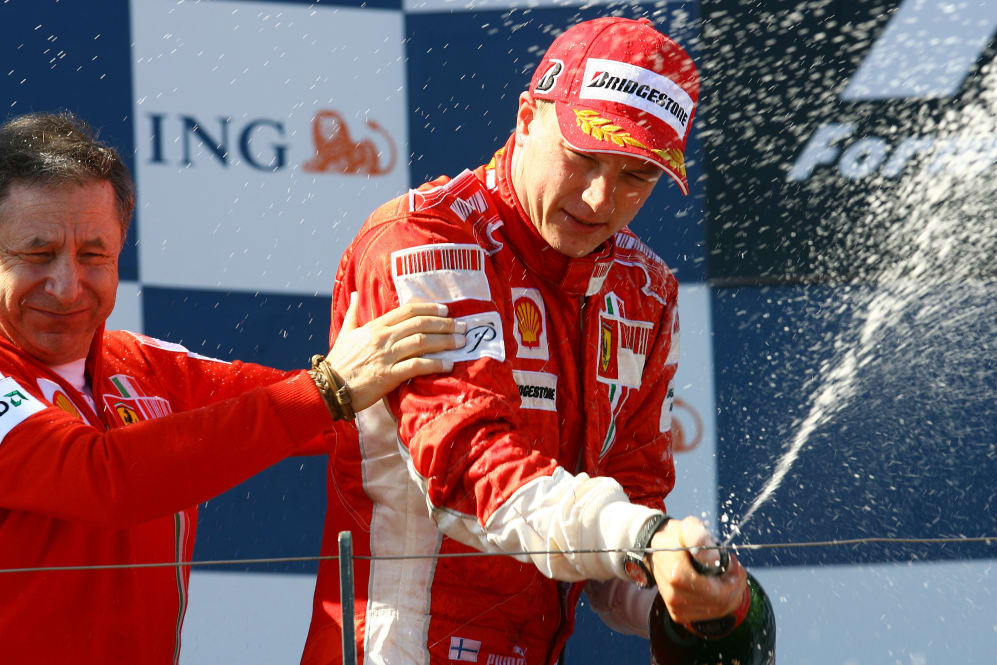 Raikkonen's family circle is a close one. His mother, Paula, remembers when, as an eight-year-old boy, he came up and embraced her, saying that one day he would be a world champion. Although at the time he wasn't sure in which sport it would be.
After the first win of his title-winning season in 2007, there was something of a performance when Ferrari team boss Jean Todt frantically tried to give him a congratulatory hug on the podium in Australia. The nearer Todt got, the more Raikkonen backed away to avoid the Frenchman's over-zealous burst of joy.
Perhaps Todt's emotions on the podium seemed a little too playful, but he later described his relationship with Raikkonen as both professional and amicable and there was a good atmosphere between the two men.
READ MORE: Six of the best - Title turnarounds
Raikkonen is one of the world's most famous Finns and is particularly popular in Asia. Whenever he visits China or Japan a legion of fans follow his every move; at the airport, in his hotel and on the race track.
Their dream would be to get close enough to touch their hero, but such close contact is something Raikkonen has definitely never got used to, although he realises that his growing number of supporters are important for the popularity of the sport and he tries to give them more attention whenever possible.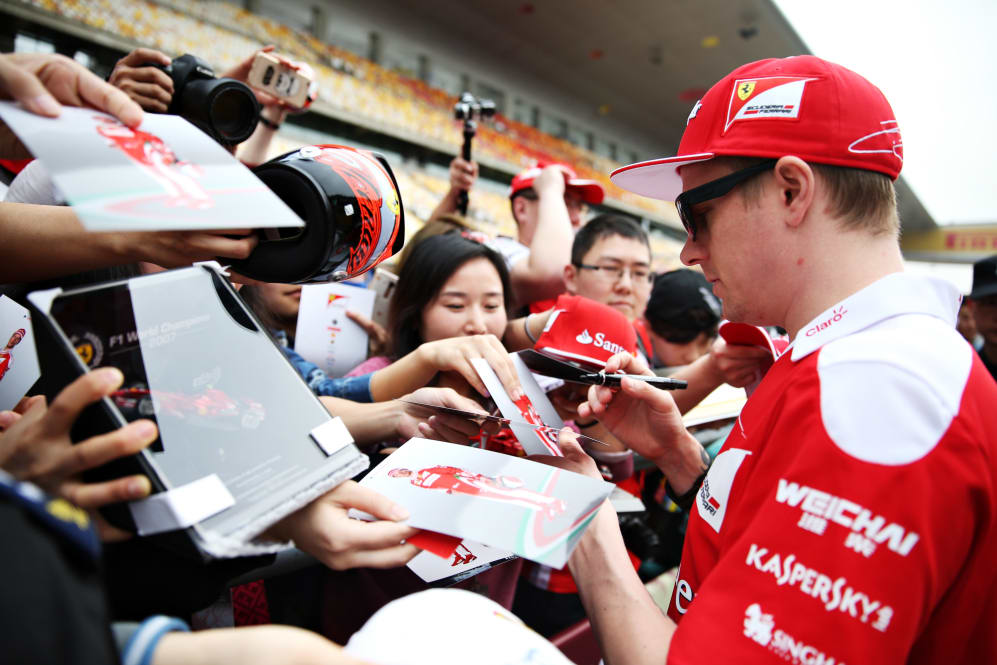 When China was in the early stages of the coronavirus pandemic and it was announced that the Grand Prix in Shanghai was to be postponed, the 'Iceman' broadcast a message to the Ice Army – the nickname for his followers in China – informing them that the race was off, but wishing them all the best and saying that he hoped he would see them later in the year.
He recorded the message from his home in Switzerland, with an imposing view of the Alps as a backdrop. During pre-season testing in Barcelona this year, I asked him how he came up with the idea of actually sending the message.
"Sometimes these great ideas just pop into my head," he said with a faint smile. "It was just to cheer them up, wasn't it?"
READ MORE: Ferrari send Kimi Raikkonen his 2018 US Grand Prix-winning SF71H
It is hardly an exaggeration to say that Raikkonen is the most honest driver that has ever taken part in Formula 1. He doesn't do politics, sometimes answering questions in a manner that could be deemed too blunt – and if he is asked something he thinks is stupid, you soon know about it.
Such frankness was apparent once when the McLaren press officer asked me to do an interview with him after his first day testing the new MP4-19 in 2004. The article was for Racing Line, the team's former official magazine.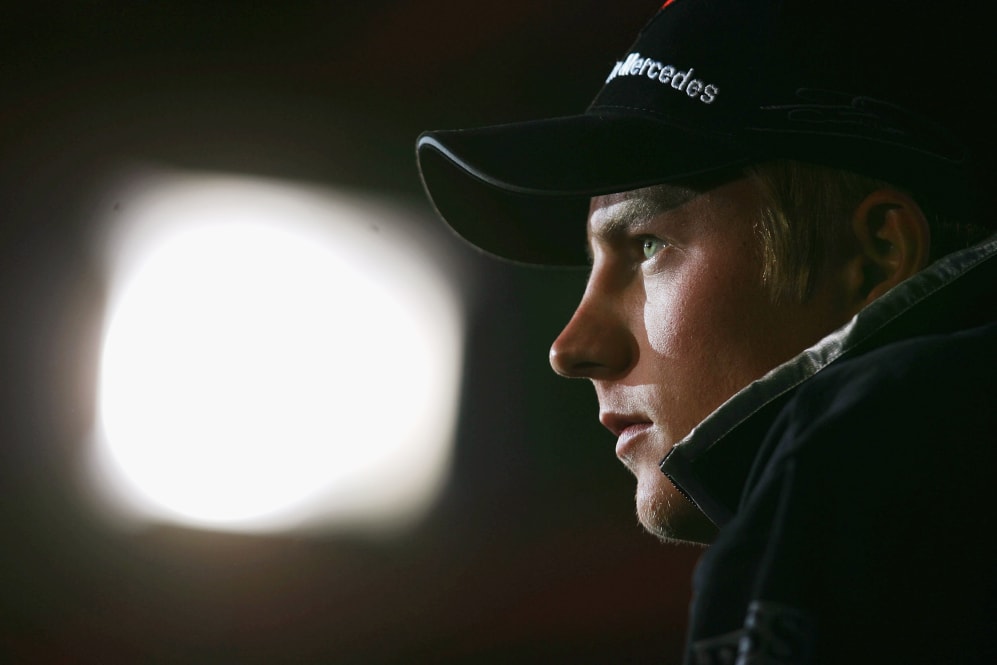 The car had been on track back in November 2003, but Raikkonen did not drive it until January, when he returned from three months' winter leave following an operation on his wrist. So, I asked, what was his first impression of the new car?
"It is complete sh*t," Raikkonen blurted out in Finnish. I obviously could not pass this message on in the magazine, so, in English, I wrote that the car had not been exactly what Kimi had hoped it would be… Nevertheless, it was true. The MP4-19 retired from six of the first seven races of the season and he had only scored eight points when the improved MP4-19B arrived.
READ MORE: Having Raikkonen as team mate made rookie season 'really difficult', says Alfa's Giovinazzi
Usually, the worst time to interview Raikkonen is immediately after a race or qualifying session, especially if the result, for one reason or another, has been the wrong one. I would not ask any questions in these circumstances, preferring to wait until the time was right, which was mostly never.
When it comes to agreed, one-on-one interviews, it is better to be towards the front of the queue. If there are many interviewers ahead of you, Raikkonen gradually becomes sapped of energy and is increasingly unlikely to give constructive answers.
My own solution is to start the meeting with a joke. He might be in a bad mood, tired or disappointed, but generally, a joke will lighten the atmosphere and lead to better answers. In such cases, he uses a lot of expressions in Finnish that you hardly ever hear from anyone else.
Raikkonen would be the first to vote in favour of shorter race weekends. He gets annoyed when, from one year to the next, he has to appear before the press on both Thursdays and Fridays.
READ MORE: DO SAY, DON'T SAY – Your quickfire lowdown on Alfa Romeo for 2020
He particularly views interviews on practice days as a waste of his time.
"Reporters ask the same things again as they did on Thursday," he says. "On Thursday, we still know nothing about what is going to happen at the weekend, as no one has done a lap in that particular car on that track. The first time there would be anything to say would be after a session or, actually, not until after the race."
An interview with Raikkonen can go one of two ways. If you ask questions that interest him, the conversation will flow well. However, if you ask about things that are self-evident, the answer can be read in his blank, 'for f**k's sake' expression.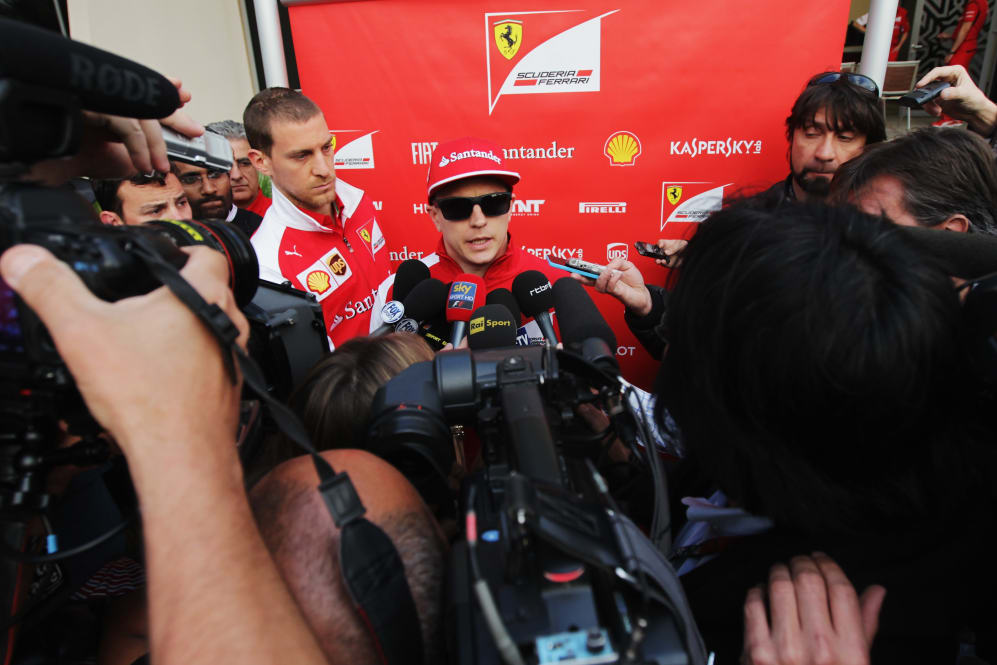 Arguably the biggest change in his life was meeting his soulmate, Minttu. An idyllic picture of family life is complete whenever his children are in the pits, visibly gladdening the heart of their father. At such times, when he seems happy and at ease, his body language says everything to those closest to him.
Raikkonen adores his children and enjoys nothing more than fooling around with them. As we know from the TV, he thinks nothing of using the occasional swear word and that is apparently the case at home, too. "Bad language is allowed," he says. "The children would learn to swear at some point, in any case, even if they didn't at home."
READ MORE: Raikkonen 'not excited' to become most experienced driver in history
His mother, Paula, sees in her grandson Robin, who is five, many of the same qualities she saw in her son when he was the same age. Driving and racing are definitely in his genes.
There is, though, a big difference in the children's home life in Switzerland compared to that of the young Kimi, who grew up in a little cottage in Espoo, just outside Helsinki.
This extends to their exposure to different languages, with their father and mother speaking Finnish to them around the house while their childminder speaks in English.
Although Italian is one of the three languages spoken in Switzerland, Raikkonen, despite all his years with Ferrari, doesn't speak it. English has long been his working language and to learn it, when he first started racing, required a fair amount of determination.
To begin with, Raikkonen's English was not up to much and his mechanic Kalle Jokinen would act as an interpreter. Then father and son, Dave and Steve Robertson started managing the promising young racer. At that time, Raikkonen's vocabulary was still very limited – he could only say 'okay' and 'understeer' or 'oversteer' – but things improved significantly when he moved to the UK.
Steve Robertson recalls that Raikkonen started off living at his team manager's house, watching motorsport on TV and speaking with the family's young children.
WATCH: KIMI AT 40: Raikkonen's Greatest F1 Moments so far
Living with an English family helped him learn English and when he subsequently moved in with Steve, within three months he was speaking the language far more comprehensibly.
While relations between Raikkonen and the international media have never been especially warm, he got on well with his team press officers and they were able to give him the space he needed. In return, Raikkonen showed his gratitude by fulfilling his obligations, most of the time to perfection.
At the end of 2009, Ferrari decided to replace Raikkonen with Fernando Alonso. Having been released from his contract and paid off, the Finn defected to the World Rally Championship, where he very much developed his own solution to keeping interviews to a minimum.
If things had not gone well after a special stage, Raikkonen would keep the window on the driver's side shut when he pulled up near reporters and any comments would be given by Kaj Lindstrom, his co-driver, on the other side.
PODCAST: Kimi Raikkonen opens up to F1's Beyond The Grid podcast
After two years rallying together, Lindström was persuaded of Raikkonen's rare ability, stating: "Kimi became a fully-fledged rally driver, quite rightly, because he is so talented. That final second that separated him from the rest of the top drivers would normally have meant another two to three years' rally driving."
Raikkonen then ventured to North America for a stint driving in a few lower-tier NASCAR rounds. He enjoyed being in that part of the world and liked that the Americans had their own way of doing things. Grateful for the opportunity to race again, the experience eventually inspired a return to Formula 1.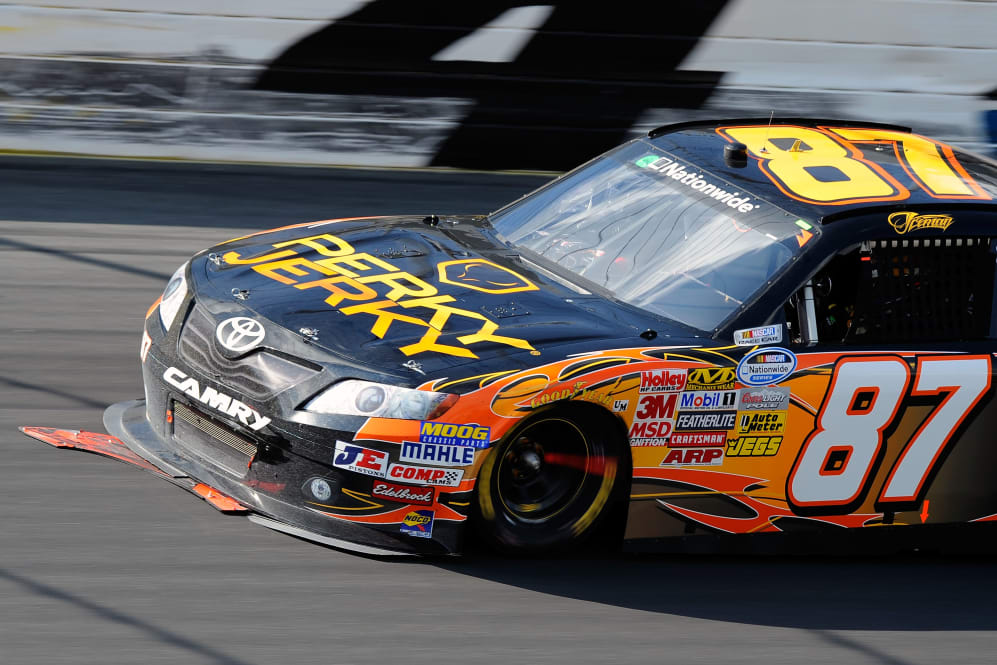 I first heard of Raikkonen's F1 comeback plans at the German Grand Prix in 2011. At the time, negotiations were underway with Williams, but later that autumn, it emerged that he had struck a deal with Lotus and I immediately reported news of the contract.
"Even with my experience, the biggest challenge comes when you have to learn so many things again," Raikkonen explained at the time. "I have no idea whatsoever where we, as a team, are headed. But I guess we will find out when the season starts."
READ MORE: Grosjean reveals how his ex-team mates Raikkonen and Alonso are 'surprisingly' similar
It was astonishing to see how fast he was able to adapt after all that time away. At the fourth race of 2012, in Bahrain, he finished second in the Lotus. Then, a clear win in the evening light of Abu Dhabi, on November 4, was something that will stay with me forever – particularly when I put on the 'Leave Me Alone' hoodie I later received as a Christmas present.
Raikkonen scored 390 points in two years with Lotus. Team boss Gérard Lopéz certainly did not expect such a result and the deal he had made to pay €50,000 per point almost led to bankruptcy, the points bonus alone guaranteeing Raikkonen €19.5 million.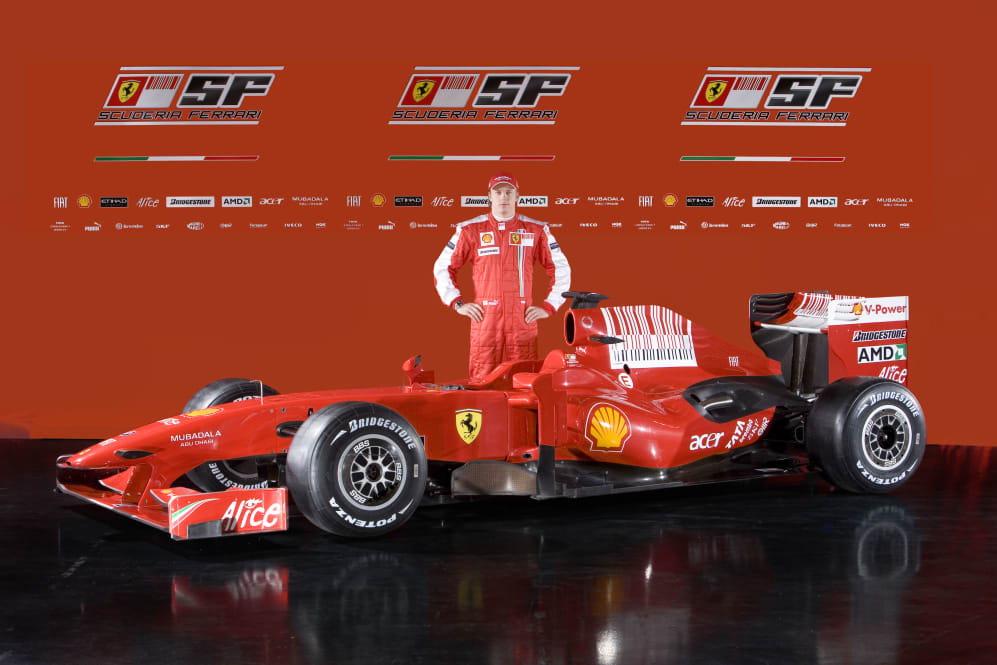 When, during the second season, the money started to run out, the team spirit at Lotus began to flag. It looked likely that Raikkonen would not drive in the 2013 Abu Dhabi Grand Prix but, after a good deal of dithering, he turned up. Asked why he had arrived so late, he replied: "When you've been paid nothing for a whole year, it's hardly conducive to positive thinking…"
That race was his last with Lotus. Following a suitable period of rehabilitation after an operation on a back injury, he started the next season as a Ferrari driver once more.
READ MORE: Kimi Raikkonen in the Formula 1 Hall of Fame
In the early autumn, Steve Robertson had put together a deal for Raikkonen to return to Maranello – a move that surprised the world of Formula 1. The contract was for five years. Ferrari president, Luca di Montezemolo, justified his decision at the time by saying Raikkonen was the best driver on the open market.
His first year as Fernando Alonso's team-mate was frustrating, but team relations took a turn for the better when Sebastian Vettel was taken on to replace Alonso.
In the years he spent at Ferrari alongside Vettel, Raikkonen scored only one win: at the United States Grand Prix in 2018. Aged 39, the achievement made him the 13th oldest Grand Prix winner in history – a statistic that proved his age was no barrier to performance.
His remarkable longevity was highlighted when, earlier this year, the largest daily newspaper in Finland, Helsingin Sanomat, commissioned me to conduct an interview with Raikkonen's fitness trainer Mark Arnall. My assignment was to gather tips that would enable any ordinary 40-year-old Finnish man to boast that he trained 'just like Kimi'.
Having worked together for 18 years, Arnall has played an undeniably important role in maintaining Raikkonen's fitness and consequently his ability to remain competitive.
Unfortunately, he was reluctant to offer any tips – not due to secrecy, but because he was adamant that very few people Raikkonen's age could train the way he does. Just one illustration, among many, of how Kimi Raikkonen is no ordinary man.
This story first appeared in Issue 4 of The Official Formula 1 Magazine. Start your subscription now and receive a special discount with the code DRIVE10 at www.thef1magazine.com