Feature
The 10 key moments in Hamilton's 2019 title charge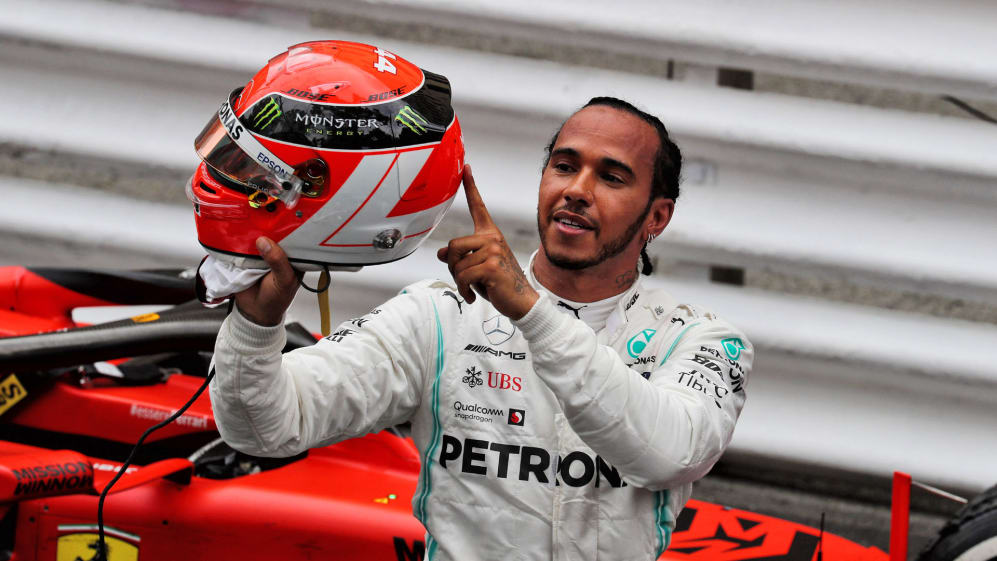 The road to a world championship, even a seemingly dominant one, is always strewn with a rock or two – and Lewis Hamilton's run to title #6 was no different. We break down the 10 major milestones on the path to the Mercedes star's 2019 triumph.
1. Australian Grand Prix – The emergence of Bottas 2.0
Arriving in Australia for the season start, few doubted that they were set to witness a bludgeoning of the opposition by Ferrari, such had been the Scuderia's pace advantage in pre-season testing. But although Mercedes threw off their sandbags and wound up dominating proceedings, it was Hamilton's team mate Valtteri Bottas, win-less in 2018, who ended up beating pole man Hamilton for victory – a shock to the Briton's system he'd later admit he had to dig deep to respond to, as the world fawned over Bottas 2.0…
2. Bahrain Grand Prix – Hamilton poaches Leclerc win
Hamilton's strike back against his team mate would come at the very next race in Bahrain – and once again on the back of a disappointing showing for Ferrari. Newly ensconced darling of the Scuderia Charles Leclerc was seemingly set to claim a sensational victory in only his second race for the team. But an electronic glitch on one his engine's six cylinders allowed Hamilton – who'd won out in wheel-to-wheel battle with Leclerc's team mate Sebastian Vettel earlier in the race – to sail through and take his first win of the season. Lucky? No doubt. But, crucially, it was Hamilton, rather than any of his rivals, who'd placed himself perfectly to take advantage of Leclerc's misfortune.
3. Spanish Grand Prix – Hamilton rebuts Bottas' dominant pole with crushing win
After Bahrain, Hamilton and Bottas scored wins each in China and Azerbaijan – Hamilton winning F1's 1000th race, while Bottas took revenge for his 2018 victory-denying puncture in Baku, schooling Hamilton at the start, who later chided himself for being "too friendly". It was thus tightly poised when F1 showed up in Barcelona and, around the Circuit de Catalunya – a track the drivers know all too well – Bottas stuck it on pole by a massive 0.634s from Hamilton.
Visibly downcast on the Saturday, on Sunday, Hamilton shot off the line as Bottas languished with suspected clutch issues, before quite simply foxtrot oscarring into the mid-distance to claim a dominant win. Clutch issue or no, Bottas looked chastened by his besting in Barcelona – and it began a 12-race winless streak for the Finn, as Hamilton selected another gear…
4. Monaco Grand Prix – Nervous Hamilton overcomes tragedy to win out from Verstappen
The paddock arrived in Monaco to the numbing news of the loss of three-time champion Niki Lauda. The Austrian had been instrumental in bringing Hamilton to Mercedes, and he clearly took the news hard in the lead-up to the Grand Prix.
After taking pole by just 0.086s from Bottas, a stressed-sounding Hamilton ground out the race, scolding engineer Pete Bonnington in the latter stages for leaving him as a sitting duck (as he saw it) to the advances of Max Verstappen. But as his idol Ayrton Senna had done against Nigel Mansell at Monaco in 1992, Hamilton positioned his car just so to win out, as Bottas finished third. Hamilton was quick to dedicate the victory to Lauda – but admitted: "He definitely made that one hard for me."
5. Canadian Grand Prix – Hamilton pressure forces controversial Vettel error
One of the flashpoints of the 2019 season came on Lap 48 of the Canadian Grand Prix. Hounded by Hamilton's Mercedes, race leader Sebastian Vettel slewed off the track at Turn 3, before slewing back on again and nearly shoving Hamilton into the Turn 4 wall. For that transgression, the stewards handed Vettel a five-second race penalty. "They're stealing the race from us," yelled Vettel down the team radio. You doubtless have an opinion on what happened that day – but either way, as in Bahrain, it was Hamilton who was there to pounce on Ferrari's misery, as Bottas slumped to a lowly fourth.
6. German Grand Prix – Hamilton still scores points on worst day of the season
As nadirs go, the German Grand Prix was a doozy for both Hamilton and Mercedes. As the team celebrated their 125th year in motorsport – special liveries, personnel dressed in old school racing gear… the works – their race went, spectacularly, to the dogs. Bad tyre choices, a 50-second pit stop after Hamilton had wiped his front wing off, a subsequent five-second penalty for Hamilton and then a second spin that came within millimetres of ending his race… it all added up to Hamilton being classified a humbling ninth, once both Alfa Romeos had been disqualified. And yet, even when it went really badly for Hamilton, he still managed to score two points as team mate Bottas crashed spectacularly out of fourth place eight laps from the end.
7. Hungarian Grand Prix – Stunning fightback from Hamilton denies Verstappen
Hamilton's 2019 title was largely a question of heading his team mate off at the pass. But there was a brief moment when it looked like Max Verstappen might genuinely thrust himself into championship contention. Over the three-race period of Austria, Great Britain and Germany, Verstappen outscored Hamilton by 62 points to 38, taking two wins to Hamilton's one to sit 63 points off him when they arrived in Hungary. The Dutchman's first career pole duly followed on Saturday – but Hamilton's rebuttal in the race was stunning. Making a seemingly risky call to stop on Lap 48 work, Hamilton used his fresher rubber to reel in Verstappen at over a second a lap, pass him with four laps to go and claim the win – and the psychological high-ground – heading into the summer break.
8. Russian Grand Prix – Hamilton re-stamps Mercedes' authority
That psychological high-ground was rather shattered at the beginning of the second half of the 2019 season, as Ferrari – win-less up till then – claimed victories at Belgium, Italy and Singapore (although Hamilton still managed to come out of those races with a 2-3-4 finishing record). But if Ferrari were getting a little high on their (prancing) horse, Hamilton slapped them rudely down to Earth in Russia, beginning a four-race winning streak for the Silver Arrows as dominant pole-sitter Leclerc could only manage third in the race, while Vettel retired early on from the lead. Not only that, but it was another effective morale deflator for Bottas, as Hamilton out-paced him in both qualifying and the race at a track the Finn knows is one of his best.
9. Mexican Grand Prix – Hamilton triumphs over his doubts to see off Vettel challenge
If there's been one failure – if you could call it that – of Lewis Hamilton this year, it's been his tendency to sound like an under-the-cosh Apollo 13 astronaut when asked to go outside his comfort zone to get a result. We witnessed it in Monaco, we witnessed it in Hungary, and we most certainly witnessed it in Mexico, as Hamilton – who'd qualified a lowly P4, before getting bumped up to P3 – railed against his engineer for making him try and complete the race on a one-stop. But Hamilton did just that, eking out the life of his knackered hard tyres to finish just 1.6s up the road from the two-stopping Sebastian Vettel. Bottas finishing third did enough to stop Hamilton claiming the title in Mexico for the third year running – but his own championship bid was all but run.
10. United States Grand Prix – Bottas delivers, but too late to stop Hamilton
Arriving at the Circuit of The Americas, Hamilton needed to finish just eighth or higher to claim the crown, while for Bottas, anything less than a win would end his hopes with two races left to go. Both Mercedes drivers did what they had to do in Austin, Bottas enjoying one of his most commanding weekends of the year, taking pole before swallowing up his one-stopping team mate (Bottas stopped twice) with four laps to go to claim his fourth win of the season. But, sadly for him, it was too little, too late – and while Hamilton might have seemed genuinely upset about missing out on his 84th victory, the sweetness of taking that sixth title more than made up for it.
MORE: Read our race report from the United States Grand Prix