Feature
TREMAYNE: After Russell stole the show at Spa, can there be any doubt he's ready for next step?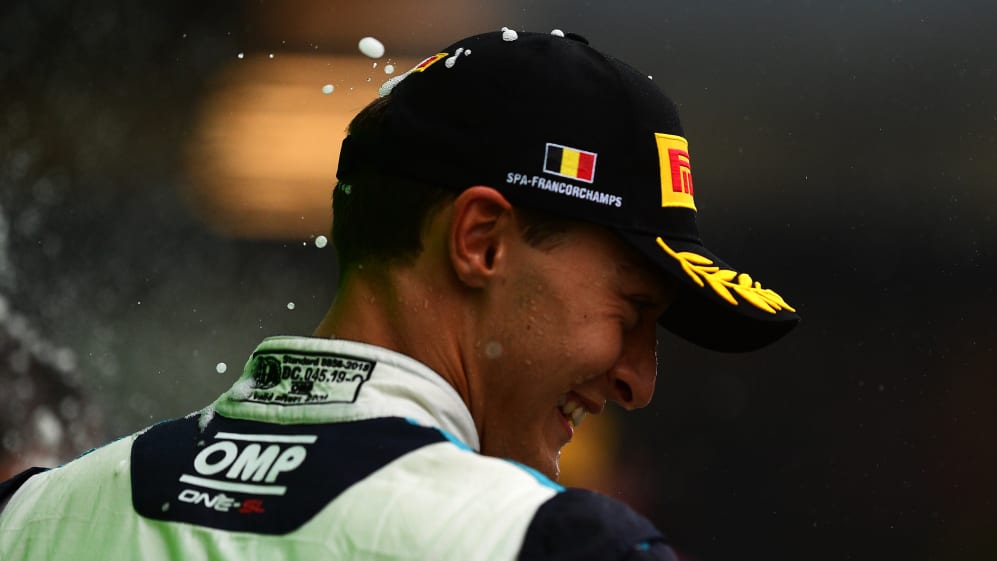 If there was a Brit at Spa on whom I would have invested some of my hard-earned betting on pole position, it would have been Lewis Hamilton. Of course. Or, as Q1 and Q2 progressed, Lando Norris. That wasn't rocket science.
Would it have been George Russell? No, to be honest. Not unless he was in a Mercedes… But George on pole at Spa in a Williams? Give me a break. I love romantic underdog stories, and remain enormously fond of Williams even without Francis and Patrick in charge there any more, but even that one seemed much too far-fetched.
Until the times showed that George had just pulped Lewis and Max Verstappen's respective first push laps of 2m 01.552s and 2m 02.525s with his own first of 2m 00.086s. And then Lewis' third lap, after a cool down, came up short with 2m 00.099s. Holy moly!
WATCH: How race day unfolded at Spa as heavy rain cuts long-delayed Belgium GP short
Williams on pole? It was too good to be true, and sure enough Max spoiled the fairytale story when he did take pole with his subsequent second run of 1m 59.765s. But to lose out by 0.321s in that car and that company… Talk about laying down a marker.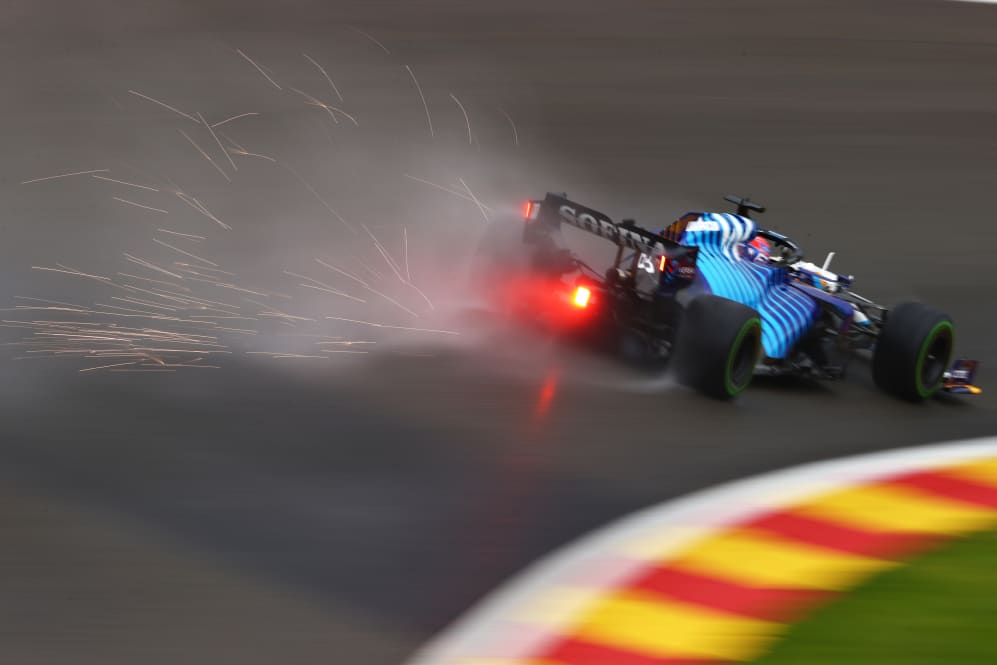 Okay, we all know George is something very special, but there he was, second overall, beaten only by Max. And way, way ahead of the man most believe he will replace alongside Lewis in 2022, Valtteri Bottas. The troubled Finn, fast on Friday, was nowhere, down in eighth place on 2m 02.502s after his two efforts.
But where on earth did that superb effort from the Kings Lynn driver actually come from?
Well, as you might imagine, it involved a high level of risk. Not just from George in the cockpit, but from the increasingly respectable Williams team in the garage.
READ MORE: 6 Winners and 5 Losers from the Belgian GP weekend – Who shone in the rain at Spa?
At first it seemed that they had screwed up when he went out on wets once the debris from Lando's big crash at Eau Rouge had been cleared up and the session resumed. Pretty much everyone else was on intermediates. But George had built up his picture of the track conditions when he came in for inters, the FW43B was nicely warmed up, and his head was in exactly the right place. He was massively confident as he went out again.
There was just about time for two consecutive laps, or he could gamble on putting absolutely everything on line in just one. He opted for the all-out banzai option run when his green-sided rubber would be at its best and the conditions were as good as they were likely to get. No surprise there.
But here's the thing. They were used inters. George had already run them briefly in Q1, aggressively setting the fastest time for a while with 2m 02.068s as team-mate Nicholas Latifi made it a Williams 1-2 with 2m 05.019s. But as conditions worsened, those inters didn't get beaten up and later they went back into their warmers in the garage. They were part of the gamble in Q3, but George handled that potentially compromising aspect with his usual aplomb.
READ MORE: 'I wanted to make up for qualifying' says disappointed Norris after curtailed Belgian GP
His willingness to be part of that gamble, and to make that final dramatic run without error, speaks volumes about why those who work with him, at both Williams and Mercedes, have such faith in him.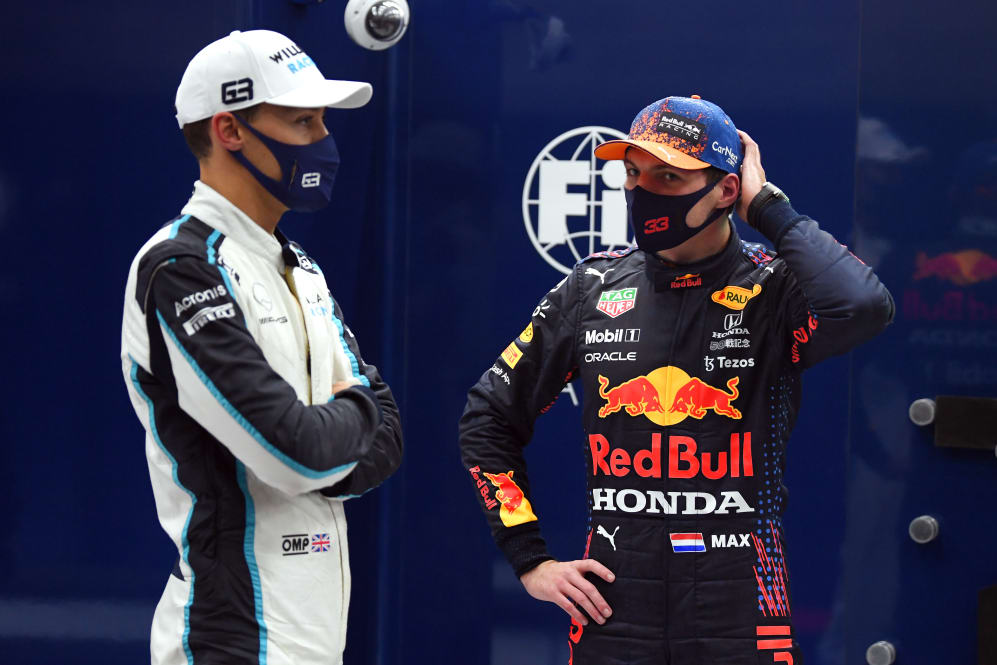 The tyres, brakes and power unit were all warmed through, and the batteries were fully charged, and George let it all flow. And there he was, on the front row of an F1 grid for the first time since Sakhir last year in the Merc, and for the first time in a Williams. It was the Grove team's first front row since Lance Stroll had that opportunistic run at Monza back in 2017.
There are 19 corners at Spa, and he aced each and every one of them. And though Williams gambled with their tactics, they didn't luck in. They were just smarter than the others, and George did his part of the job brilliantly.
Williams' head of performance Dave Robson said it's getting harder to keep finding words to describe his driver's performances, and how he just builds on it as and when his best qualifying sessions develop. And he complimented his calmness and bravery, and the sheer professionalism of his lap.
READ MORE: Maiden F1 podium was reward for qualifying performance, says Russell after red-flagged Belgian GP
His first podium followed on Sunday, and while it didn't come the way he would have liked or imagined, he did make the significant point that what really counted in the end was that Q3 lap, and he couldn't have done that better.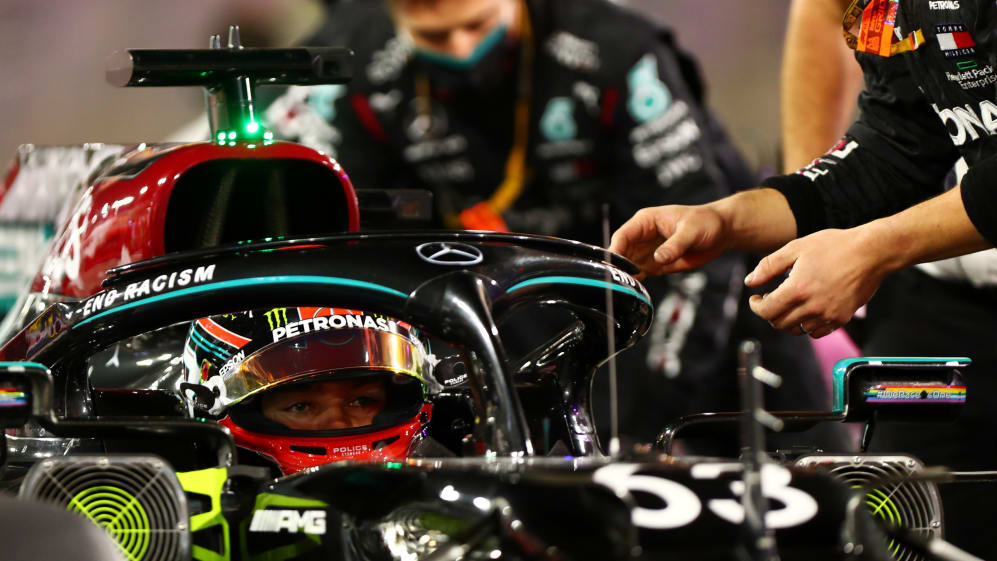 Some now believe that this will convince a seemingly uncertain Toto Wolff to hire him to partner Lewis in 2022, though my firm belief is that this decision was actually taken in Toto's head some weeks ago, and finally confirmed before Spa.
Lewis has made it clear that his personal preference would be to keep the beleaguered Valtteri, but in the past he has said he isn't worried who his team mate might be. He did, after all, come out ahead of Fernando Alonso at McLaren in his rookie season back in 2007…
George, meanwhile, continues to say all the right things.
"I think Formula 1 is a pretty ruthless sport," he said over the weekend. "There's only opportunity for 20 drivers in the world and there's probably plenty more drivers who are deserving to be in Formula 1.
READ MORE: Ross Brawn on a challenging day at Spa, Russell's brilliance, and looking ahead to F1's return to Zandvoort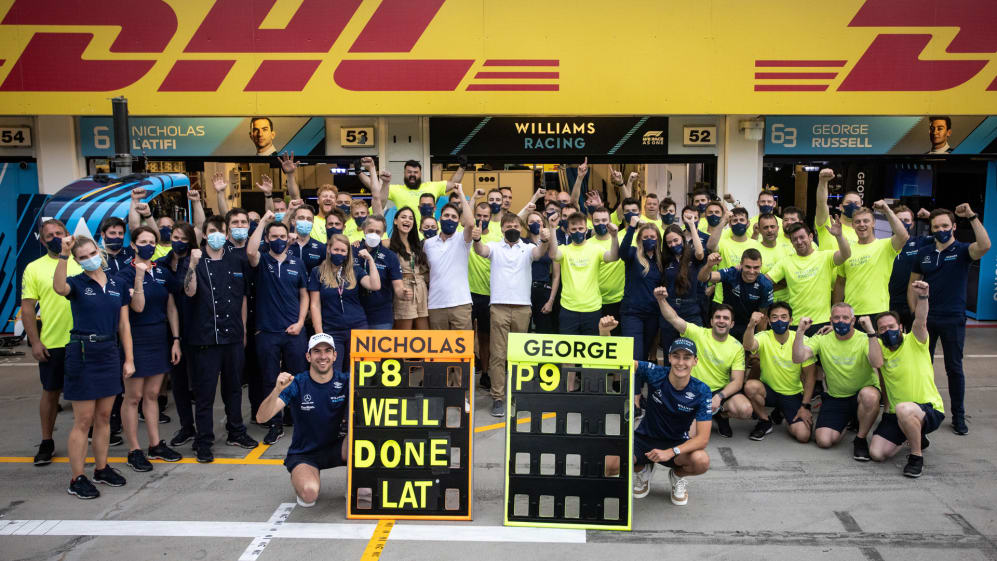 "So, regardless of my personal experience in these contract talks, at the moment you've just got to keep showing what you can do and never lift your foot off the throttle because if you do there will be a youngster coming through trying to take your seat. You can never be complacent."
I don't think anyone can ever have accused this increasingly impressive racer of that. He has that hunger to learn and improve that all champions display, and the speed and control to excel. I would have loved to see what he might have pulled off had the race not been red flagged after those laps behind the Safety Car.
READ MORE: 'The fans have been incredible today' says Hamilton after rained-off Belgian Grand Prix
In tricky conditions, I wouldn't have bet against him falling too far down the order. But rest assured, he has a very big future ahead of him. Together with Lando, he will assure British motorsport of a healthy representation when Lewis finally hangs up his helmet.