Verstappen eyeing 'a lot of opportunities' in Sunday's Belgian GP from P3 on the grid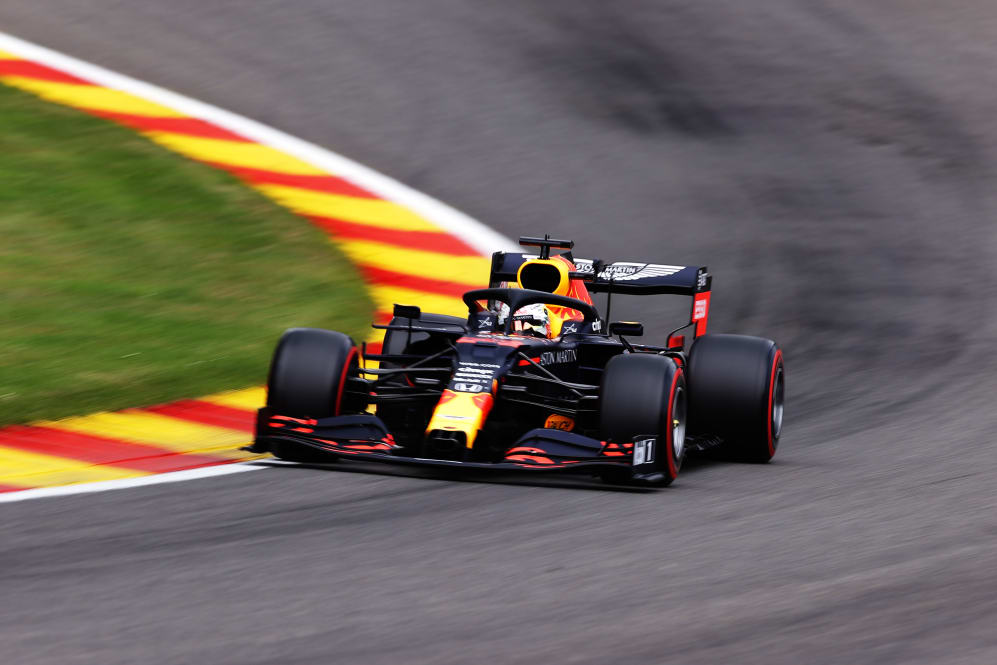 Despite just missing out on a front row start by an agonising 0.015s, Max Verstappen declared his day's work "very positive" after sealing P3 on the grid for Sunday's Belgian Grand Prix.
The Red Bull driver had looked to be on the pace right from the beginning of the weekend, as he topped the time sheets in second practice on Friday.
And in qualifying on Saturday afternoon he hustled his RB16 around the Spa-Francorchamps track to set a time that was just a hundredth of a second slower than Valtteri Bottas, who took second spot on the grid for Mercedes.
Qualifying report: Hamilton storms to Spa pole as both Ferraris are knocked out in Q2
"I think for us overall it's been a very positive weekend so far," said Verstappen. "We came here and we thought it was going to be really tricky for us and actually to be P3 and that close to Valtteri... of course we were half a second to Lewis but overall I can be very pleased with that."
On just missing out on that first row spot by the slenderist of margins, the Dutchman insisted he was not too downhearted, and said his starting position leaves him with plenty to play for in the race.
"It was very close with Valtteri – maybe we could be a little bit disappointed but I don't think we should, because if you look at the gap between Valtteri and Lewis it was, from our side, quite big so I think we really maximised the car and pace in general in qualifying, so very happy with that.
"Very pleased, a good day and a lot of opportunities for tomorrow," he added.
READ MORE: Verstappen feels he's 'definitely overachieved' to split Mercedes in drivers' title fight
Asked if he was hoping for rain to help him take on the Mercedes, he said: "I don't know, if you look at the lap time difference to Lewis [Hamilton was half a second quicker in qualifying] I don't think we suddenly in the race can start to fight him, but around here you never know.
"Like you said with the weather, I hope that will come into play – it makes it all the more difficult for everyone and more fun as well. And especially on this track, if it's a bit wet around here it's a lot of fun."
Verstappen will be hoping his Belgian GP lasts a little longer than it did last year, when contact with Kimi Raikkonen at Turn 1 forced him out of the race on the first lap.