Verstappen reveals he was in Baku medical centre when he learned of Hamilton's restart mistake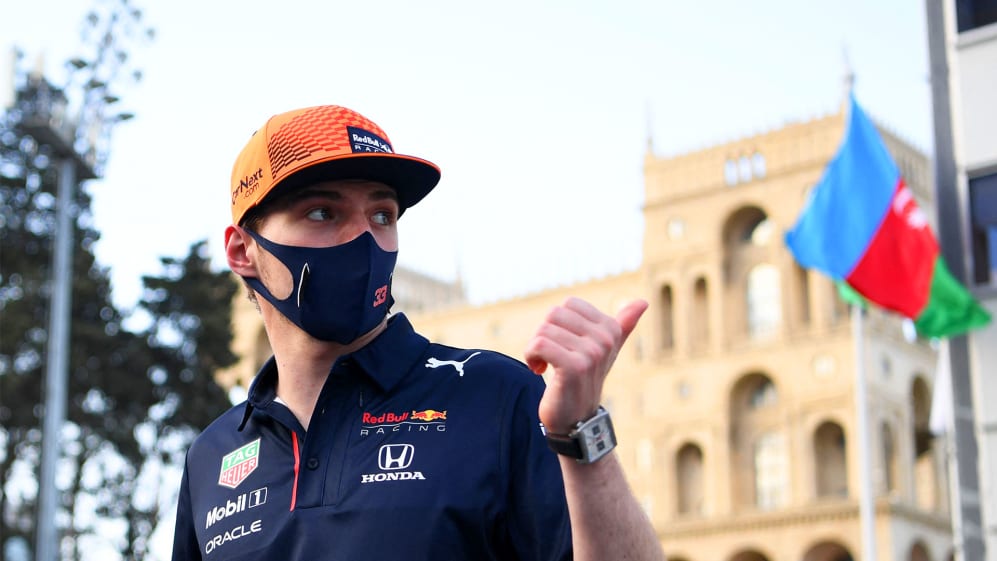 Max Verstappen's disappointment after retiring from the Azerbaijan Grand Prix was somewhat eased by his championship rival Lewis Hamilton also failing to score after an off-track moment at Turn 1 – with Verstappen revealing after the race that he'd learned of Hamilton's off in the Baku City Circuit's medical centre.
A tyre blow-out at the end of Lap 46 of 51 saw Verstappen – who was cruising, in his own words, to an "easy win" – spear sharply into the wall and out of the race, with Pirelli suspecting debris as the cause.
With the race red-flagged, at the restart, Hamilton got the jump from P2 on the grid over Verstappen's first-placed Red Bull team mate Sergio Perez, but hit a switch by mistake that altered his brake balance, and skated into the Turn 1 run-off before eventually finishing 15th, as Perez took the win.
READ MORE: 'Sometimes you can hate this sport' – Verstappen frustrated to miss out on 'easy win' and chance to extend points lead
And Verstappen revealed after the race how he'd learned of Hamilton's points-depriving error...
"I had to go to the medical centre, but I couldn't of course get there so I had to do a long route," said the Dutchman.
"[Then I found out] when I was laying on the bed [in the medical centre]! They were checking my blood pressure and suddenly my phone was vibrating a lot, so I said, 'What's going on?' because I could hear the cars of course. And then I was done and I was allowed to leave, and I saw on my phone that Lewis had a problem in Turn 1."
Hamilton's non-score allowed Verstappen to remain at the head of the drivers' standings by four points over the Mercedes driver, while Perez's win – as Mercedes failed to score at all for the first time since the 2018 Austrian Grand Prix – meant that Red Bull moved 26 points clear of their rivals in the constructors'.
READ MORE: Hamilton explains switch issue that led to him dropping from P2 to P15 at crucial Azerbaijan GP restart
But Verstappen admitted that he had regrets over failing to open up the gap over Hamilton and Mercedes more, after a weekend where the Silver Arrows had struggled.
"It's just a shame," said Verstappen. "Two street circuits we had, and now we go back to normal tracks… [and] I wanted to open up the gap a little bit more before we go back to those kind of tracks.
2021
Constructors' standings after Baku
POSITION
POINTS

1

Red Bull Racing

174

2

Mercedes

148

3

Ferrari

94

4

McLaren

92

5

AlphaTauri

39