Verstappen says he'll do 'whatever's necessary' to win first title as he praises strong Red Bull season
What will Max Verstappen do to win his first ever Formula 1 World Championship? "Whatever is necessary" according to the Dutch driver – although he said any idea of the title fight between him and Lewis Hamilton being settled by a collision in Sunday's Abu Dhabi Grand Prix finale were the invention of the media.
Verstappen lost out to Hamilton last time out at the Saudi Arabian Grand Prix, the pair enduring several heated on-track moments as they fought at the Jeddah Corniche Circuit before Hamilton ultimately passed and won the race, to draw equal on points with Verstappen.
READ MORE: Alonso believes Verstappen 'driving one step ahead of everyone' as he says Dutchman 'deserves' 2021 title
Should either driver fail to score this weekend, however, Verstappen's nine wins to Hamilton's eight would give him the title. But asked, following their fiery fight in Saudi Arabia whether he and Hamilton needed to sit down pre-race to discuss 'rules of engagement', Verstappen replied: "I don't think we need to sit down.
"You know, we are both here to win and we will do everything to win, and win the championship ultimately – whatever of course is necessary in terms of points. I think we have raced really well together the whole year, I think we put on a great show for everyone at the end of the day, so hopefully of course we can do the same here."
Asked, meanwhile, about the prospect of a collision deciding the title fight, Verstappen replied curtly: "As a driver, you don't think about these things. You go to a weekend where you just want to do the best you can, as a team, and of course you try to win the race.
"But naturally the media starts to say these things, so I don't really have a lot more to comment on that. I think I arrive here just trying do the best I can, trying to be the best prepared and of course naturally trying to win this weekend.
"I know what's in the sporting code," added Verstappen. "No one needs to be reminded of that."
WATCH: Lewis Hamilton 'honestly feels great' ahead of championship decider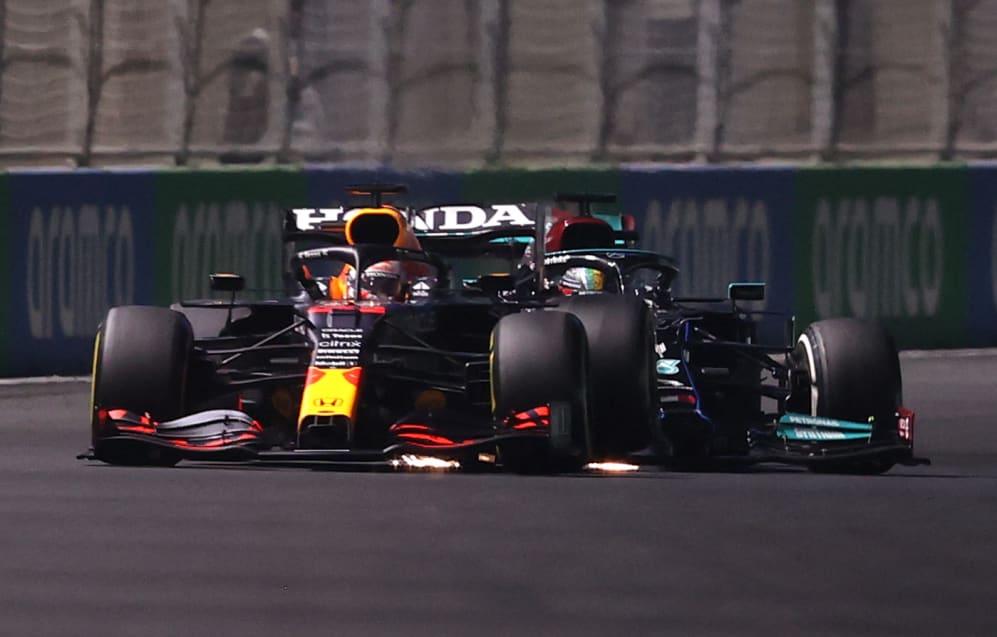 Verstappen will be buoyed ahead of the title showdown by memories of his pole position and dominant win here 12 months ago, a rare bright moment for the Dutch driver in a 2020 season that more often than not saw him finish P3 behind the Mercedes.
Perhaps because of that Silver Arrows dominance last season, Verstappen said that whatever the outcome this weekend, he would be proud of the job he and Red Bull had done to become title contenders in 2021.
READ MORE: The championship decider and a farewell to a legend – 5 storylines we're excited about ahead of the Abu Dhabi GP
"This season's been really enjoyable," said Verstappen, when asked if this was the biggest moment of his career to date. "I think after last year, I didn't have a lot of hope that we would be sitting here at the end of the season fighting for a title, but I think from the start we were very competitive.
"We've had some good results, a bit of bad luck as well but overall we can be really proud of the whole team effort, to be sitting here and fighting for this title."