Verstappen still wary of Mercedes threat despite 'crucial' Sprint result at Monza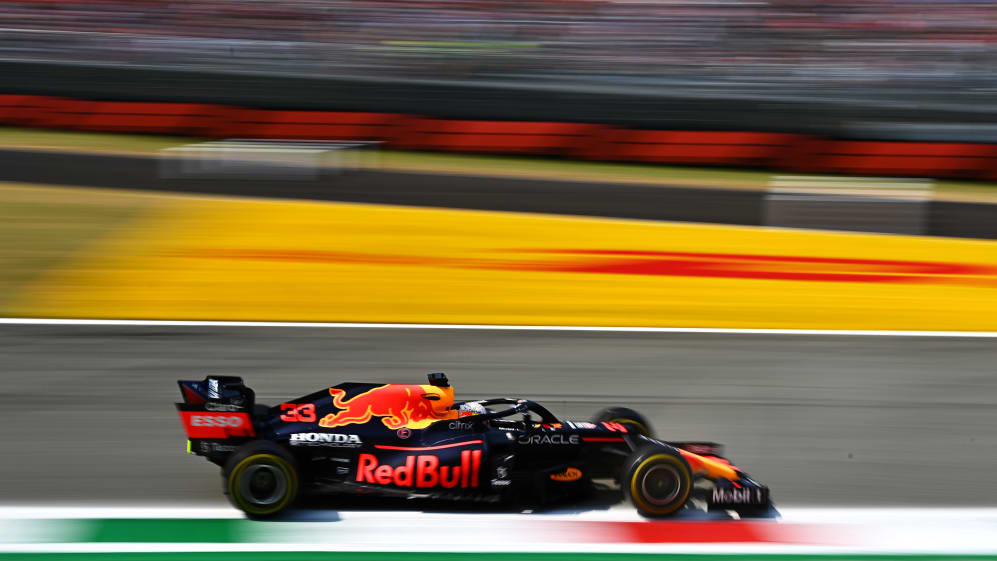 Max Verstappen is set to start on pole for the Italian Grand Prix, after finishing behind Mercedes' Valtteri Bottas in the F1 Sprint at Monza – with Bottas relegated to the back of the grid after engine penalties, as title rival Lewis Hamilton starts P4. And with Red Bull having lagged behind Mercedes this weekend, Verstappen said the result in the Sprint had been "crucial" for his prospects.
Verstappen got a good launch at the start of the 18-lap, 100km Sprint to slot in behind Bottas in P2, as Hamilton dropped from second to P5 at the end of the first lap after a poor getaway.
Although Bottas would go on to win the Sprint from the Dutchman, it's Verstappen who will claim his 11th career pole, with Bottas taking on a raft of power unit elements that will drop him to the back of the pack for Sunday's race, with Hamilton due to start P4.
READ MORE: Verstappen set for pole position for Italian Grand Prix as penalty-hit Bottas wins Monza Sprint
And given that Verstappen had lapped a full four-tenths slower than Mercedes in qualifying, the Red Bull driver felt his Saturday at Monza couldn't have gone much better in the circumstances.
"It was important to have a good start and we did that," said Verstappen. "And especially on a weekend like this where we seem to be a little bit behind Mercedes, it was crucial, a result like this. But of course, I know that tomorrow are the main points. Lewis starting fourth, Valtteri coming from the back, they still have a lot of pace in their car.
"But nevertheless, it's still quite hard to pass, as you could see," added Verstappen, "so for me I think what is important tomorrow is of course a good start, and try and open up a gap in the beginning of the race. But again, so many things can happen, Safety Cars and stuff. We'll just try and make the best out of it, but for sure today has been very good for us."
A disconsolate Hamilton, who was unable to pass either of the soft tyre-wielding McLarens in the Sprint, had predicted that the result of Sunday's Italian Grand Prix would be an "easy win" for Verstappen. But the Dutch driver was understandably sounding a more cautious note ahead of the race.
READ MORE: Hamilton predicts 'easy win' for Verstappen in Italian GP after falling down order in Monza Sprint start
"A bit optimistic I think," said Verstappen of Hamilton's prediction – with Verstappen's two points from the Sprint having moved him five points clear of his title rival in the drivers' standings.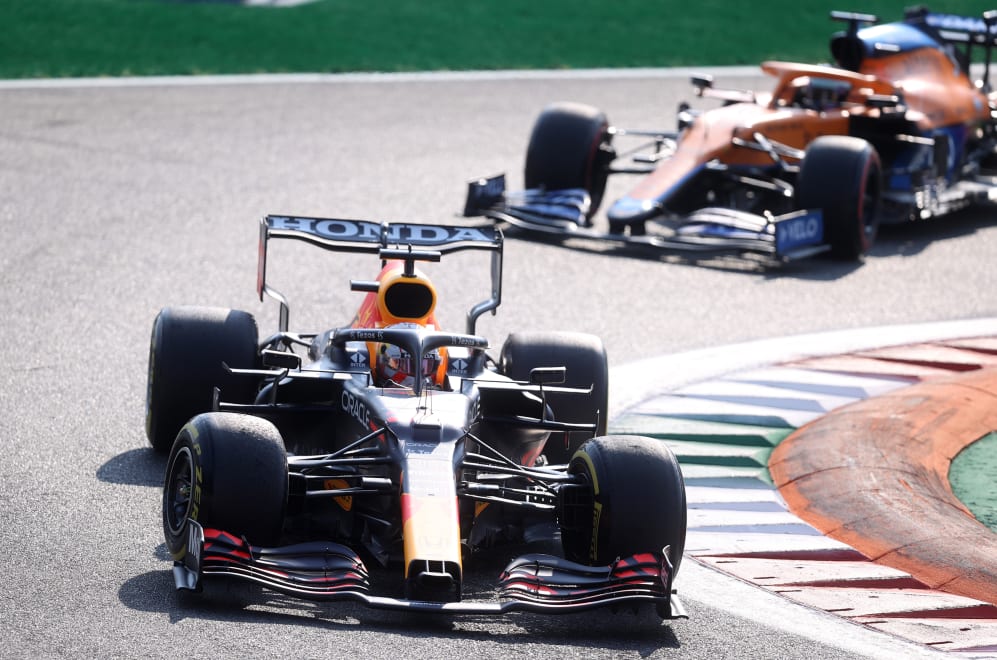 "I'm always looking ahead, but I know they have the pace to fight me," he added of the Mercedes. "I just need to focus on myself tomorrow, initially in the start, and then we'll see what happens, keep pushing. So far, this weekend we've been struggling a bit of course, but nevertheless, it's going to be a good race tomorrow."
READ MORE: Sprint winner Bottas insists Italian GP podium still possible despite back of the grid start
Asked, meanwhile, if he was worried by the threat of the McLarens – with Daniel Ricciardo set to start alongside Verstappen on the front row in P2, with Lando Norris in P3 – Verstappen replied: "I mean of course they had the soft tyre [in the Sprint], so in the start they were quite strong. After that, we quite comfortably pulled away from them, so I hope of course I can do the same tomorrow."
Verstappen's Red Bull team mate Sergio Perez, meanwhile, is set to start eighth, having been unable to find a way past the Alfa Romeo of Antonio Giovinazzi in the F1 Sprint.