Verstappen was 25 seconds away from not starting the race, reveals Horner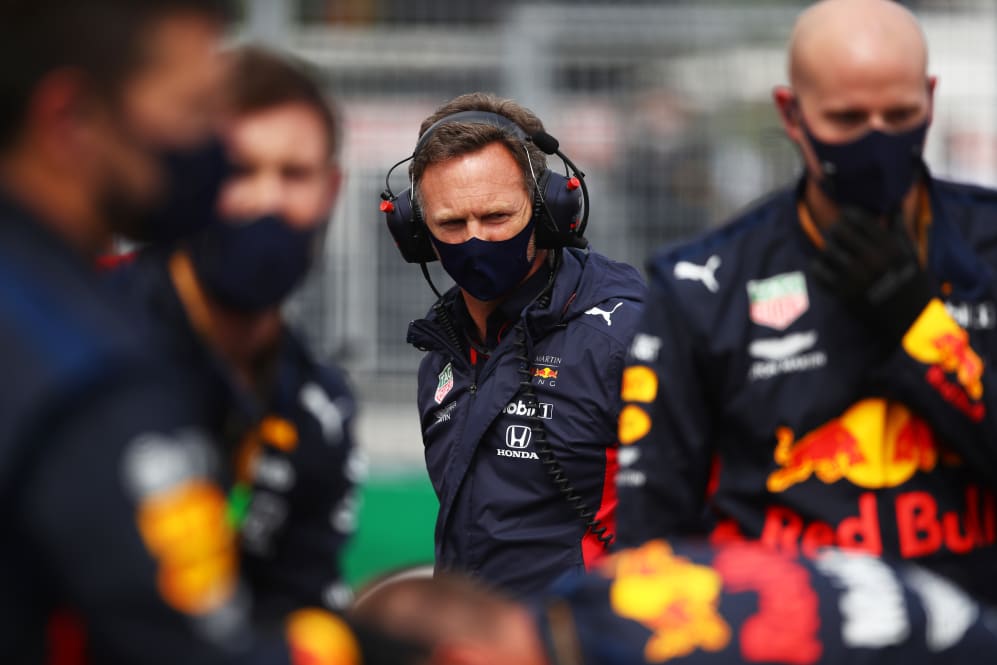 Red Bull's weekend in Hungary was already going pretty badly when Max Verstappen crashed his RB16 into the Turn 12 wall... before the race had even begun. But some frantic repairs on the grid allowed Verstappen to make the start with just seconds to spare, before the Dutchman went on to split the Mercedes in the race and claim P2 – leaving Team Principal Christian Horner full of praise for the job both his driver, and his mechanics, had done.
Red Bull had endured a dismal build up to Sunday's Hungarian Grand Prix, with Alex Albon failing to make it out of Q2 in qualifying, while last year's polesitter Verstappen could only manage P7 on the grid. Then as Verstappen made his way around to the grid on the greasy track ahead of the start, he lost the car going into Turn 12, causing damage to the left front push and track rods.
With just 20 minutes to repair the damage, Verstappen's crew stepped up to the task, with F1's Managing Director of Motorsport Ross Brawn – who was watching on at the side of the track – calling the repair work "an achievement as extraordinary and impressive as anything I've ever seen" – a sentiment Horner appeared to agree with...
'Second feels like a win' says Verstappen as he recovers from pre-race crash to podium
"The mechanics on that car, Leroy, Ollie, all the boys have done an amazing job today in getting that turned around in 20 minutes," said Horner after the race. "It is something that would usually take an hour and a half. You know he owes that result to them today.
"[Max] was going to come into the pits because he thought it was all over," added Horner. "[But] we could see from the TV that it was mainly the push rod and the track rod.
"If that had been a wishbone, the steering rack, even an upright, you're game over so he's very lucky in that respect. But like I say, I think we completed it with 25 seconds to go, the wheel went on so it was alright – and the sweat was dripping off the guys. Looking at them working was amazing."
Verstappen repaid his team handsomely, enjoying a searing launch off the line at the start to climb from P7 to P3, before jumping past the Racing Point of Lance Stroll in the early pit stops to take a second place that he held until the flag, foiling Mercedes' attempts to three-stop Valtteri Bottas to get ahead of Verstappen in the process.
Team mate Alex Albon completed Red Bull's strong recovery, surging from 13th on the grid to pass the Ferrari of Sebastian Vettel for fifth place in the final stages of the race.
READ MORE: 'There's lot of work ahead of us,' says Leclerc after mixed day for Ferrari
"Max redeemed himself," said Horner. "We were on the ropes in quali and then to bounce back, get P2 here, split the Mercedes – I think last night I would have bitten your right arm off for that.
"Max is driving the wheels off [the car] and had decent pace in the race," Horner added, "Alex as well, when he got clear air, he's doing the lap times so I think there's a lot of positives we can take out of today's race, a lot of information that we've now got to use to close that gap to Mercedes."
Do you have Verstappen in your F1 Fantasy team? Or have you not yet signed up? If not, it's not too late - simply tap here to join in...