'Very impressive' Russell 'doing something special every weekend', says Alonso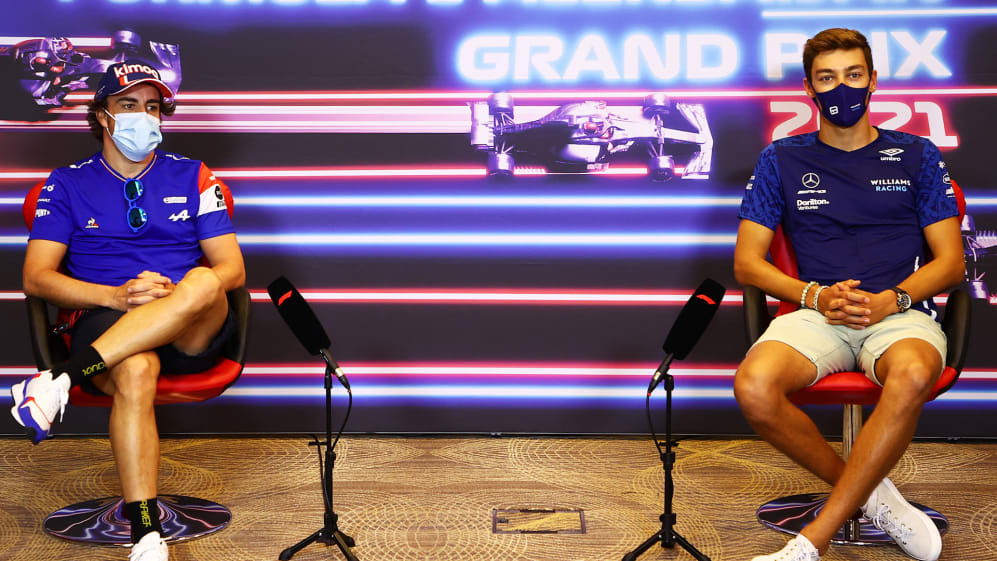 George Russell and Fernando Alonso took the opportunity to swap helmets at the Monaco Grand Prix – with two-time champion Alonso going on to reveal why he was more than happy to swap lids with the young Williams driver, who he said had been "very, very impressive" since making his F1 debut in 2019.
Alonso and Russell traded helmets in the Monaco pit lane after the race in the Principality, with Alonso writing on the helmet he gave to Russell: "George, you rock!! Future world champ" – while Russell told the media ahead of the Azerbaijan Grand Prix that it "was a very special moment, obviously, for me to get Fernando's helmet… [he's] a legend of the sport."
READ MORE: 'We got lucky to get an opportunity – and we took it' – Alonso delighted with late charge to P6 in Baku
But asked about his "future world champ" inscription on the helmet in Baku, Alonso revealed how impressed he'd been with Russell, with the Spaniard having spent two years watching the Williams driver's performances on TV before racing alongside him after making his own F1 comeback this year.
"Definitely very impressed," said Alonso of Russell, who's made it to Q2 in qualifying at all six Grands Prix this year – although he's still yet to score a point as a Williams driver. "I said also last year when I was following the sport that I think he has been very, very impressive with the performance we saw in the Williams.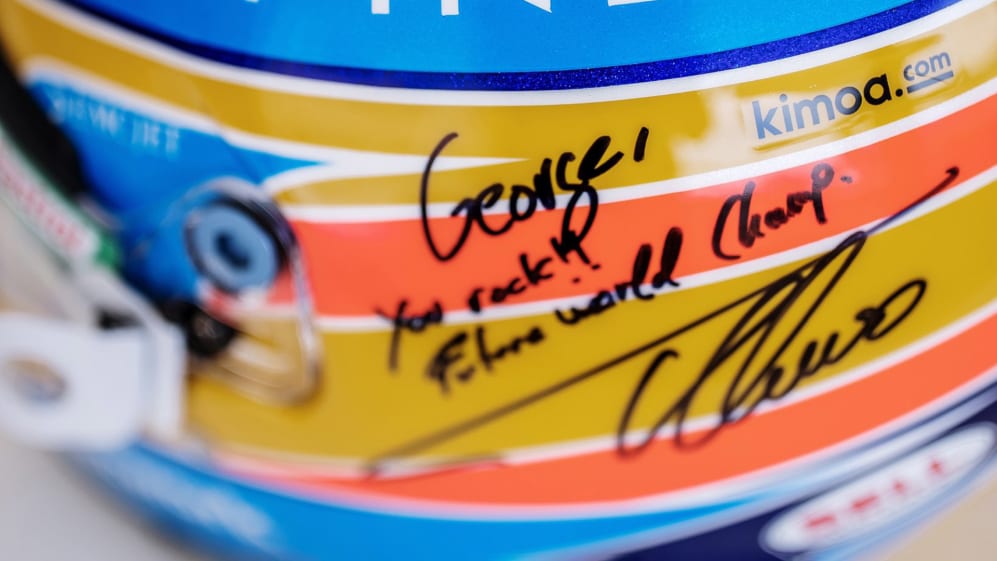 "We know that it is not a competitive package," added Alonso. "It is better this year but not in the last two [years] and [despite that] I think he was putting in something special every weekend and that was nice to watch at home. That is something you always get impressed by."
ANALYSIS: How Capito plans to reshape Williams after first 100 days in charge, as Roberts leaves the team
Alonso, too, shone in uncompetitive machinery at the start of his career – Minardi, in the Spaniard's case – before being handed an opportunity with a more competitive team when he moved to Renault for 2003.
And he went on to remark on Russell's sensational performance at the wheel of the Mercedes W11 last year, when the young Brit was called up to replace Lewis Hamilton at the team for the Sakhir Grand Prix, coming agonisingly close to winning in his first race with the car.
"The opportunity with the Mercedes… I think it was a real opportunity for everyone to watch what a driver with the talent of George can do with a winning car," said Alonso. "He nearly won the first race at the first opportunity he had. That, I think, was proof for many people, not only a few, that we knew how good he was; that race in Bahrain was enough to open [the eyes] of millions of people."
READ MORE: Wolff says Mercedes won't play 'musical chairs' with Bottas and Russell in 2021
Perhaps fanned by Alonso's comments, Russell's future beyond the end of the 2021 season is set to be one of the hot topics in this season's driver market, with the Briton thought to be one of the leading contenders to fill a seat at Mercedes should the team decide to change up their Lewis Hamilton/Valtteri Bottas line-up.